The venue for the September edition of our monthly dinner was the much anticipated Hai Tien Lo. After all the rather substandard monthly dinners we had been having over the last 2 months, it was decided that a road more familiar would be taken for once and the patronising of new places would be left to subsequent dinners. For my previous write ups on Hai Tien Lo, please see
here
,
here
and
here
.
Classic Sliced Beijing Duck Accompanied with Homemade Chinese Pancakes
If you have read all my writeups on Hai Tien Lo, you would have noticed that Peking duck has always been on the order list (except for one) and there was no exception this time round as well. The skin was as I remembered it to be, crisp with minimal fats and wrapped in nice and thin pancakes. However, the meat was a little disappointing on this occasion. Some parts of the meat were a little dry and tough while some were fine. Not evenly roasted if you ask me. But its still good.


Hai Tien Lo Homemade Beancurd with Minced Pork & Pine Mushroom Sauce
A signature dish of Hai Tien Lo, the tofu was a little lacklustre today. Sure, it was still silky and smooth, but I personally found the taste a little too weak as compared to a similar dish I had on a
previous occasion
. Nevertheless, the gravy did make up for it some sort as it came across as a little starchy and full of flavours from the minced pork and mushroom.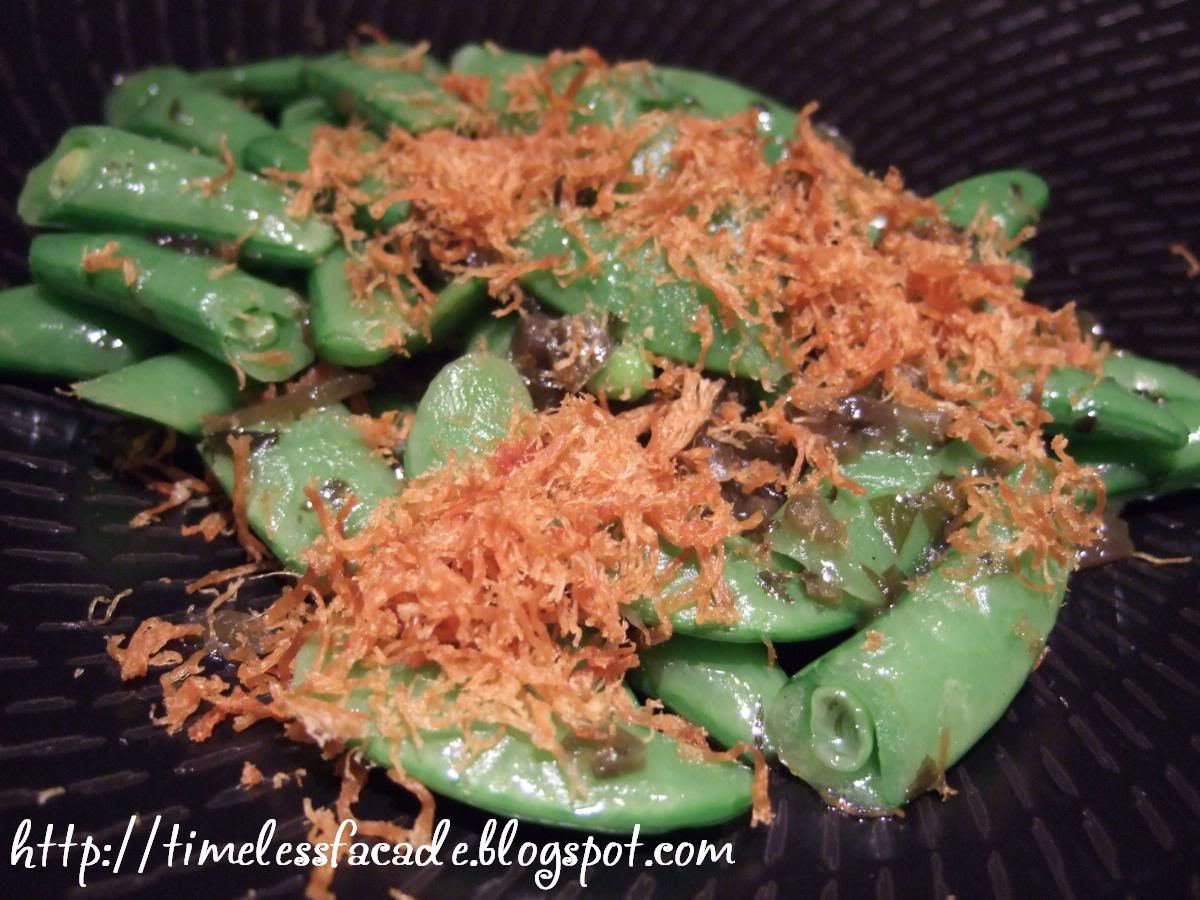 Sautéed Snow Peas with Deep Fried Crispy Dried Scallops & Fermented Mustard Vegetables
Not a particularly exciting dish, the snow peas were crunchy and fresh though and went well with the slightly salty mustard vegetables or
Cai Por
as most people know it. Sadly, the dried scallops didn't really taste like scallops. In fact it didn't have much taste at all. Maybe its purpose was just to provide a nice crisp to the whole dish.
Sautéed Silvers of Ostrich with Honey Pepper Sauce
A rather exotic dish which you don't commonly find elsewhere, the ostrich meat tasted to me like a softer rendition of pork and was mildy sweet and pepperish from the sauce. Served atop a bed of fresh crunchy snow peas, the colour contrast was boldly striking and enticing.


Sautéed Scallops & Lobster with Garlic
I didn't expect this dish to come with asparagus as an added bonus. The lobster pieces were relatively fresh and crunchy and so were the scallops, which were both generous in size and quantity. Whats not to like?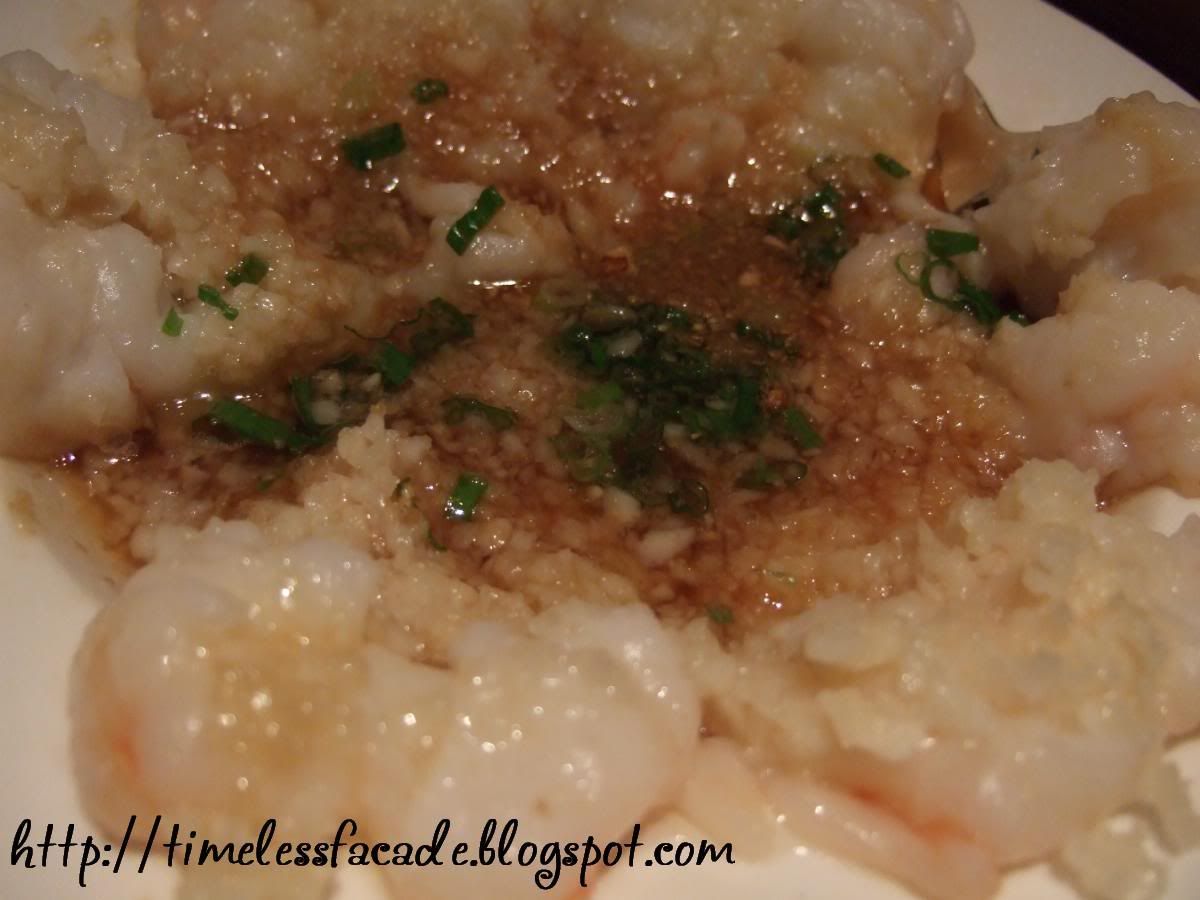 Steamed Prawns with Mashed Garlic Served in Bamboo Basket
Humongous fresh and crunchy prawns steamed and served with a nice flavourful garlic sauce, the steamed prawns were rightly one of the stars for the evening. A pity we were only allocated 2 pieces of prawns each.


Stewed Fish Noodles with Ginger & Spring Onions Served with King Prawn

The honour of being the Pièce de résistance for the evening went to a very well executed stewed fish noodles. Common as it may be in most Chinese restaurants of similar standing, Hai Tien Lo's offering is a cut above the rest and yes, that includes the excellent one I had from
Li Bai
. Hai Tien Lo's rendition carried more flavour in the stock and the noodles were slightly thinner yet equally robust and chewy, making for a gastronomical indulgence. May I add that the king prawn was huge as well? However, as with
Li Bai
, portions were small and this dish could well do with more of the tasty noodles.
Cod Fish Baked & Glazed with Moet & Chandon Champagne Sauce
and
Cod Fish Baked & Glazed with Japanese Sake Sauce
I didn't get to try the cod fish glazed with sake sauce so I shall not pass any comments. However, the cod fish glazed with Moet & Chandon champagne was nicely baked, a little charred along the edges and tender, albeit a tad too soft and sweet from the sauce. Couldn't quite make out the Moet or champagne though. What I liked about this dish was that it came with tiny cubes of jackfruit and strawberries, which complemented the dish very well.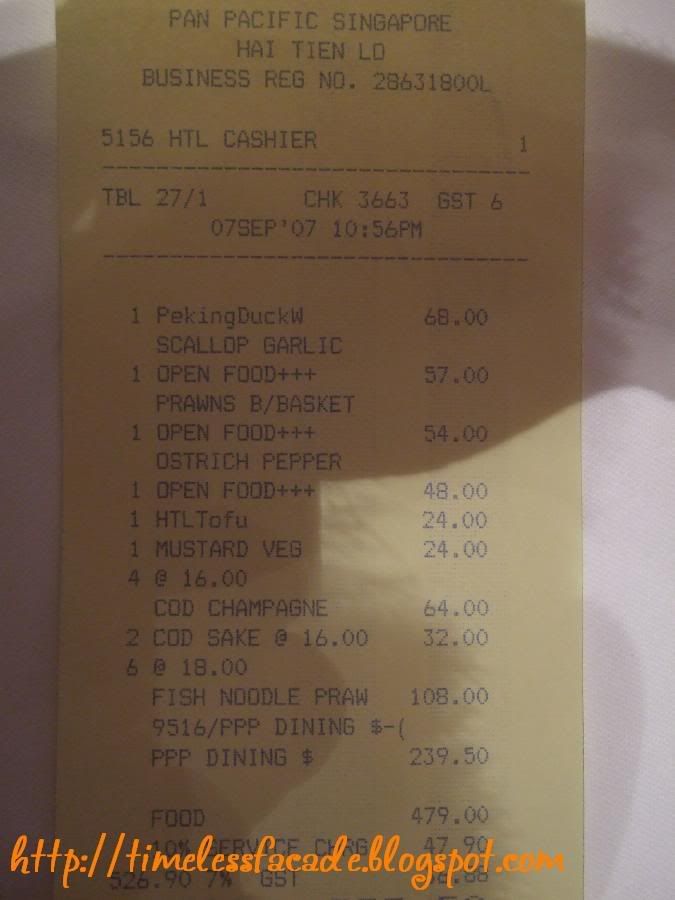 Bill
How much would you expect to pay for such a filling and wonderful dinner? Nothing less than $564 for 6 pax. Do the math and it comes to about $94 per head, which is rather expensive. But hey, with a 25% discount, the bill drops to a more manageable $70, a price everyone was more than happy to pay. Add the fact that you are perched 37 storeys up with a bird's eye view and you have a clear winner.
Likes: Great food, great view
Dislikes: Pricey
Final Verdict:
Ambience:8.5/10
Service:7.5/10
Food:8/10
Value for money:6.5/10 (without discount)
Overall:7.5/10
Address: 37th Floor, Pan Pacific Hotel
Contact: 68268338
Opening Hours:
Monday to Friday: 12.00pm to 2.30pm & 6.30pm to 10.00pm
Saturday & Sunday: 11.30am to 2.00pm (Brunch) & 6.30pm to 10.00pm