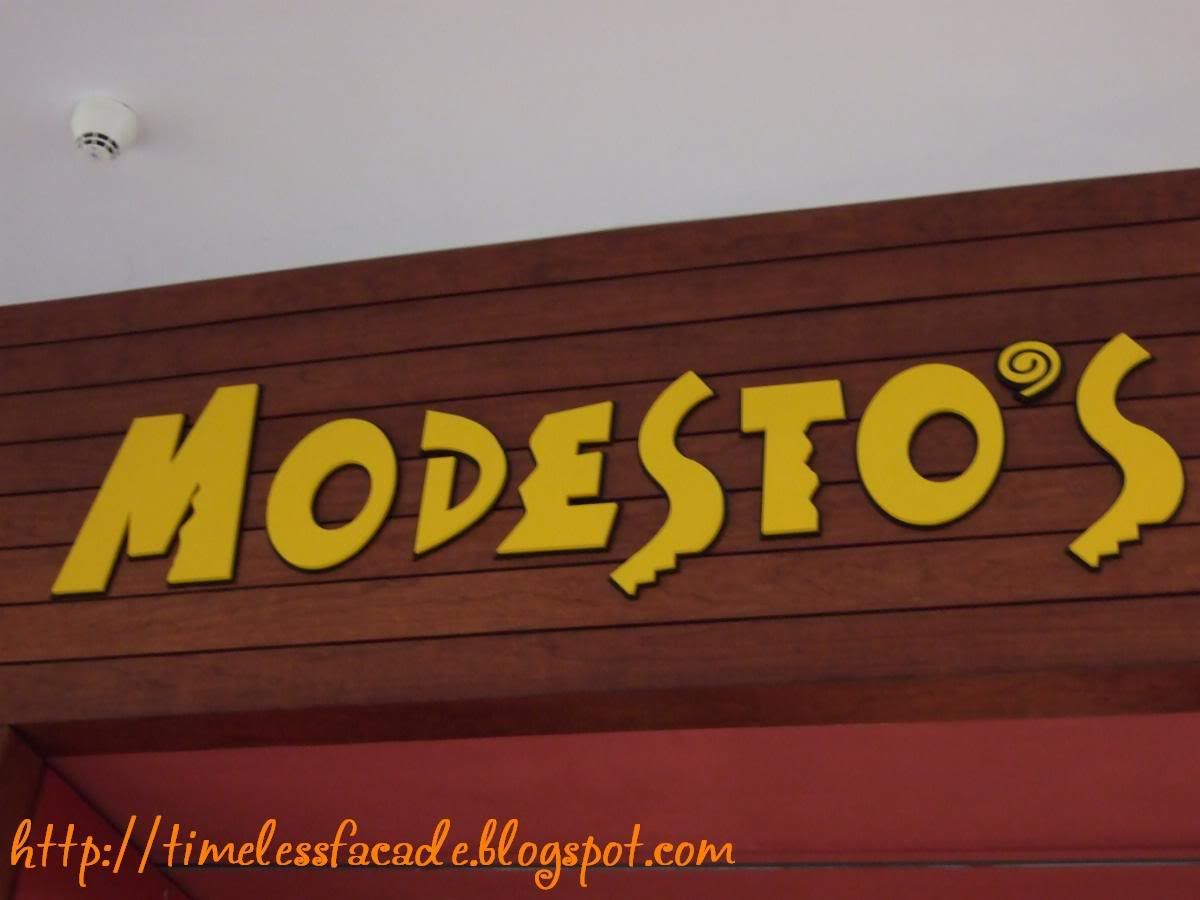 Ran some errands at Vivo City with my gf and settled for dinner at Modestos, which happened to be one of the few outlets not packing in the crowd at dinner time.
Rather obscurely located at a corner of Vivo City (which might, to a certain degree, explain its lack of patrons), Modesto's boasts a nice waterfront view through its floor to ceiling windows (at its Vivo City outlet only) and a cosy brick laid interior that gives it a much welcomed casual intonation.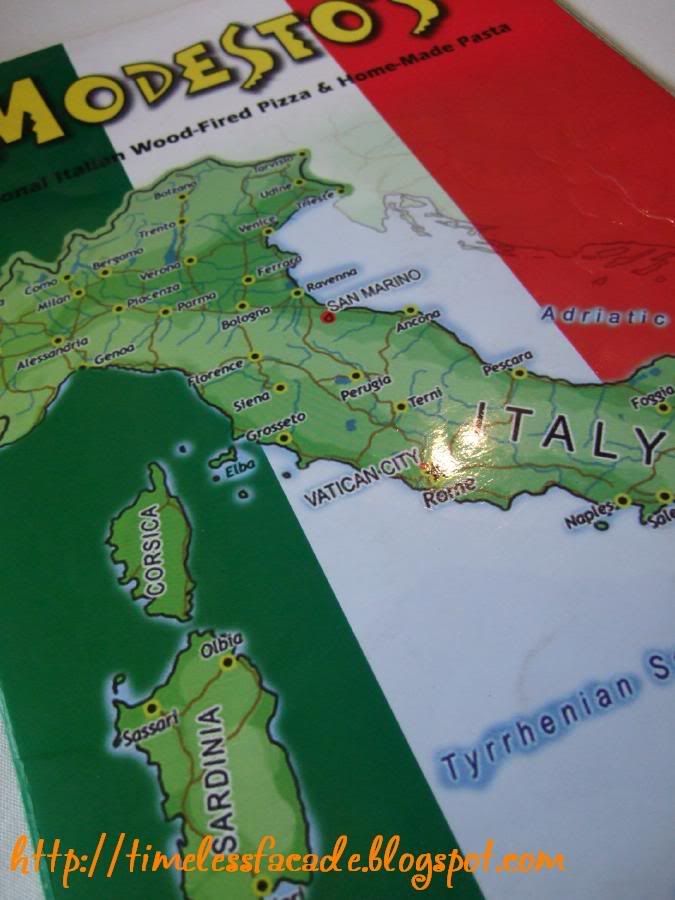 Menu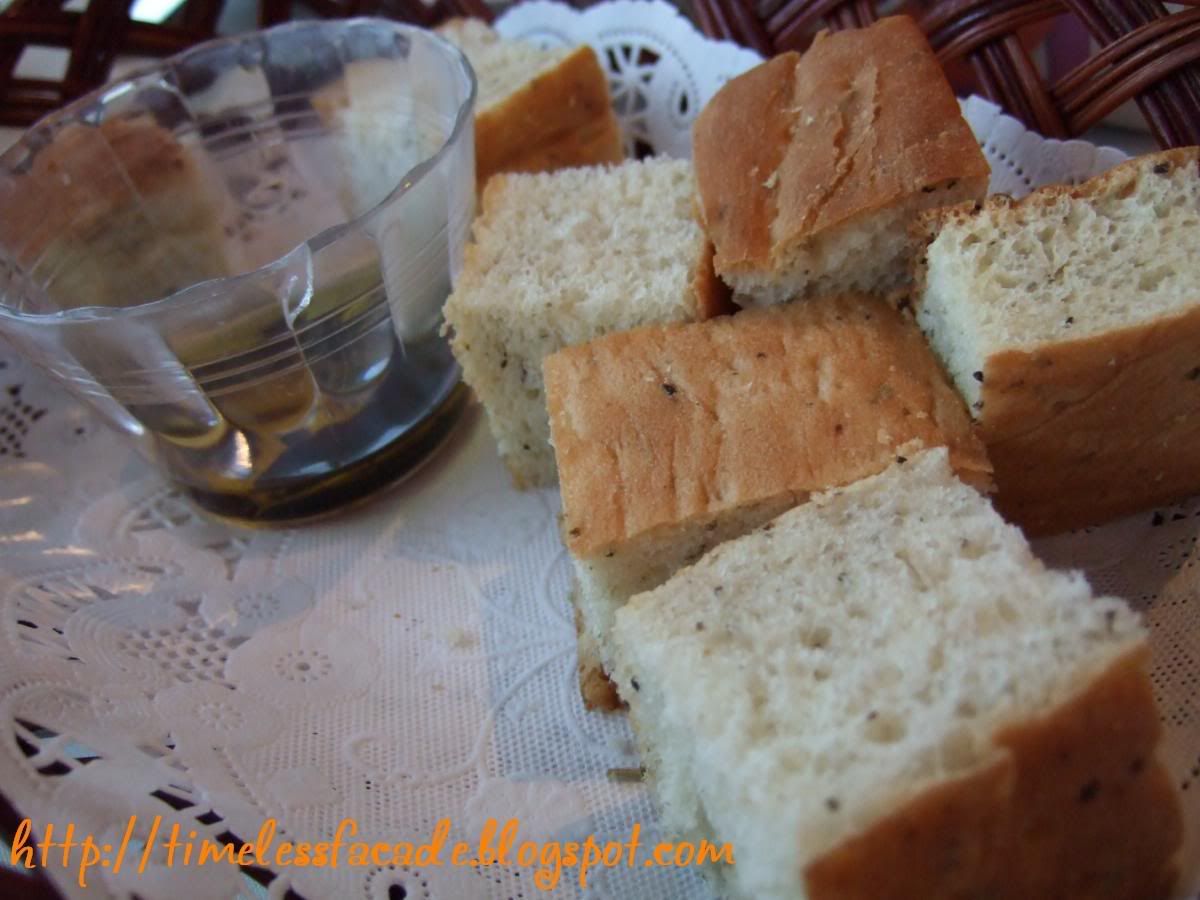 Complimentary Bread
I didn't hope for much when I set my eyes on the bread and sure enough, it wasn't much. The bread was a little too dry, probably from being left in the open for too long. Quantity wise was also rather pathetic. What you see in the picture above is what they gave us, nothing more, nothing less.


Fritto Misto Di Modesto
A relatively large platter of deep fried soft shell crab, squid, prawns and silver breams which looked very appetizing the minute I set my eyes on it. However it didn't quite meet expectations. The deep fried soft shell crab, though crispy and fragrant, was a tad too salty for my liking while the squids were rather soft and limp, not chewy, giving the impression of being overcooked. The silver breams and prawns were close to tasteless as well - no sweetness from either seafood nor any taste from the light but bland batter. Alright I'm just being picky and it is still a decent dish. Bang for the buck wise, its still an open verdict.


Pizza Quattro Stagioni
Honestly, this is the first time I'm having such a pizza - one which is divided into 4 different sections, each with a different topping. One part olive, one part seafood, one part ham and one part mushrooms. Presents a rather challenging task if you ask me, as different ingredients require different amounts of cooking time. The chef must have known his stuff as the pizza turned out fairly good. Using tomato sauce as the base, it didn't come across as too overwhelming and the crust was reasonably thin and full of bite, but just a little burnt around the edges. Ingredients were generous and cooked just right, complementing the pizza very well. I must say that this is one of the better pizzas that I've tried. Give me this over Pizza Hut or Canadian Pizza anyday.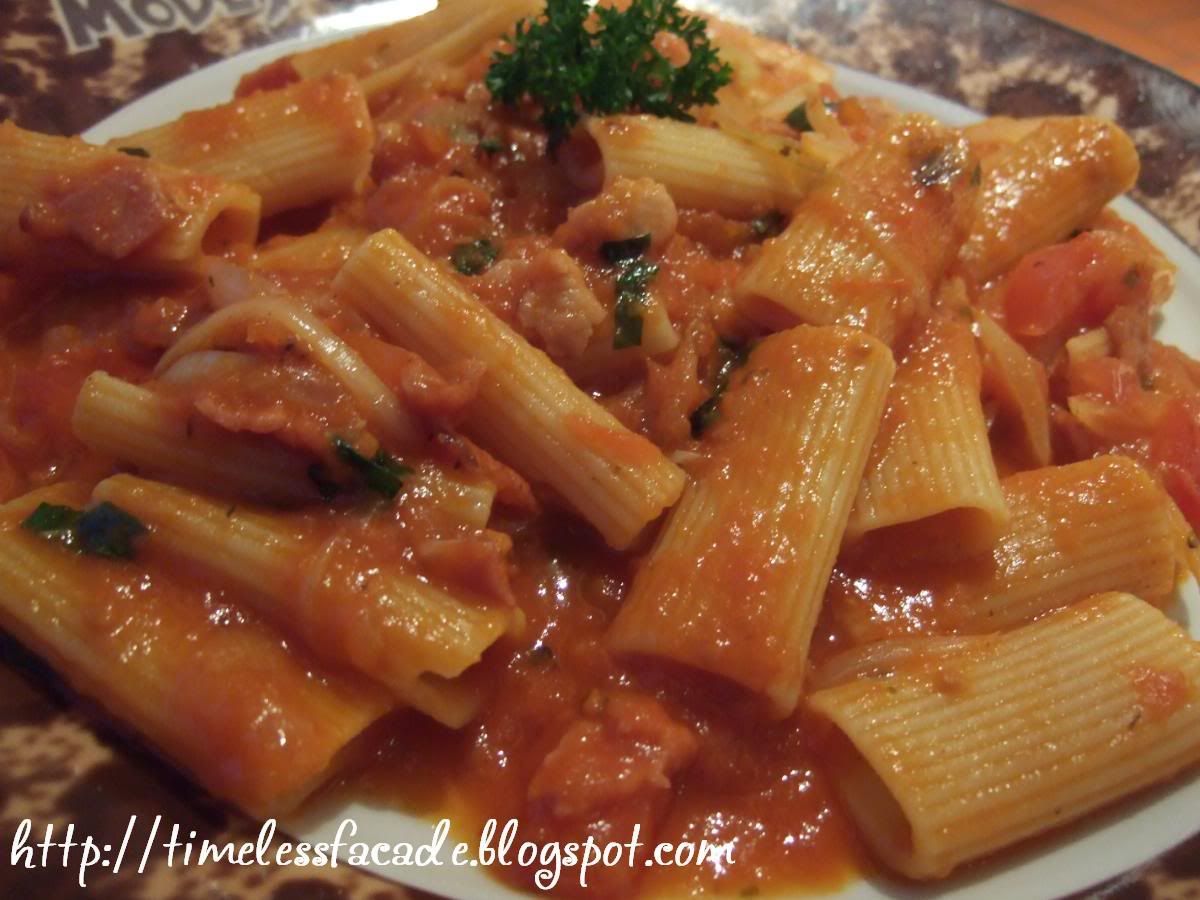 Rigatoni All' Amatriciana
I've never been a fan of tomato based pastas simply because I prefer its cream base relative and that most of the pastas I've eaten which utilizes such a base tend to have this overwhelming tomato taste. Modesto's rendition of the Rigatoni, which is a tomato based pasta, didn't have this problem though. The tomato sauce was mild, in fact a little too mild to fall short of tasty and came with bits of pork bacon and onions, which did serve to enhance the overall flavour (luckily). The large tube pasta was a little undercooked though and I seriously think that this dish could do with more ingredients for its price.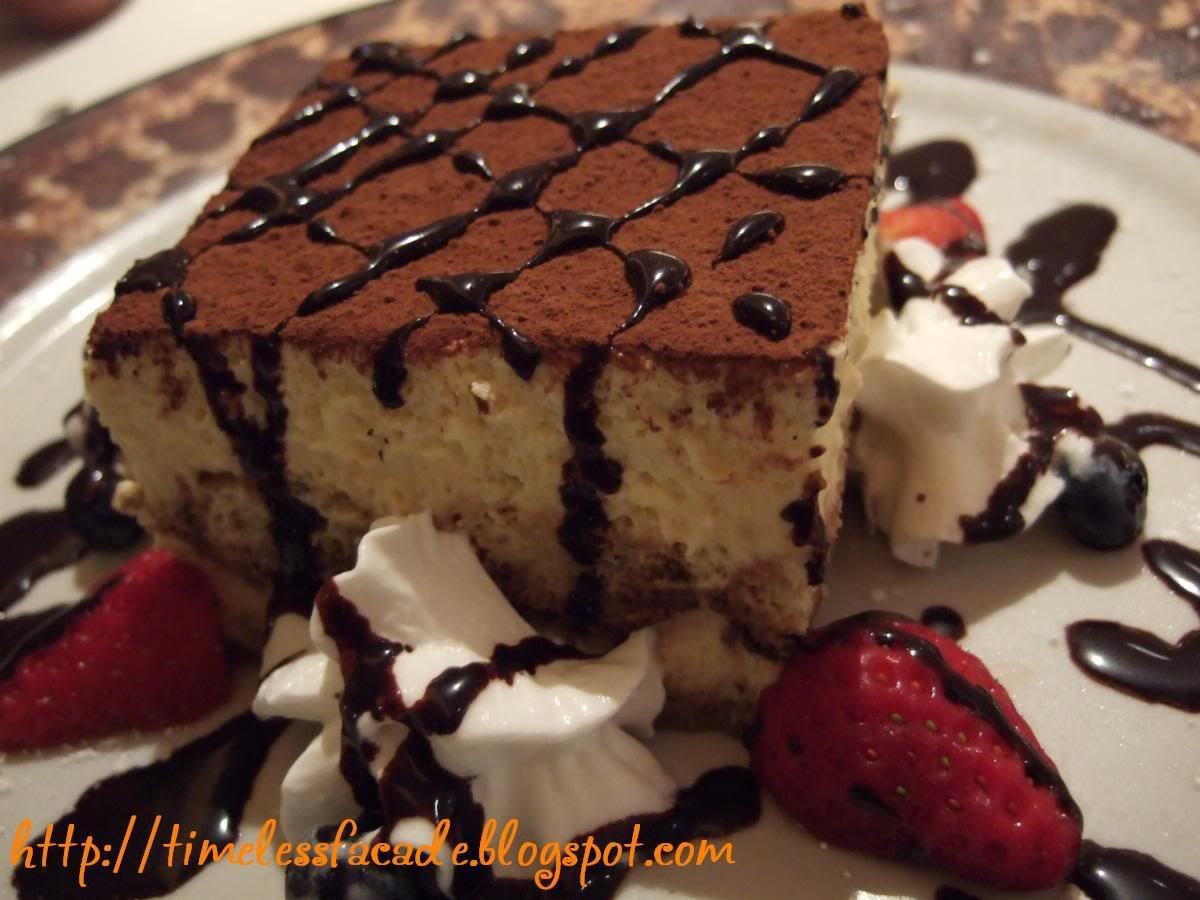 Tiramisu Modesto's
I've been on a Tiramisu roll these few days and so this came as a natural extension to my meal, especially when it came highly recommended. Comparing this to the one I had at
Romano Ristorante
, this one was actually much finer and definitely more presentable. Though it came across as light and fluffy, the sponge to cream ratio was rather skewed, with the latter being the predominant party. Thus I couldn't quite taste the texture of the cake, which is quite sad really.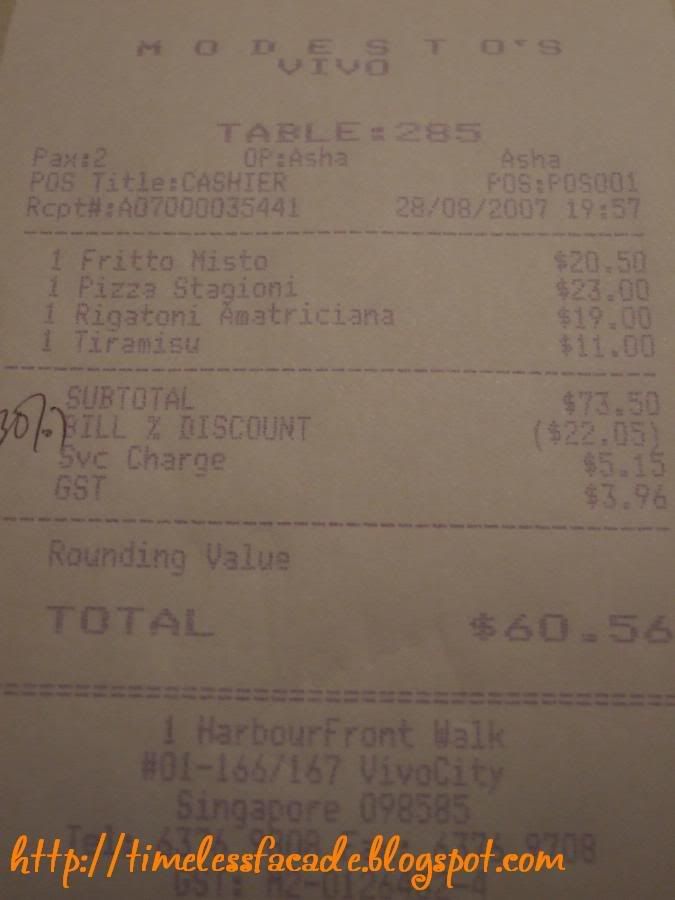 Bill
After a 30% discount, the bill worked out to be about $60 for 2 pax ($87 before discount), which still falls within my range of reasonable pricing, but do away with the discount and I might have to think really hard before coming back. Service is good though, but I don't really fancy paying so much for a casual dinner.



Likes: Decent Italian food, good view(Vivo outlet only)
Dislikes: A little pricey

Final Verdict:
Ambience:7/10
Service:7/10
Food:7/10
Value for money:6/10 (without discount)

Overall:6.75/10

Address: #01-166 Vivo City. Other branches at #01-09 Orchard Parade Hotel & #01-05 The Elizabeth Hotel

Contact: 63769808 (VC), 62357808 (OPH) & 6736 (TEH)

Opening Hours: 12pm - 10pm (VC only)

Website: http://www.modestos.com.sg


ps: Had this limited edition 12 inch cake for dessert.