Popped by Thai Village with my gf and parents to have dinner. Honestly I have never been a fan of Thai Village, not after my unhappy encounter at the restaurant's Oasis outlet, details of which I shall not divulge for some personal reasons.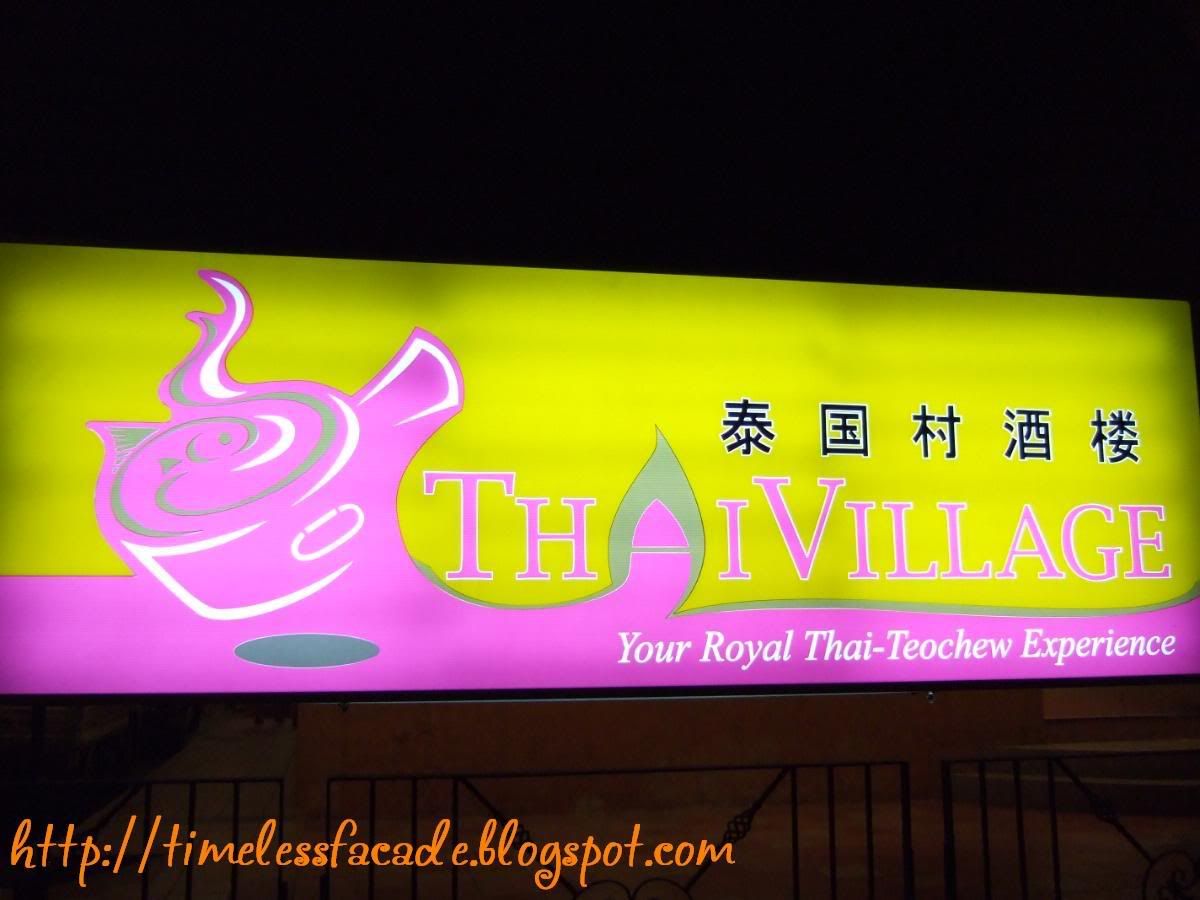 Signboard


Exterior & Interior
Sitting pretty in a stand alone structure with huge windows in the midst of secluded Taman Jurong, Thai Village literally outshines the competition (think MacDonalds and KFC) with its huge neon signboards and brightly lighted interior. Surprisingly, for a restaurant situated in such an isolated heartland, it was rather packed by the time we got down to eating our food.

Braised Superior Shark's Fin with Crab
Thai Village is purportedly known for its quality shark's fin at a prices that won't break your arm. At $90 for a portion of shark's fin large enough for 6 bowls, I'm inclined to agree. However, the quality of the shark's fin was rather debatable as the fins, though served as a whole piece, was a little too coarse, unlike top grade shark's fin where the fins are smooth and have a slight bony texture. The soup could also have been better, coming across as a tad too starchy and heavy. But honestly, I'll be hard pressed to find a dish of similar quality and quantity for that price in Singapore(maybe I just haven't eaten enough to know).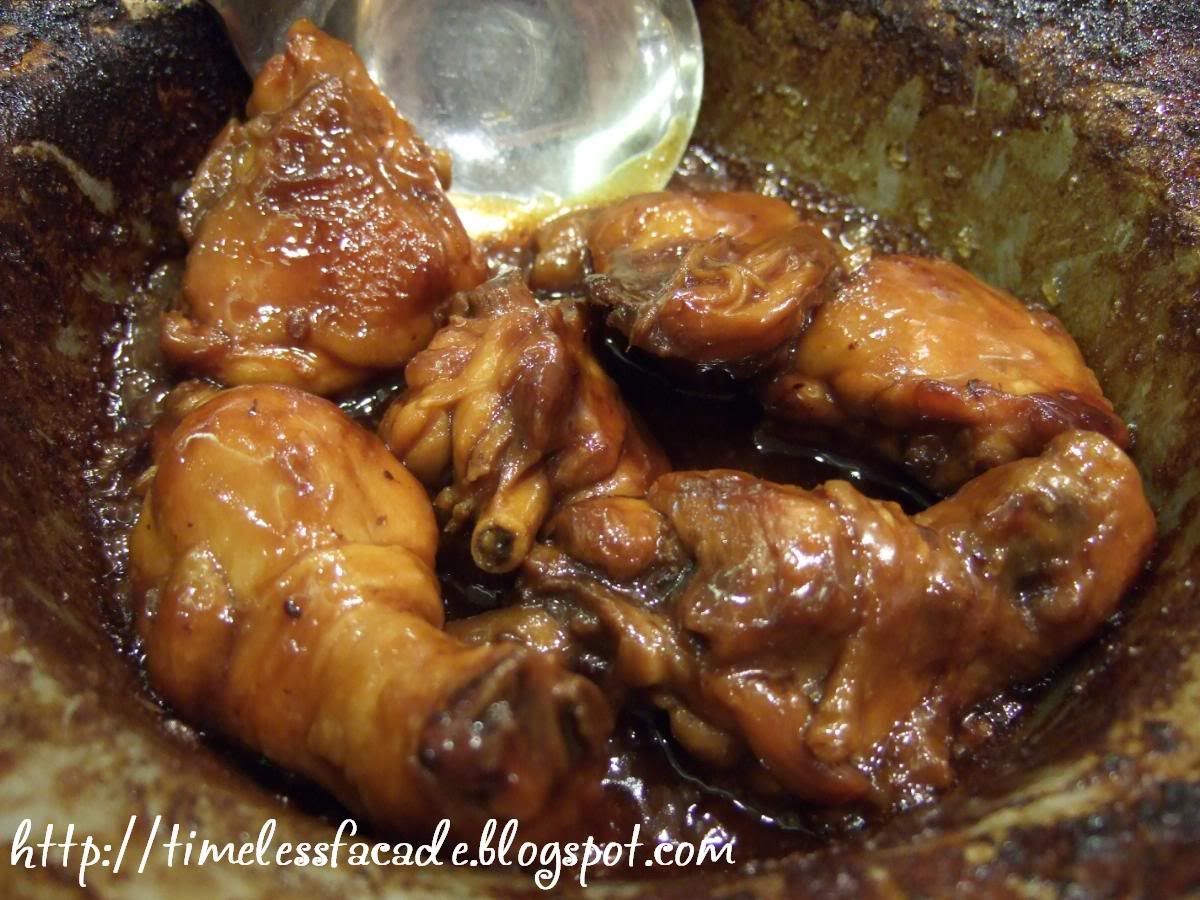 Salt Baked Chicken Drumsticks
As tantalizing as the name may sound, it tasted nowhere near. I was expecting something salty yet the chicken, which was served in a huge claypot, turned out sweet. Sure, the meat was tender but $16 for 6 tiny pieces is a big no no. It was overall a very forgettable dish.


Baked Crabs with Vermicelli & the garlic base

The star for the evening - Baked Crabs with Vermicelli. To be honest, I haven't had such a great rendition of this dish for eons. The crab's flesh was fresh, sweet and firm, all markings of an excellent crab. The vermicelli was excellent as well, having soaked up the juices from the crab as well as from the tons of garlic at the bottom, rendering it soft and silky with a rather strong garlic taste. And before I forget, there was a little surprise hidden beneath the mountain of garlic - pieces of 3 tiered pork (literal translation from San Chen Rou) which were a little too hard from all the baking but tasted excellently garlicky nevertheless.


Seafood Fried Rice
A 50-50 dish if you ask me. Why so? The rice was fragrant and tasty but lacked the quintessential
Wok Hei
taste. Seafood pickings were also rather miserly. Take your chances!

Asparagus Fried with Mushroom

Asparagus are supposed to be a little hard and crunchy, but this one was a little too soft and portions were measly. Coupled with the fact that I could only make out 6 pieces of scallops and it becomes a must never order again dish.
Baked Thai Style Cod Fish
The fish was a little crispy on the outside but terribly tasteless, unless you consider oil a taste. Not to mention that it wasn't actually very fresh. I guess I need not say more.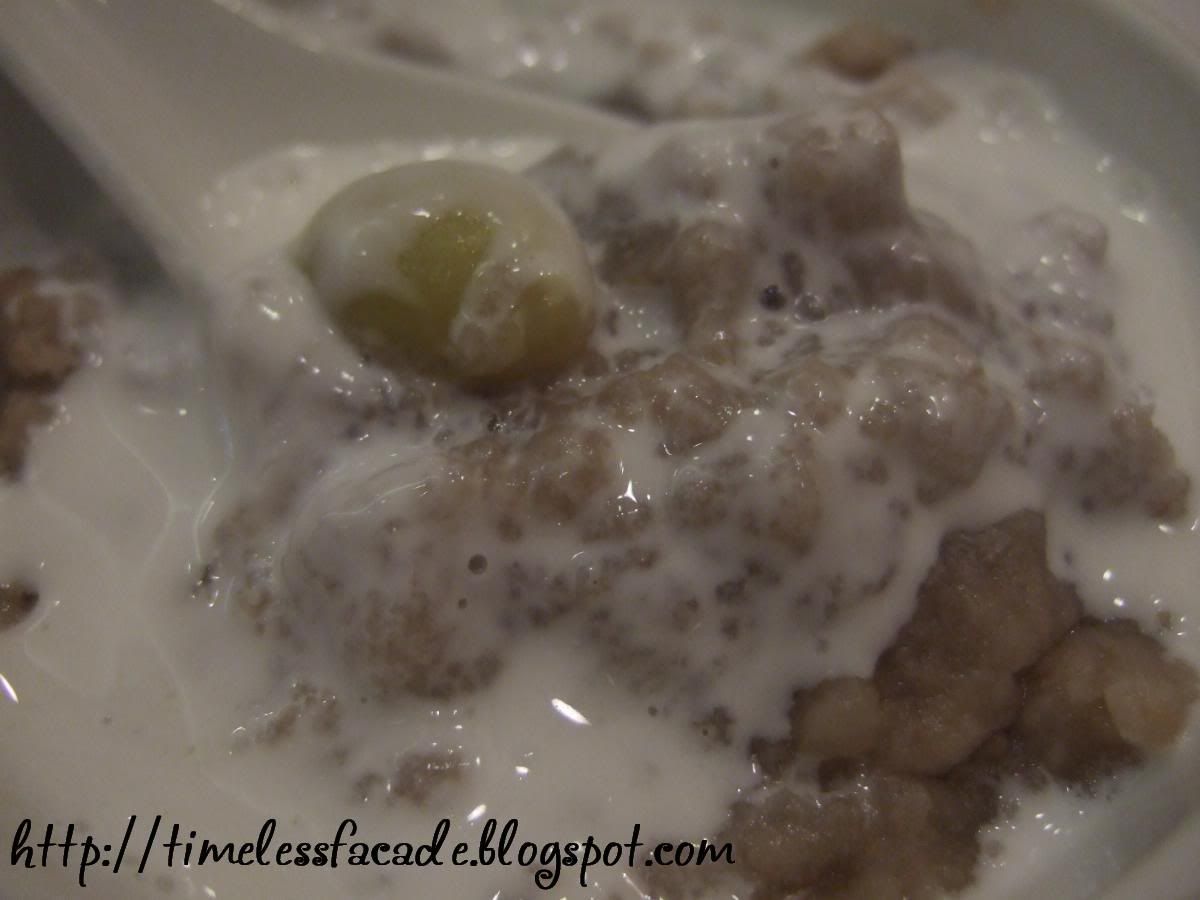 Yam Paste
One of the very decent
Orh Nee
that I've tried, but just a little too runny for my liking and the onset of a generous quantity of coconut milk was quite overwhelming.
Bill
The 4 of us chalked up a rather hefty bill of about $230, which I feel is a little on the expensive side given the number of merely average dishes. Sure the Baked Crabs and Shark's Fin Soup soup were good, but I really don't foresee myself returning just for those.



Likes: Certain dishes are good
Dislikes: Certain dishes are mediocre, a tad pricey

Final Verdict:
Ambience:7/10
Service:7/10
Food:6/10 (7/10 for the shark's fin and 7.5/10 for the baked crab)
Value for money:6/10

Overall:6.5/10

Address: 19 Yung Ho Road

Contact: 62683885

Opening Hours:Mon-Sun: 11.30am-3pm, 6pm-10pm

Website: http://www.thaivillagerestaurant.com.sg/