Astons Prime is a recently opened upmarket version of
Aston Specialties
, catering to the more well heeled with a wider selection of premium meat available and reservations of course.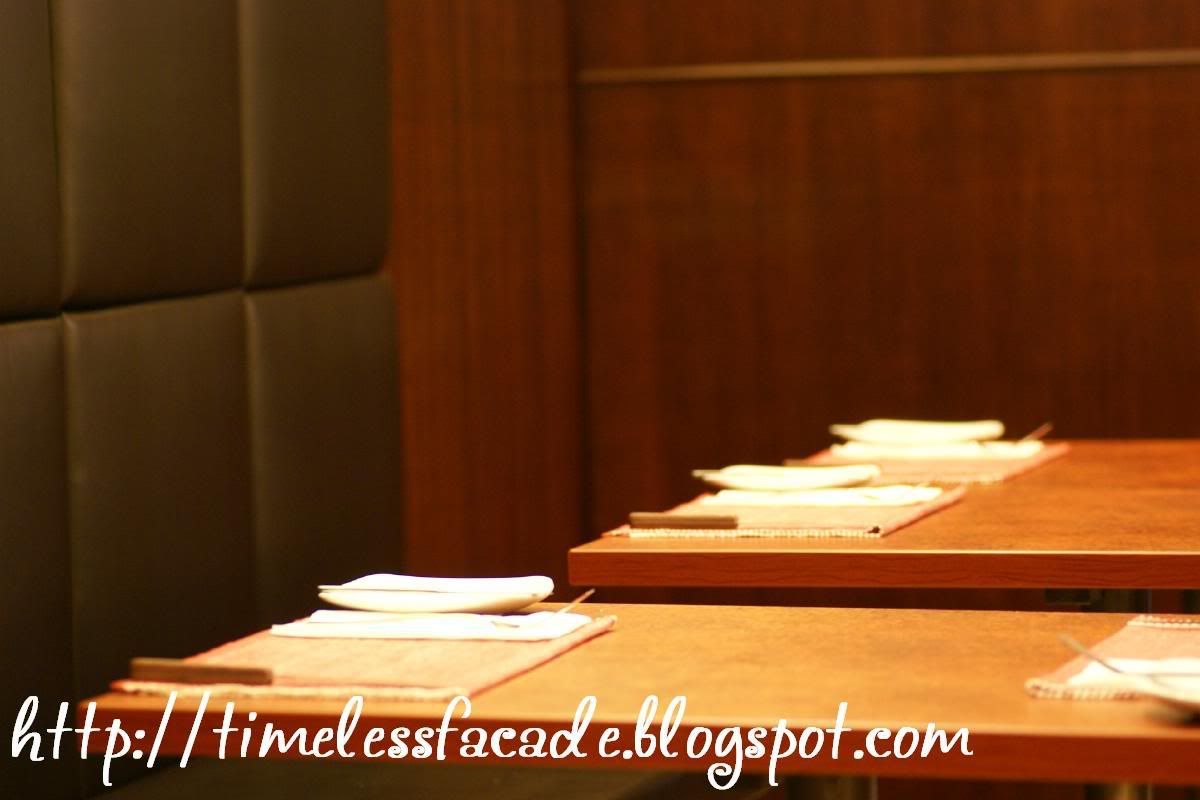 Interior
Located just a stones throw away from the original
Astons Specialties
, Astons Prime sits along the row of shophouses near the junction of Joo Chiat Road and East Coast Road. The interior is simply furnished and can probably seat up to about 30 people. There are corner booth seats for 2 pax which are a must if you wish to have more privacy. Pity there are only 2 of those seats though and I wasn't fortunate to get one of those even during lunch.
Complementary Bread with Homemade Garlic Spread
When a place claims to serve up its own homemade garlic spread, my expectations go up a notch because I like my garlic spread a lot, probably more than most people. Sadly, Aston's spread didn't even come close to meeting my expectations. For one, it was rather bland and didn't exactly jell in well with the bread, which incidentally, wasn't tasty nor was it served warm.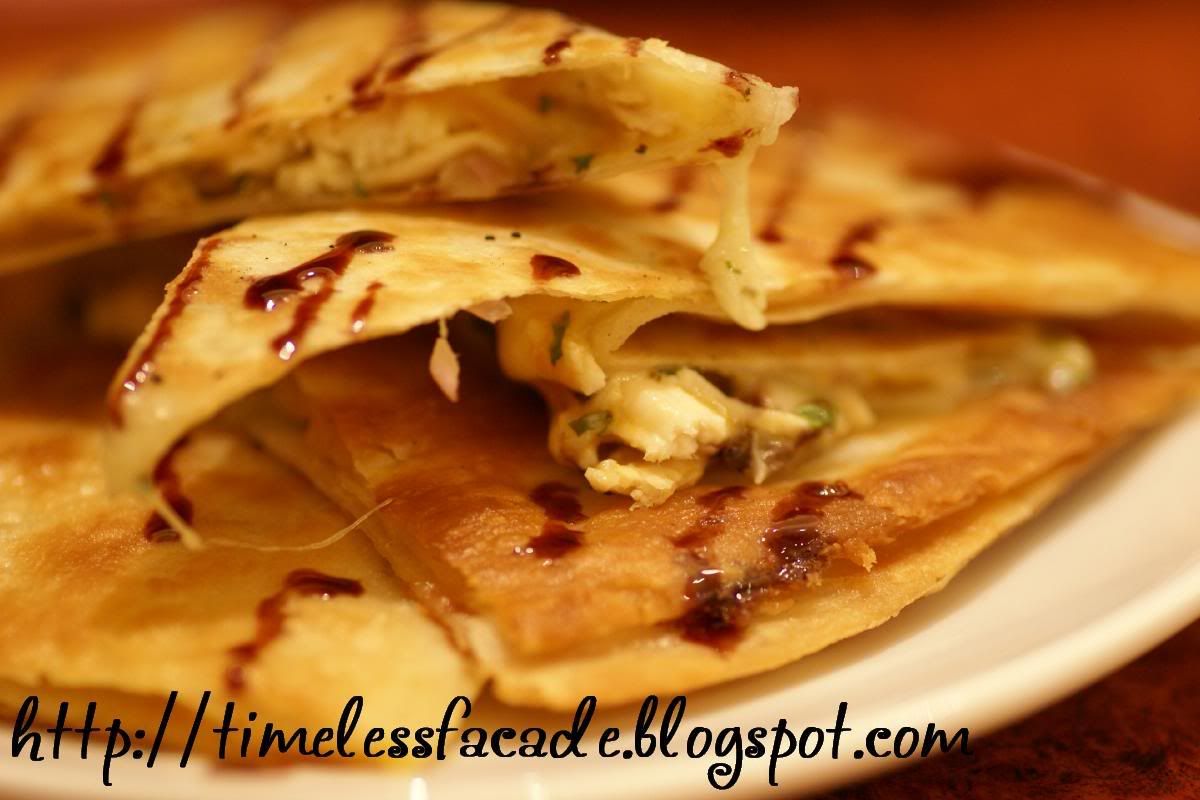 Chicken Quesadilla
Interestingly, biting into the Chicken Quesadilla was akin to eating
roti prata
with bits of chicken and BBQ sauce. The paper thin crust was a little crispy and flaky with a rather miserable filling of chicken. Not that I'm saying that its not good, but for almost 8 dollars, I'd rather order something else.
Fillet Mignon Prime Steer Grass Fed


Fillet Mignon Australian Grain Fed

Notice that the fillet mignon comes in 2 variations, the New Zealand fed and the Australian fed. I'm guessing the Australian one is better because of its superior pricing. But then again, I didn't get to try the New Zealand variant, so I'm really in no position to comment.
My Australian fed fillet mignon was small (they are all 8oz by the way, which is about 250g) but good. I wouldn't go so far as to say that it was excellent as I've definitely tried better but this one was really in a league of its own. Medium rare, succulent and sweet. Only gripe I had was that the meat slab was too thick which resulted in the exterior being a little too charred. I did like the accompanying sauce though, which tasted like it had a little bit of cheese in it.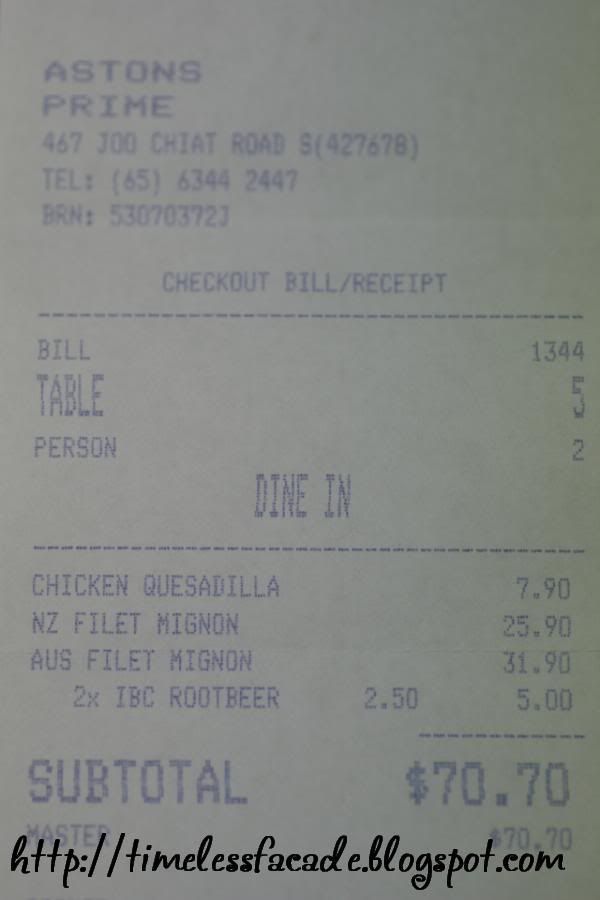 Bill
$70 for 2 pax for lunch is rather expensive honestly, but good steak comes at a price unfortunately. Service is excellent and there is no service charge or GST which kinda sweetens the deal a little. I see potential in this place, but it would be nice to have a larger slab of meat for the same price, please?



Likes: Good steak, good service, reservations are welcome
Dislikes: A tad pricey, limited space

Final Verdict:
Ambience:6.5/10
Service:8/10
Food:7.5/10
Value for money:6.5/10

Overall:7.125/10

Address: 467 Joo Chiat Road

Contact: 63442447

Opening Hours: Wed - Mon: 11.30am to 11pm. Closed on Tuesdays.