Asia Grand Restaurant has reopened with much fanfare at the former premises of Chef Chan at Oden Towers. Formerly from Asia Grand Hotel, Asia Grand Restaurant was set up by the original owners of the popular Tsui Hang chain of restaurants, which has since closed down.
Exterior & Interior
A brightly lighted interior greets you as you step into the rather cramp restaurant, which incidentally, was packed with people. Floor to ceiling windows offer a clear view of passers by at ground level, seperated only by thin veiled curtains. The lack of privacy is further enhanced by the closely placed tables which makes it hard not to eavesdrop.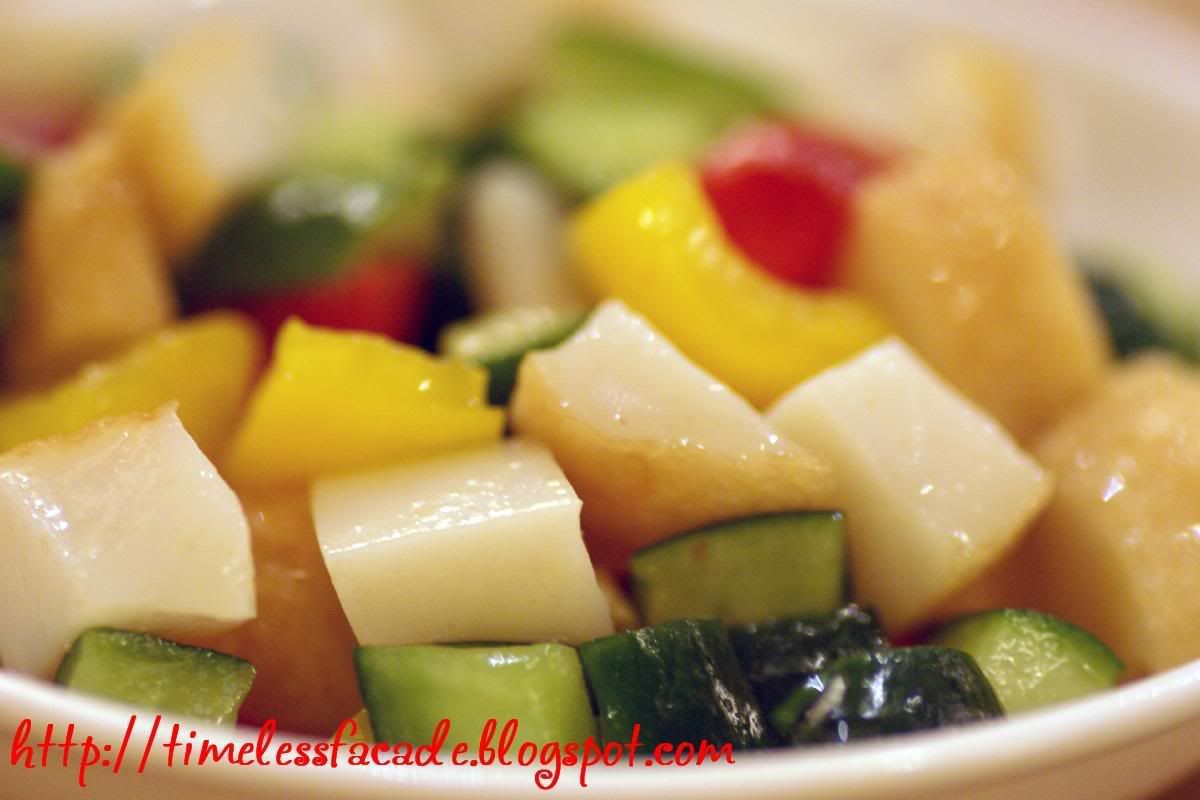 Appetizer
The appetizer was a mixture of Capsicum, fish cakes and bell peppers, which was rather intriguing given that I've never tried anything like it. The fishcake cubes took on a slight tinge of the bell pepper taste and proved to be a nice way to start dinner rolling.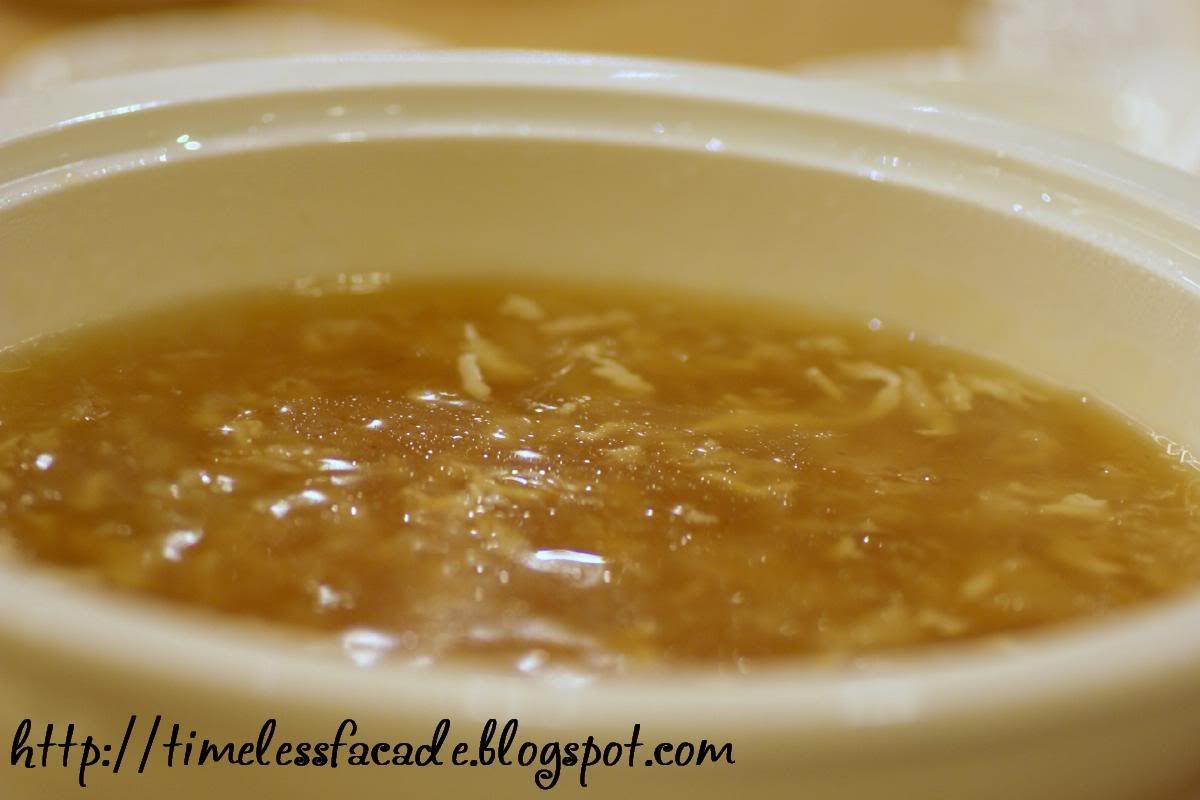 Braised Shark's Fin Soup with Shredded Chicken & Bamboo Pith
Honestly, for a restaurant such as Asia Grand, I would have expected better shark's fin soup. Not just quality of fins wise, but overall preparation of the soup as well. The soup was way too starchy and oily by any measure. The fins were of rather inferior quality but portions were still decent. Overall an average dish and no more.

Peking Duck
Our unanimous star of the evening - the humble Peking duck. With crackling crispy skin thats almost fat free wrapped in thin yet chewy egg crepes, you will be hard pressed to find any substitutes with similar quality at such a low price of $28 a duck (ongoing promotion).

Baked Lobster with Egg Yolk
The lobster got me all excited and was one of the reasons why we chose to order the set menu instead of going ala carte. My hopes shattered when I saw the size of the lobsters. They were tiny, weighing in at most the size of a huge prawn. The meat was barely a spoonful, which was absolutely pathetic. Berates aside, I must admit that the lobster was quite tasty, with the saltiness from the egg yolk complementing the slightly sweet lobster flesh. However, the egg yolk could have been saltier to further bring out the contrast.


Duck Fried Rice
Wondering what happened to the meat from the Peking duck? Well, you have your answer. The rice was moist and rather well fried together with the fibrous yet tender duck meat. However, it did get rather bland after a while. I mean, how tasty can it get when its just diced duck with rice and egg with no gravy whatsoever?


Steamed Pa Ting fish with Olive, Chilli & Garlic
A most forgettable dish - steamed fish at its most uninspiring. The fish was fresh but not particularly sweet. It didn't help that the fish was rather small as well.


Sauteed Fresh Scallop with Assorted Mushroom
The scallops were supposed to be the main focal point in this dish, but ironically I preferred the mushrooms better. Tasty, juicy and the direct opposite of the scallops, which were a tad too soft without much bite and rather bland. Portions are pathetic as well and we had to limit everyone to 2 scallops each. Talk about rationing.

Bill
$61.50/pax is rather expensive for such an average repertoire of food, the Peking duck withstanding. Service is excellent and all of the wait staff are attentive and friendly. After doing my math, I reckon I'll be back just for the $28 Peking duck. No more, no less.
Likes: Excellent service
Dislikes: Food isn't spectacular for the price
Final Verdict:
Ambience:7/10
Service:8/10
Food:7/10
Value for money:6/10
Overall:7/10
Address: #01-02 Oden Towers, 331 North Bridge Road
Contact: 68870010
Opening Hours:
Mon-Sat: 11.30am - 2.30pm, 6.30pm - 10.30pm
Sun & PH: 10am - 2.30pm, 6pm - 10.30pm