The once sleepy HDB estate of Sunset Way is fast emerging as a dining hotspot after places like Holland Village and Dempsey Hill. Its charm stems from the diverse array of eateries that range from a pizza place to a Chinese restaurant to Peaberry & Pretzel, a small dining outlet purportedly selling German food (but they sell pasta as well?!) and also the choice for our dinner on a Saturday evening.
Exterior and Interior
Nestled in a corner of serene Sunset Way, Peaberry & Pretzel is but a small eatery with an even smaller interior to boot. The smallish air conditioned interior can sit probably about 10 pax and gives the feeling of barrenness due to the cement floor and the over usage of mirrors. What I did like about it was the glass dessert cabinet and the open kitchen concept where you can view the chef preparing dessert. In case you are wondering about the limited capacity of the place, the restaurant also offers dining in its alfresco area, which has a couple more tables and is slightly elevated on wooden planks overlooking some greenery. Do note that there is no shade in the alfresco dining area, thus limiting meals there to only dinner.

Complimentary Bread
The bread was nothing to shout about, just your normal baguette but served warm with a serving of mass produced butter. Its complimentary though.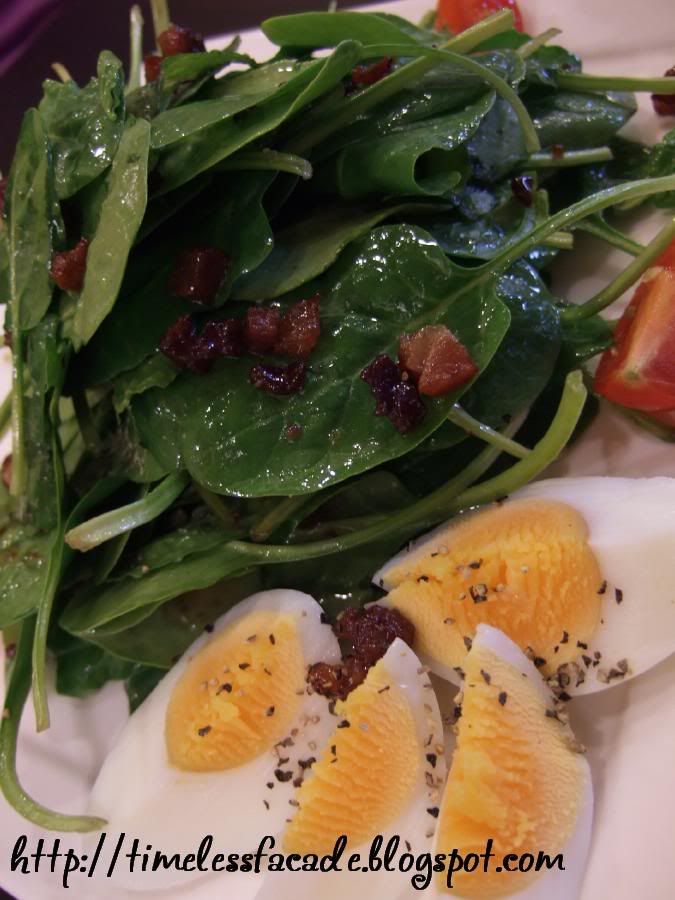 Warm Spinach Salad
How fantastic or interesting can a plate of spinach tossed in vinaigrette, bacon and served with hard boiled egg get? Not very interesting if you ask me. Sadly, the salad proved my point. The spinach were reasonably fresh although they could do with a little sprucing up while the half boiled egg was about 80% cooked, as evident by the slightly watery egg yolk and limp egg white. Not that I am complaining about this dish though. The bacon bits were plentiful and added a salty yet barbecued dimension to the faintly starchy yet sweet vinaigrette. Three flavours all rolled into one made for a very decent starter.


German Pork Knuckle (For 2 pax)
It is to my understanding that Peaberry only serves up 10 German pork knuckles a day so its best to call in to place your order for it in advance. Luckily for my gf and I, we got there early and managed to get ourselves one to try. Just for the record, all 10 pieces were sold out by 8pm.
Now then, does the pork knuckle live up to its hype? Unfortunately, not quite. True, the meat was fibrous and tender while the skin was crackling crispy. However, the knuckle wasn't homogeneously seasoned, resulting in some parts of the skin being extremely salty while others bland. The meat lacked a reddish hue as well, an indication of overcooking. I didn't find the accompanying Sauerkaut and potato salad too fantastic either, coming in as rather average.


Valrhona Warm Chocolate Pudding
How could I resist such a sinful dessert, especially when it was so aesthetically pleasing? The thought of warm and rich Valrhona chocolate in a spongy encasement oozing down my throat was enough to make me dribble all over my shirt. Unfortunately, I didn't quite take to this dessert as the chocolate was way too bitter for my liking. I know chocolate is supposed to be bitter but I prefer mine pleasantly sweet. A matter of preference I guess. That aside, the sponge was nice and moist with chocolate breaking forth with every bite.


Soufflé
Another pleasing on the eye dessert, the Soufflé was spongy and frothy, emphasizing heavily on the egg taste with bits of caramel wedged in between. Nice and sweet and a perfect end to a rather heavy meal.

Just a random shot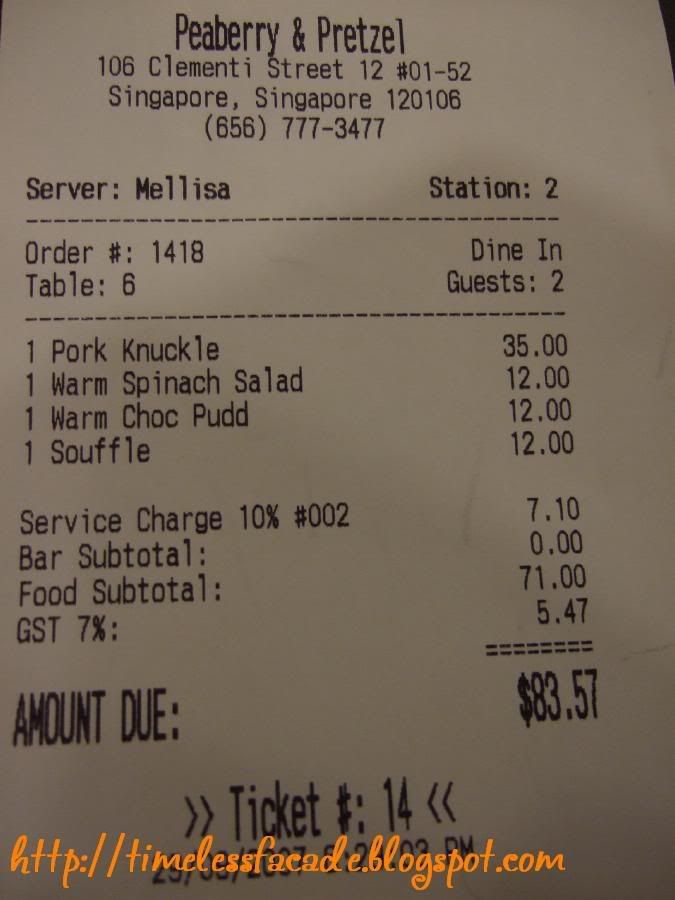 Bill
I wouldn't exactly quantify spending $84 for 2 pax as cheap because it certainly isn't for such an area. The food is pretty decent on the whole but definitely better with the desserts. Service is good but they need to do something about their air conditioning and ventilation system. I walked out of the place reeking of fumes and perspiring. I hear that they serve up a mean Cuppa so I'll probably drop by just for that and nothing else.



Likes: Aesthetically pleasing dishes, decent food
Dislikes: A tad pricey

Final Verdict:
Ambience:7/10
Service:7/10
Food:7/10
Value for money:6/10

Overall:6.75/10

Address: Blk 106 Clementi St 12, #01-52

Contact: 67773477

Opening Hours: Sun - Sat: 12noon to 10pm. Closed on Mondays.