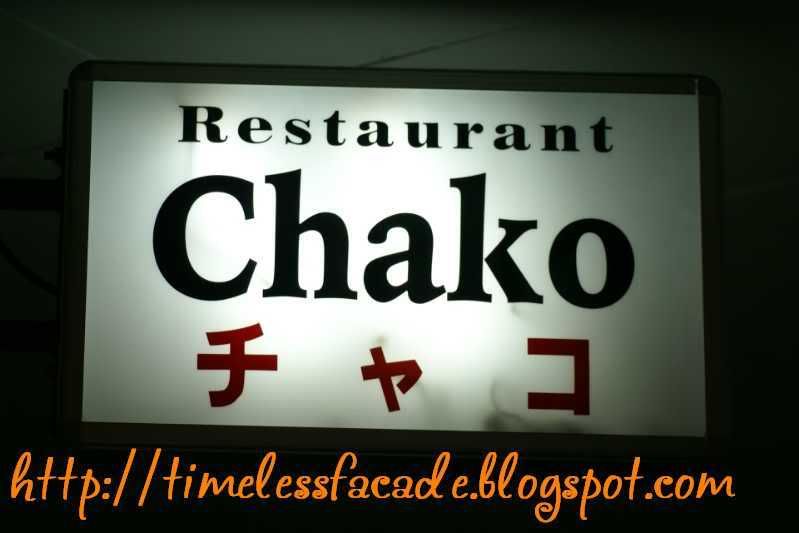 In the western region of Singapore lies a gem that is Restaurant Chako. Established in 1978 by Chako, the lady boss cum chef, the eatery boasts home cooked food that is cooked when you place your order and at prices that won't burst your pocket.
Located at a rather prominent row of shops along the Ayer Rajah Expressway (AYE), Chako is ironically hidden from sight and totally devoid of human traffic on a Tuesday evening. Not that I'm complaining though. The interior was tiny and oozed a homely feel made complete by a shelf full of Japanese comics and the motherly figure of Chako, who fussed over us and explained to us in detail the items on the menu (which happens to be in Japanese by the way).
Occha
The Occha deserves a mention on its own. Unlike the usual Occha served at most other Japanese eateries, the Occha here was particularly fragrant and carried a whiff of coffee aroma. It had a tinge of coffee taste as well which was delightful.


Miso Soup & Cold Tofu
The sides of Miso Soup and Cold Tofu came with every order of a main course. What I liked about the Miso soup was that there were cockles in it, which was something different. However the soup did come across as a tad too salty for my liking. The tofu was soft and silky but nothing out of the ordinary.


Hanburg Steak

My Hanburg steak was nice and thick but a little too soft for my liking. Meat was pan fried till well done instead of the usual medium/medium rare which would have been tastier and juicier. Simply done without the frills and very decent.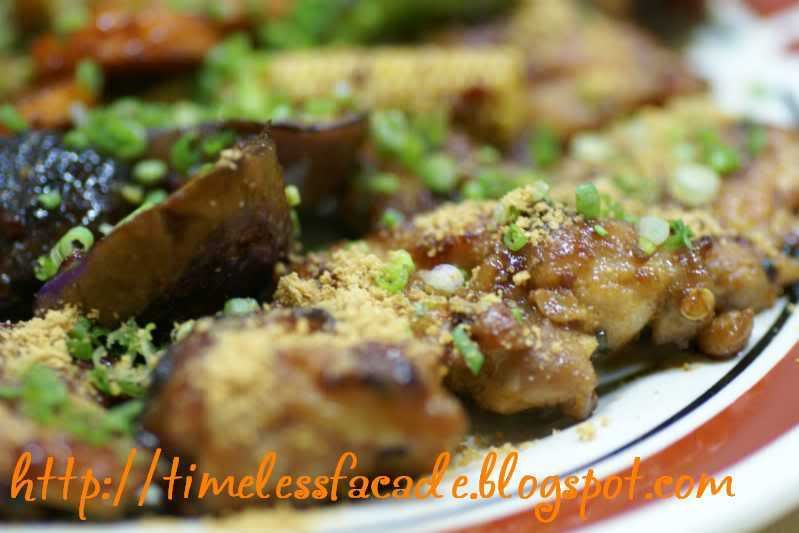 Yakiniku Chicken
Served up with various vegetables like lettuce, carrots, egg plants etc, the Yakiniku Chicken was relatively well done. Crispy on the outside and not too heavy on the BBQ sauce. Add the fact that it was topped with a generous amount of crushed peanuts and you have a nice yet simple dish.


Vanilla Soya Bean Ice Cream & Mango Yoghurt
The vanilla soya bean ice cream came across as light, tasting of soya with a tinge of vanilla. It came with cut fruits which had been carefully prepared, ie. the grapes had the head cut off and the pear has its skin removed.

I'm not exactly a fan of yoghurt but the mango yoghurt wasn't half as bad as I made it out to be. Slightly sourish with a dash of mango. I understand that both desserts are hand made by Chako herself.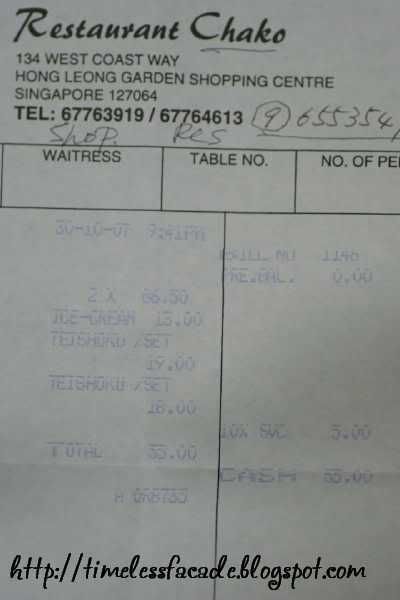 Bill
We were the only 2 customers in the restaurant that evening and it was a long dinner, standing at 2.5hrs and costing $55. Expensive? A little. Food quality? Decent. Satisfaction from a home cooked dinner? Priceless. On a side note, please be prepared to wait for your food as it is a one man show. If you can't understand Japanese, please bring along something to read to while away the long waiting times.
Likes: Homely environment and food
Dislikes: Long waiting time
Final Verdict:
Ambience:7/10
Service:7.5/10
Food:7/10
Value for money:6.5/10
Overall:7/10
Address: Hong Leong Garden Shopping Centre, 134 West Coast Way
Contact: 67763919
Opening Hours:
Mon - Sat: 12pm - 2.30pm, 6pm - 10.30pm
Sun: 6pm - 10pm