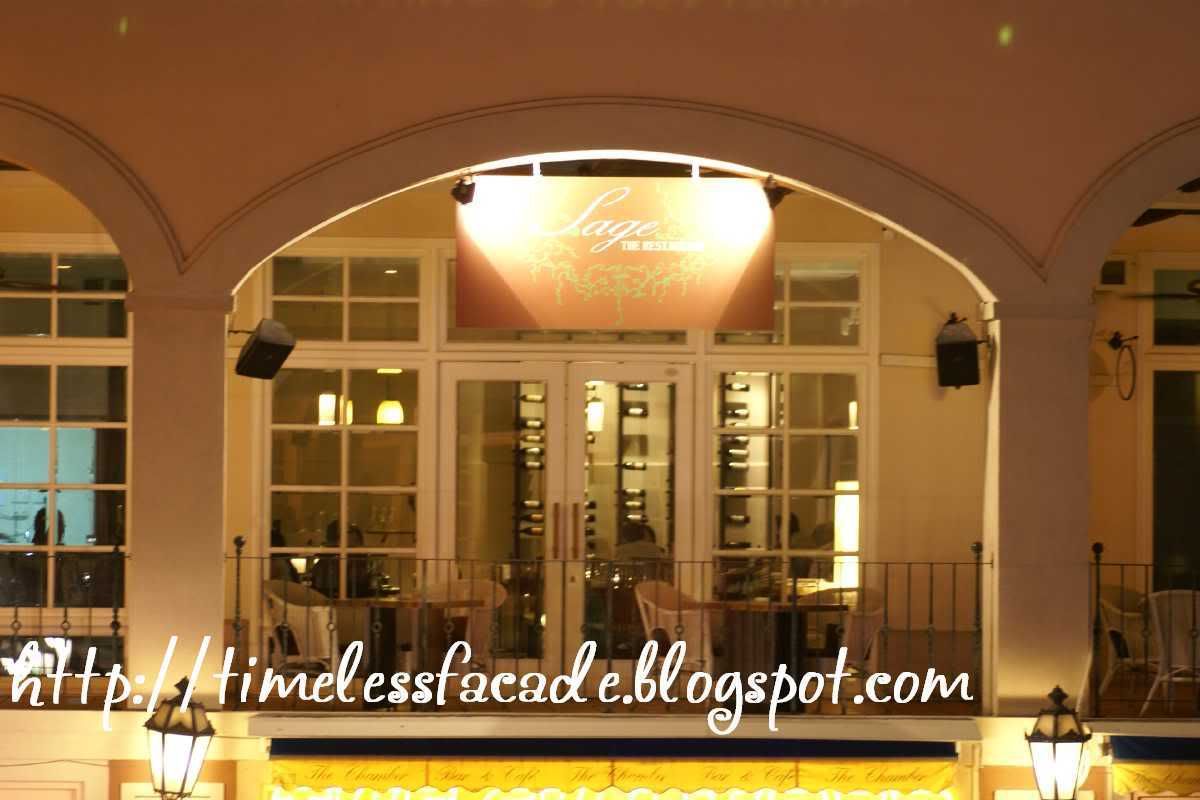 Sage, The Restaurant - an unpretentious modern European/fusion restaurant which I had the privilege of dining at during lunch
almost a year back
. It also happened to be the choice of venue for our monthly dinner and with a custom menu to boot. Just a little background on Sage. Its operated and run by a husband and wife team of Jusman and Kimberly, who have obviously done a good job so far, given the rave reviews.
Located in an unassuming corner on the second story, Sage overlooks the picturesque fountain courtyard of the Mediterranean flavoured Roberton Walk. Its decor is simplistic with an aura of somewhat muted modern chic. Ambient lighting coupled with candle light and limited seating make for a romantic night out or a relaxing place to wind down.
Complementary Bread & Amuse Bouche
I would say that the complementary bread was rather average, a tad too dry and hard although I'm sure it was served warm (I arrived late, so it was sitting there for a good 15 mins before I appeared). What I liked was the Amuse Bouche, which set the tone right for the evening. A shotglass full of finely minced meat sans the overwhelming pork taste with a layer of what tasted like tangy tomato puree atop. Nice without being too sharp.



Our drink for the evening

Pan Seared Duck Foie Gras with Pistachio Crust and Fig Compote, Granny Smith Apple Puree and a dressing of Red Grape Mustard Vinegar
In all truth, this is probably one of the best Foie Gras that I've eaten in a long long while, with the last being at
Il-Lido
. Nicely seared till crispy on the outside yet retaining its quiver and smoothness inside without being too overwhelming. The layer of Pistachio nuts gave it additional bite and a slight nutty taste. A masterpiece no less.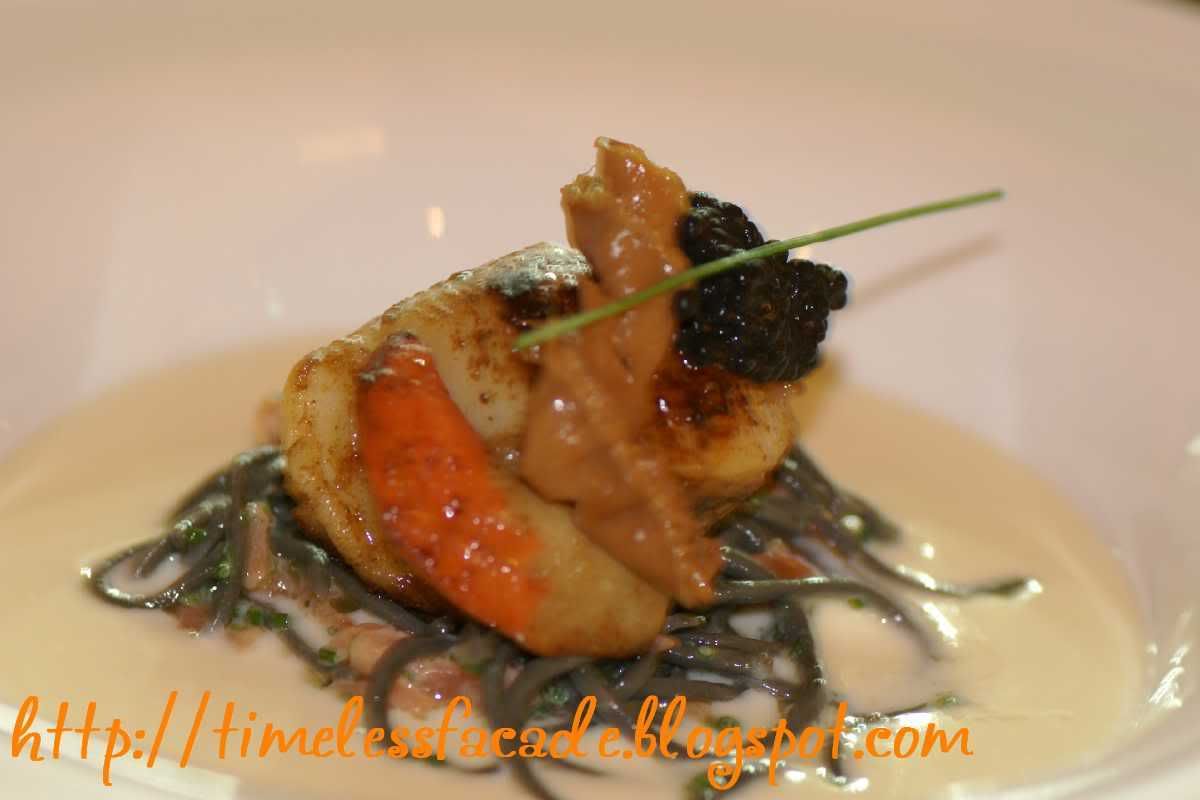 Seared King Scallops on a Salad of Homemade Squid Ink Capellini, Marinated Ocean Trout and Avruga Caviar, Braised Scallop Lips and Leek & Potato Vichyssoise
Another excellent Hors d'oeuvres with the fresh huge scallop perfectly seared till a tad crispy on the exterior and retaining a tinge of its natural raw taste. Served up with the slightly creamy tasting potato vichyssoise(a kind of soup) and squid ink capellini, it was truly a match made in heaven. In fact, the vichyssoise was so good that a few of us resorted to soaking it up with remnants of the complementary bread (I seldom dole out such praises, so please trust me on this). Interestingly, the Avruga caviar, which is essentially roe from the common herring, came across as less fishy than the usual caviar(from sturgeons) that I've eaten.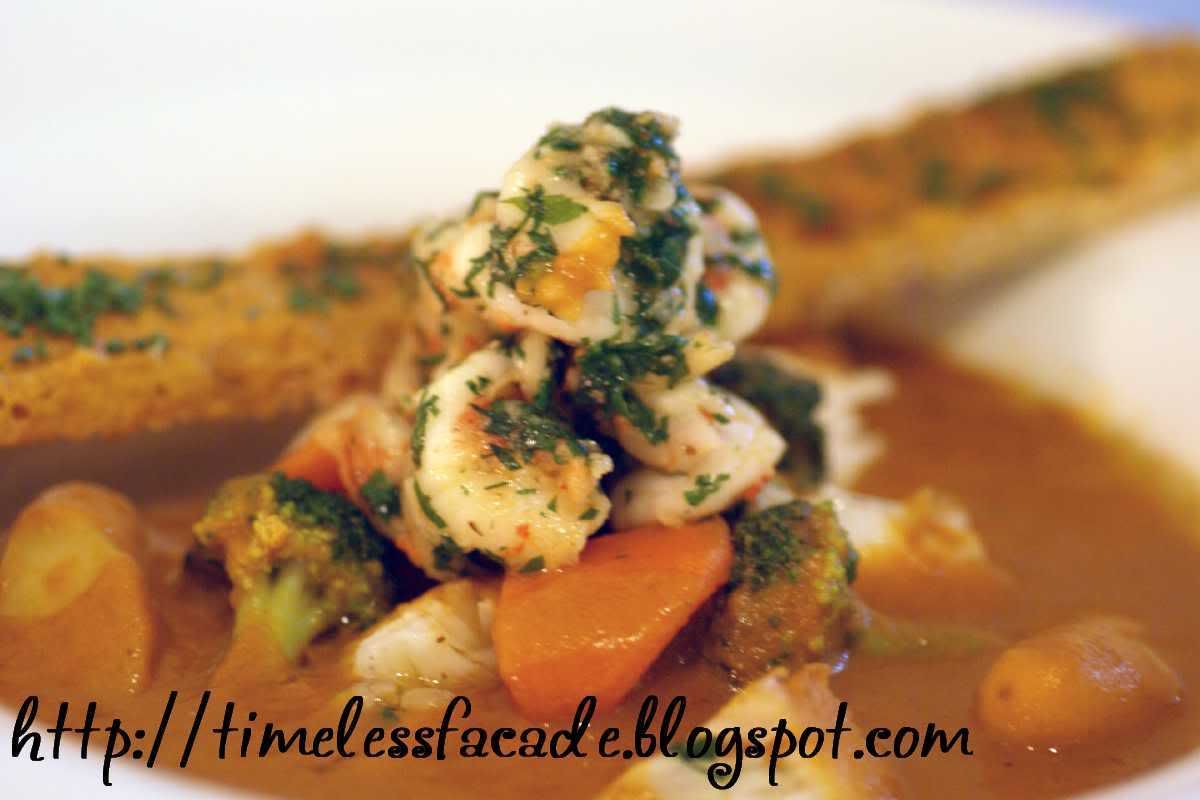 Effeuille of Cod and Grey Prawns in a Seafood Bouillabaisse with Ratte Potatoes and Garden Vegetables accompanied with Rouille on Toast

You can seldom go wrong with cod dishes because the fish itself lifts up the entire dish with its soft and smooth flesh, provided its fresh of course. Such was the case with this dish. The fish was melt in your mouth tender while the prawns retained a certain crunchiness and sweetness. I did like the addition of basil as well, which gave the prawns a pleasant edge. What I didn't quite like was the seafood bouillabaisse, which was a little too sharp for my liking. But the general consensus was that it was good. Pity that its not available from the ala carte menu.
Caramelized Black Angus Beef Cheek topped with Melted Foie Gras Mousse and a Fricassee of Mushrooms, Compote of Butternut Squash and White Onions
With such a stellar repertoire of dishes, I would have expected the beef cheeks to take it a level higher. But that was not to be. True, the beef cheeks were well simmered, tender yet fibrous with a tinge of caramel. However, the melted foie gras mousse was a tad too overwhelming, marring what would otherwise have been an excellent dish. The butternut squash was good though, just that portions were inadequate.


Lavender Crème Brûlée with Blood Orange Sorbet on Redcurrant Jelly
The lavender Crème Brûlée piped my interest quite a bit but sadly I couldn't make out any lavender taste in it. Incidentally, the last time I had something with lavender in it was the lavender ice cream at
Ember
, which tasted like shampoo! So I'm probably not missing out much. The Crème Brûlée was smooth though and I could make out the little black dots within, which is an indication of the use of vanilla beans in the making process instead of vanilla extract or essence. As for the meringue, it was merely sugar and egg white which was nice and sweet at first but got irritating after a few bites as it became firmly attached to parts of my teeth.
I liked the orange sorbet as well, but it did prove a little too zesty for me whereas the red currant jelly was rather bland and tasteless.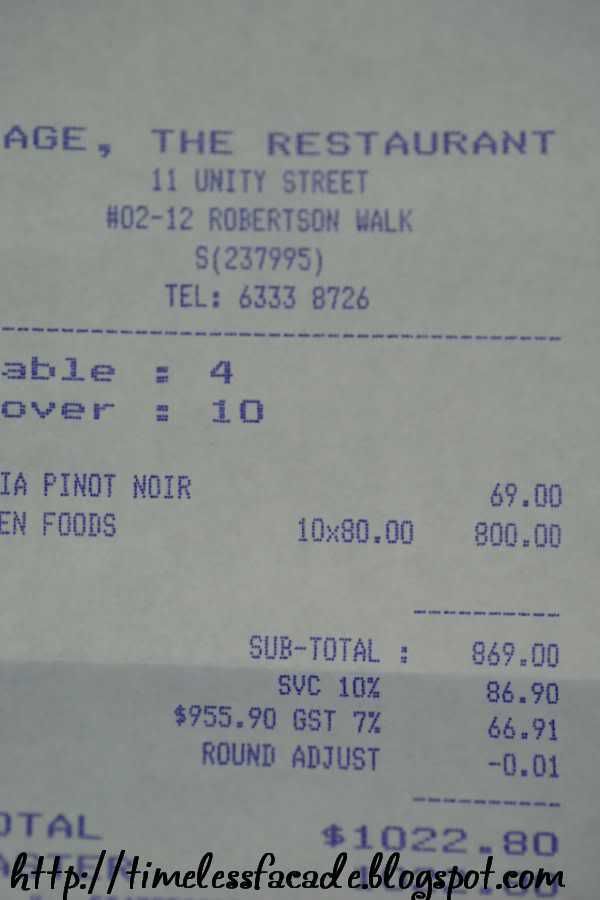 Bill
This has got to be one of the more expensive dinners that I've ever organised, standing at almost $1023 for 10 pax inclusive of a bottle of wine. However, I personally find the food quality in a league of its own due to the word Passion. Every dish is carefully crafted and you can really see and taste the effort. Service is great as well so I don't see any reason not to return. Well except for the steep prices maybe. Do note that portions aren't exactly huge, so please be prepared.



Likes: Excellent service, excellent food
Dislikes: Pricey, small portions

Final Verdict:
Ambience:8/10
Service:8/10
Food:8/10
Value for money:6/10

Overall:7.5/10

Address: #02-12 Robertson Walk

Contact: 6333 8726

Opening Hours: Tuesday to Sunday, 6:30pm – 10:30pm. Closed on Mondays & Public Holidays

Website: http://www.sagerestaurants.com.sg