Suburbia - A residential district located on the outskirts of a city. A most interesting name for a restaurant, but decidedly apt considering its location. Opened just 2 weeks ago, Suburbia is a newcomer to the uppity culinary scene of Sentosa and is touted as the place for good food and wine - a claim supported by the fact that it is managed by Wine Network.
Interior (1st Floor)


Interior (2nd Floor)


Exterior & Menu
Housed in a former monorail station (Fiscus station), Suburbia glistens in the dark skylight with its orangey hues and bluish overtones. The place is divided into 2 levels, with the al fresco dining section located on the first level, overlooking lush green lawns on one side and the Fiscus tree aka "Marriage Tree" on the other. The second level is air conditioned and employs a "classroom" look through the use of louver windows, which does seem to clash with the modern chic vibe that the place oozes. Tables are limited on the second floor, probably squeezing in about 15 four seater tables, which did seem a little too close for comfort although I wouldn't have been able to give a fair judgement given that we had the whole place to ourselves.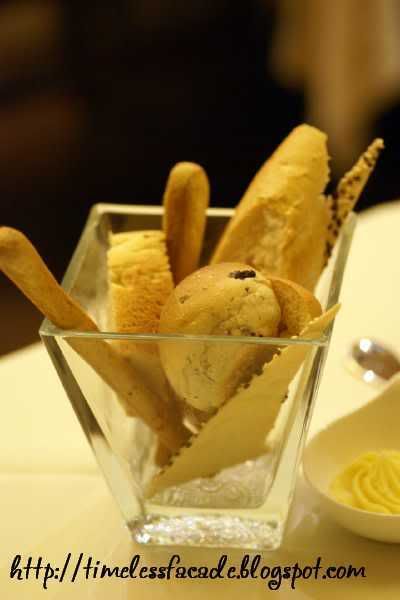 Complimentary Bread
Very few places serve up noteworthy bread and Suburbia falls into that minority. Served up in a glass vase, the assortment of bread was moist, warm and tasty. The butter was different as well, smooth and lightly sweet with a rather strong hint of orange flavouring. Appropriately named Orange Butter.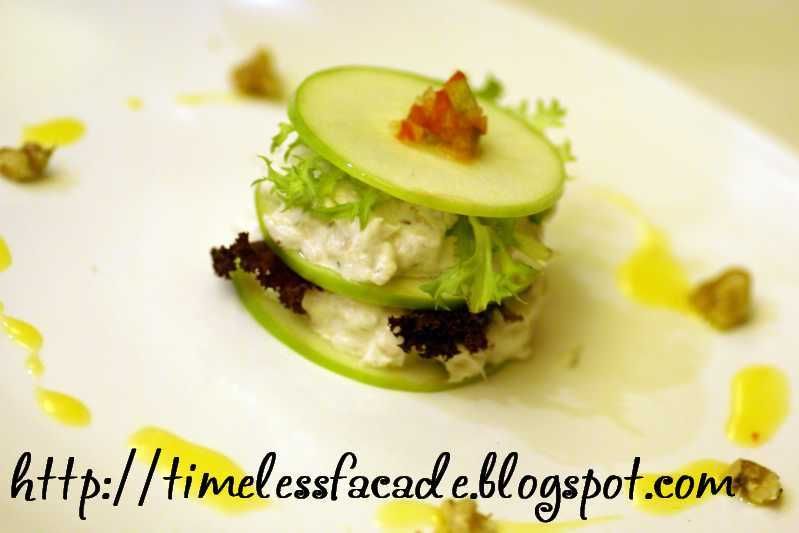 Crab Meat Waldorf Salad
First looks, I was petrified at the size of it, or lack of for that matter. I could have probably stuffed the whole thing down my mouth at one go without breaking a sweat. Taste wise, it was above average but nothing too outstanding. The rather diluted crab meat was sandwiched between layers of thinly sliced crunchy green apples, which acted as a counter balance to the rawness of the crab. Lightly sweet with a dash of saltiness and rawness.


Beef Tenderloin I'infusion De Poivre Noir

Weighing in at a mere 200g, I must say that the tenderloin was a tad too small for the price ($38). Grilled to my specification of medium rare, the meat retained its natural flavours without being too chewy or limp. Topped with mushroom sauce, it was a dish to slowly savour and relish save for the fact that the meat was a little too soft at some places.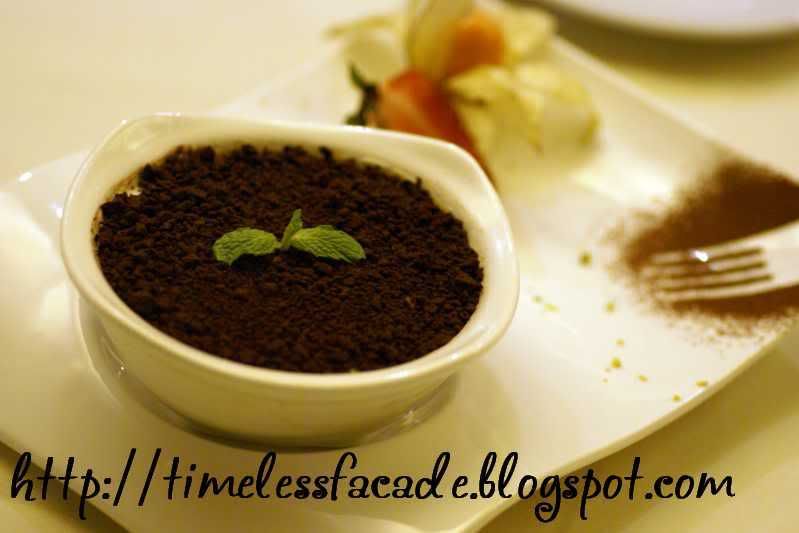 Tiramisu
Interestingly, crushed cookie bits were sprinkled atop the tiramisu instead of the de facto cocoa powder. This gave it a different texture altogether and eliminated the risk of me choking on the fine cocoa powder. Light and fluffy, the tiramisu didn't come across as too wet or soggy but I couldn't make out any liquor taste in the sponge fingers - a must have in any good tiramisu.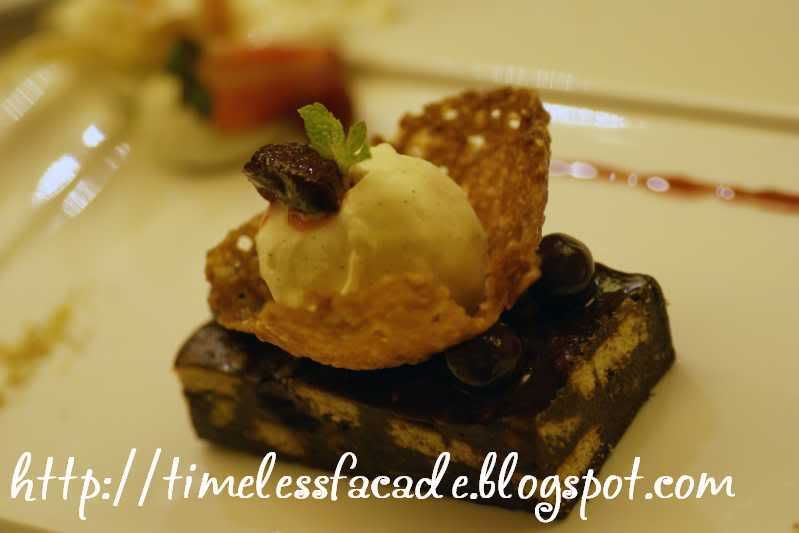 Belgium Marquise

The Belgium Marquise wasn't too sweet or rich with a nice wafer texture in between. It had a slightly chewy texture which reminded me a little of chewing on mudpies. I didn't think too much of the ice cream and sesame brandy snap basket though, with the latter tasting almost exclusively of sesame.
Bill
$108($86 after 20% soft launch discount) for an appetiser, a main, 2 desserts and a glass of wine earns Suburbia a spot among the ranks of mid range pricing restaurants. However in this case, the price does seem a tad over the hill(without discount) especially when the food, though good, isn't particularly outstanding. There is hope yet as I understand from my friends, who were there as well, that the rack of lamb was good and that, coupled with a rather comprehensive wine list and a lovely ambience, might just be enough to entice me to return.



Likes: Nice ambience, good service
Dislikes: A little pricey, limited parking

Final Verdict:
Ambience:8.5/10
Service:7.5/10
Food:7/10
Value for money:6/10

Overall:7.25/10

Address: 30 Allanbrooke Road

Contact: 63765938

Opening Hours: 12noon - 12mn daily (Sun – Thu, last food order 10pm) (Fri, Sat & Eve of Public Holidays, last food order 10.30pm)