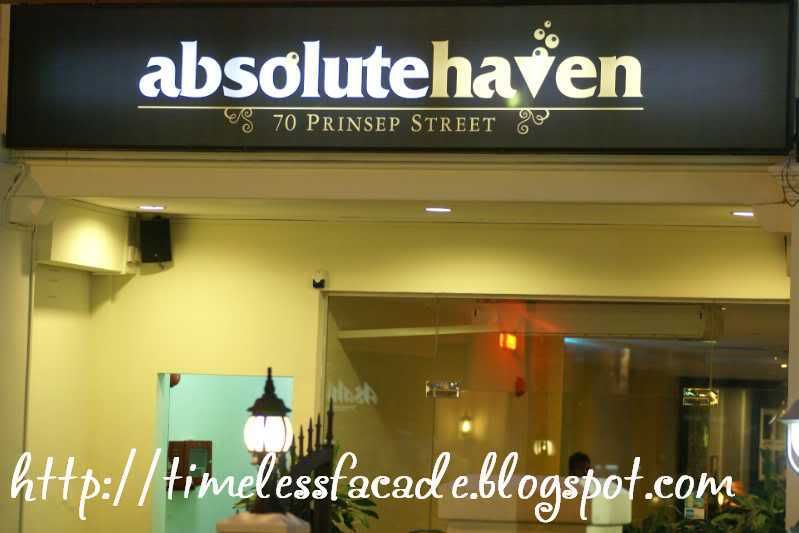 Had the opportunity to attend a food sampling session at Absolute Haven, one of the up and coming culinary stars of the quaint Prinsep Street. Much has been said and written about this eatery which dishes out modern European cuisine amidst a chic backdrop.
Exterior & Interior Seating


Interior & Menu
There's an option of al fresco seating in the relatively small outdoor area or indoor seating in a much larger(and cooler) area which boasts clean lines, wooden pillars and oozes minimalistic elegance. Music was rather tasteful as well if I may say, a most fitting complement to the ambience.


Seafood Sampler ($18)
Almost every tom, dick and harry western eatery I know of has some variation of the seafood platter, be it in name, variety of seafood or otherwise. Which explains the lack of expectations for this dish. Even then, it was a disappointment. The prawns weren't fresh, the batter was too thick and the fries were too soggy. Probably the only positive aspect was the accompanying sauces - beetroot with mayonnaise and lime(?) with mint, both of which were unique in their own right. On a side note, the platter was huge, enough for about 4 pax to share (in the misery, (un)fortunately).


Spinach and Wild Mushrooms Salad ($7.50)
I had expected mushrooms covered by/mixed with a tower of spinach so this dish kinda screwed my expectations a little. The thinly sliced mushrooms were buttery and tasty whereas the button and shitake mushrooms came across as rather normal. The spinach was fresh but a little too soft from the balsamic vinaigrette. I liked the dash of cheese atop though.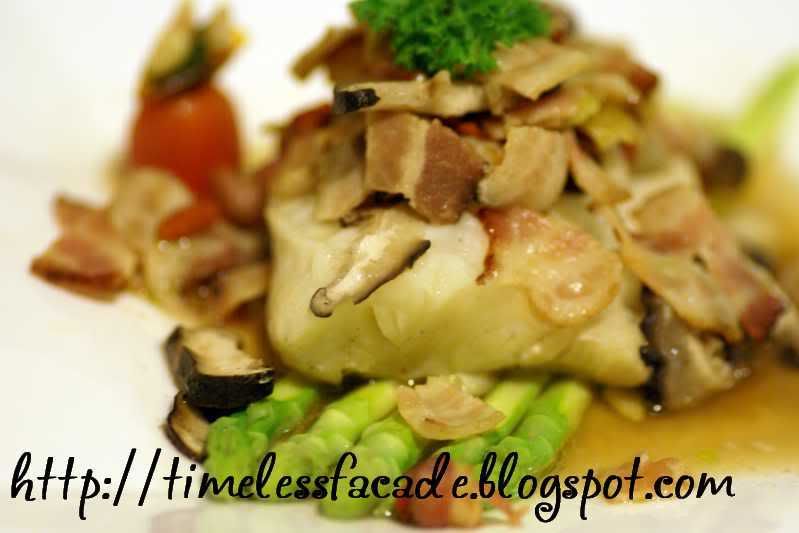 Oriental Cod Fish ($24)

The name caught my eye. This is probably an example of modern European cuisine, European food with a fusion twist. Taste wise, the fish was fresh and well complemented by the sweet wolfberries and salty bacon bits. However, the meat could have been a little firmer for better texture.
Tenderloin Steak ($28)
The steak wasn't up to expectations. Period. Sure, it was done medium rare just the way we ordered it, but the meat was too soft, probably from the overuse of tenderizer? The lack of marination was apparent - the beef relied on the overly salty sauce to give it taste. Nothing like the pièce de résistance I had at
Prive
. I didn't quite like the accompanying potato gratin as well as I found it too dry and heavy on the palate.
Chicken Roulade ($20)
This was probably the best dish of the evening, simple yet close to the heart. Fragrant, tender and juicy, the chicken had bacon and spinach stuffed in between which added a slight salty dimension to it. The avocado salad really wasn't my cup of tea though. Very soft and mashed up, it reminded me of baby food. But I guess this really boils down to personal preference.

Victorian Creme Brulee ($8)
Aesthetics wise, the creme brulee was rather pleasing, especially when served with the rose petals. However, its texture reminded me more of egg custard than creme brulee, which is something rather weird. There was also a small rose bud embedded within, which came across as rather overwhelming.


Tira Mi Su ($9)
Another visually pleasing dessert, the tiramisu didn't impress with its pudding like mascarpone cheese mousse. It tasted really weird to me, but I guess thats personal preference as well. I couldn't detect any hint of liqueur at all and the cake was rather soggy from the espresso coffee at the bottom. It wasn't entirely disastrous though. At least it came across as light on the palate.

Overall, the food certainly isn't great but the soothing ambience and attentive service more than makes up for it. You won't have to worry about still or sparkling here as well as they serve natural strawberry flavoured ice water, a deviation from the norm.

*disclaimer: This tasting session was for the purpose of ascertaining the suitability of Absolute Haven for one of our upcoming events.



Likes: Good service, nice decor
Dislikes: Slightly above average food

Final Verdict:
Ambience:7.5/10
Service:7.5/10
Food:6.5/10
Value for money:/10

Overall:7.2/10

Address: 70 Prinsep Street, Singapore 188662

Contact: 6333 4358

Opening Hours: Tuesdays - Sundays, 11.30am - 10pm

Website: http://www.absolutehaven.com.sg