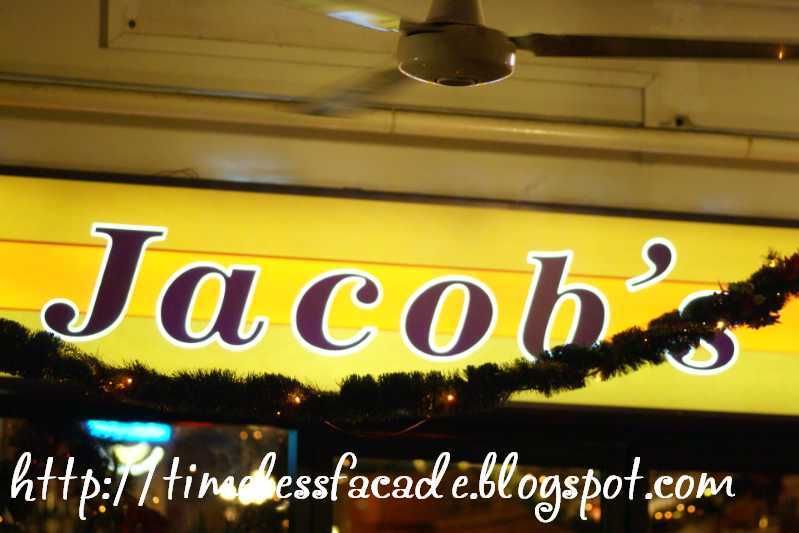 Hidden in the sleepy enclave of rustic Changi Village is a small and unpretentious diner by the name of Jacob's Cafe, which is seemingly popular judging from the healthy crowd size on a Friday evening.
Interior & Menu
Jacob's offers both indoor and al fresco dining although the bulk of the seats are in the al fresco area, with only about 4 tables indoor. The interior revolves mainly around wood, which gives the place a nice homely touch. They could do something about the indoor ventilation though, as the food fumes from the kitchen were rather evident.


Bread Roll
Although the bread roll wasn't complimentary, it deserves a writeup simply because it was excellent. This is probably one of the best I've eaten in a long long time (the best is still in France though). Crackling crisp on the outside yet warm and fluffy on the inside. Definitely good enough to be eaten on its own! Pity about the packaged butter and hefty $1 price tag per roll though.


Cream of Chicken and Corn & Minestrone
Both soups were a tad too starchy. The cream of chicken and corn had bits of chicken and corn in it but did come across as a wee bit too salty for my liking. The minestrone was well, average.


Stuffed US Roast Chicken
A special at Jacob's, I was enticed by the promise of roast chicken stuffed with rice, chestnuts and cashews - a blend of east and west. First looks, the chicken was slightly larger than average and spotted a healthy sheen on the skin. Sadly, it didn't quite taste up to my expectations as the filling was a tad soggy and didn't taste anything out of the ordinary. The meat was tender and juicy though. Overall a decent dish without all the bells and whistles. Please note that the chicken is meant for 2 average eaters, so if you have 2 big eaters, it would be best to order something else.


Apple Crumble & Pecan Pie

Imagine my surprise when I spotted pecan pie on the menu. Its probably about as rare as flash floods in Singapore. Surprise turned to disappointment as the crust was too hard and tasteless. The pecan nuts were a whisker too dry as well. A totally huge contrast from the ones I had in North America.
The apple crumble didn't quite meet the mark as well. Dry and tasteless would be most apt in describing it.


Bill
A very filling dinner cost about $48, which isn't too expensive if you ask me. Food is generally decent and very homely. Service is excellent and I've honestly never felt more at home anywhere else. At this point of writing, I've already been there thrice so I guess that says something?
Likes: Excellent service, homely environment
Dislikes: Food merely average
Final Verdict:
Ambience:7.5/10
Service:8.5/10
Food:6.5/10
Value for money:6.5/10
Overall:7.25/10
Address: Block 5 Changi Village Road #01-2049
Contact: 65431106
Opening Hours:
Mondays to Saturdays:
9:00 am to 11:30 pm
Closed on Sundays & Public Holidays