Santa Fe @ Riverboat is a most interesting venue to enjoy a meal as it offers the dining on a ship experience without actually having to charter the entire ship. Docked at the Marina South Pier, its history goes back to 2001 when it first berthed at Sentosa from 2001 - 2006.
Exterior, Interior & Menu
The sight of a lone brightly lighted steam ship is hard to miss and staff greet you amicably at the door. The interior is simple and exudes homely comfort through the use of wood and a low ceiling. There is even a piano at one corner for proficient/aspiring pianists to tinker with whilst waiting for your food.

Magarita


Soup of the day
The soup of the day was cream of mushroom and it came across as too salty and starchy. However there were copious amounts of sliced button mushrooms in it which upped the value factor a notch. The garlic bread was unremarkable though.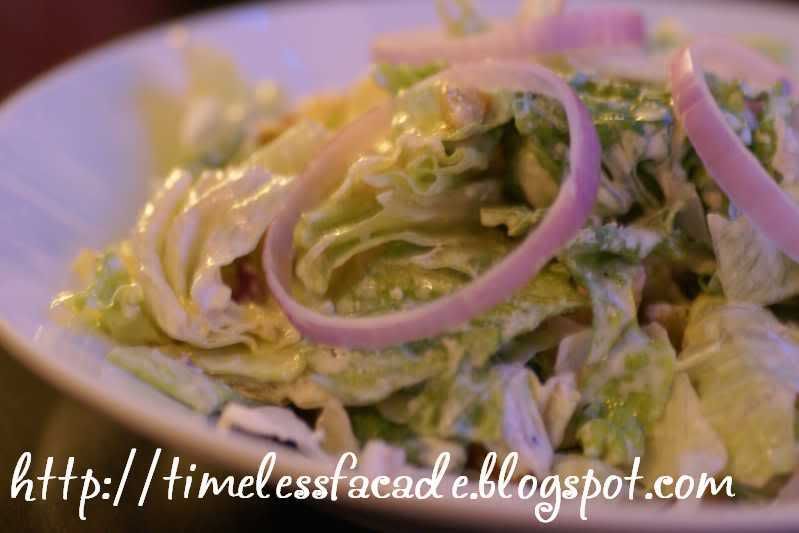 Caesar Salad
Nothing out of the ordinary here. The vegetables were fresh and juicy but how exciting can Caesar salad get? I would have preferred it with bacon bits though.


Tex Mex Grilled Chicken

First bite, the chicken was juicy and succulent even though it was breast meat. Nicely grilled and topped with a layer of cheese, the meat was slightly salty with a hint of BBQ sauce. However the strips of bacon didn't seem salty enough. I found the side of mash potatoes a little lacking in texture but still decent with its buttery overtones.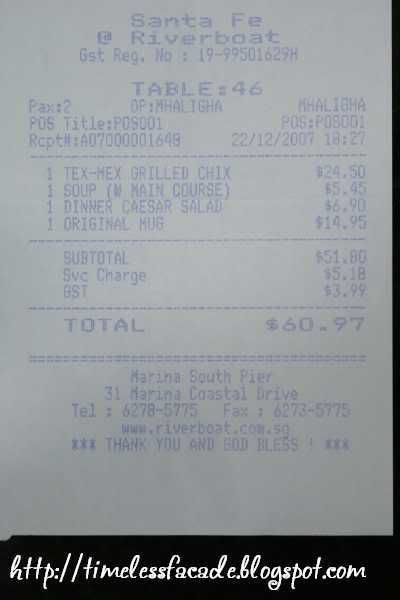 Bill
The above 3 course meal with an alcoholic drink came up to about $61. Portions are more than sufficient for a large eater or perhaps 2 small eaters. I wouldn't say the price is reasonable but I guess the novelty of dining on board a ship in a homely environment makes up for it.



Likes: Novelty of dining on ship, comfortable environment
Dislikes: Food quality merely average, not cheap

Final Verdict:
Ambience:7/10
Service:6.5/10
Food:6.5/10
Value for money:6/10

Overall:6.5/10

Address: Marina South Pier, 31 Marina Coastal Drive

Contact: 6278 5775

Opening Hours:

Mon-Fri: 6pm - 10pm

Sat: 6pm - 11pm

Sun: 12noon - 2pm, 6pm - 10pm