Made a reservation at for 1930hrs at Imperial Treasure Teochew Cuisine for our yearly reunion dinner. Surprisingly, Imperial Treasure only had 2 seatings, one at 6pm and the other at 730pm, which of course gave us plenty of time to finish up our food.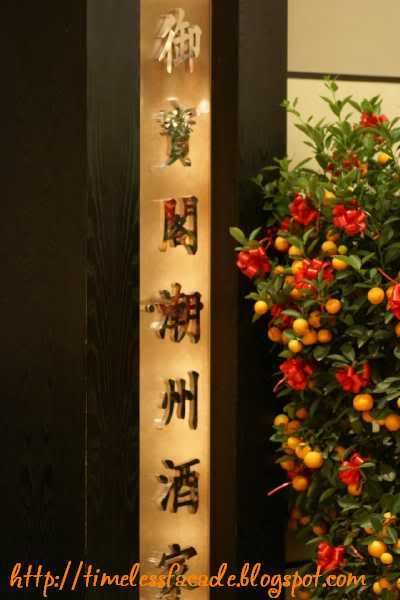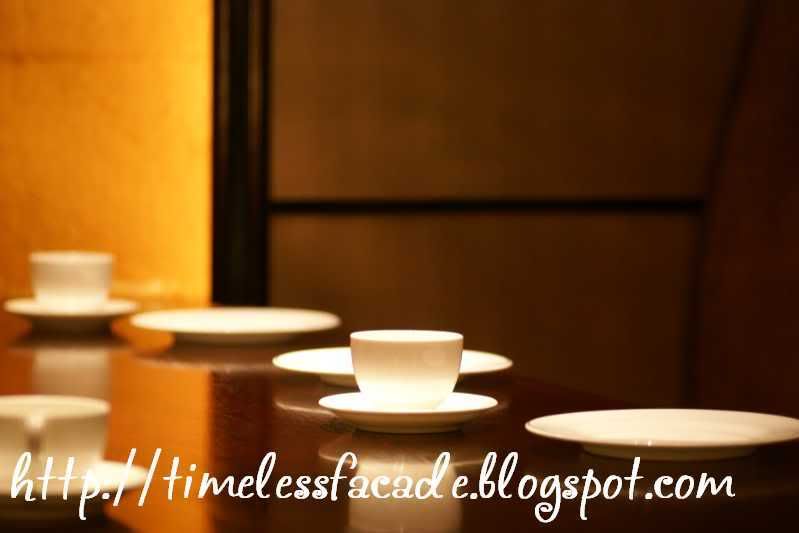 Exterior & Interior
Stepping into the restaurant, the interior struck me as rather haphazard and cramp. Fortunately for us, we managed to snag a semi private booth seat which was rather cosy with pretty overhanging lights and wooden paneling.


Pickles
Salmon Yu Sheng
For one, I must admit that I'm not exactly a fan of Yu Sheng but this one was quite well done. Slightly heavy on the sesame taste with fresh thinly sliced salmon and lots of other condiments, it didn't make me cringe like so many other Yu Shengs that I've tried.


Double Boiled Superior Shark's Fin

The quality in this dish was evident. The fins were quite a size (Bao Qi) and held quite a bit of bite while the broth was light and tantalizing. Simple yet tastefully done.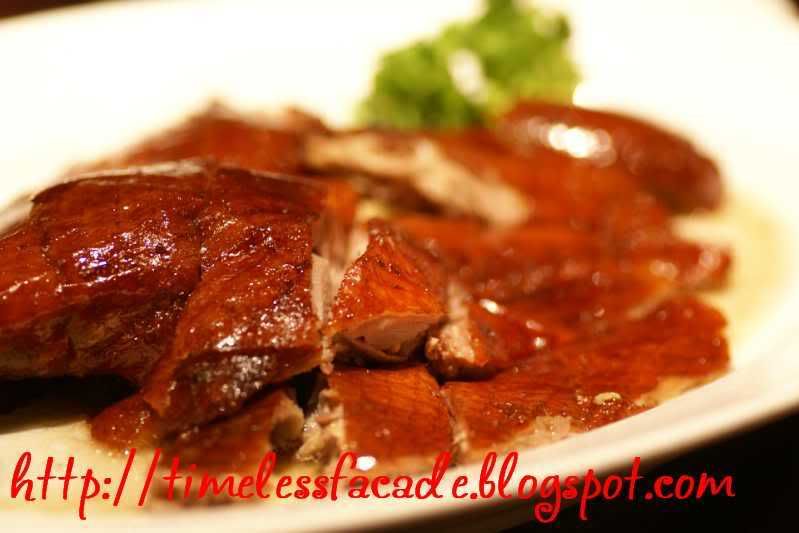 Roasted Crispy Goose
Although I honestly prefer my goose braised Teochew style, the roasted goose was nothing short of excellent. Succulent and tender meat beneath a layer of crispy skin that crackled with every bite. It was sheer goodness.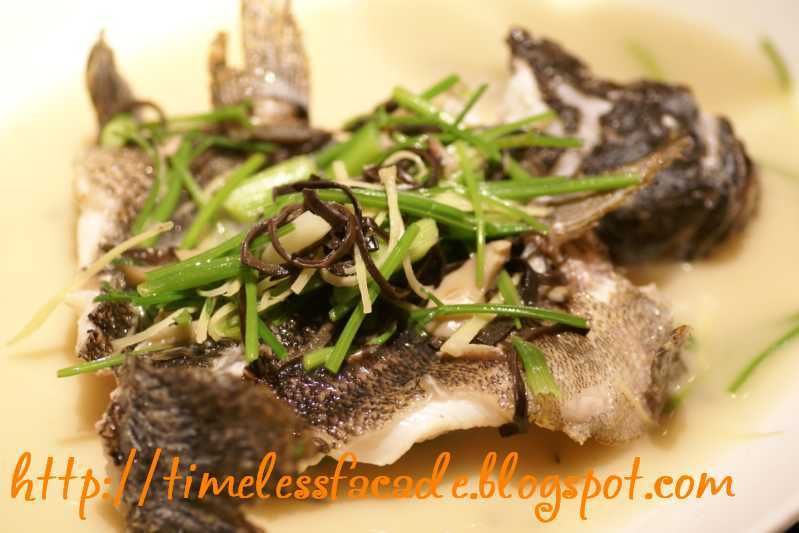 Poached Live "Soon Hock" Fish with Chinese Rice Wine
The flesh was firm and sweet without the fishy undertones - an indication of freshness. There was a strong, almost overwhelming presence of rice wine in the milky gravy but when drizzled over the fish, it mellowed subtly and complemented the fish very well.


Sauteed Australian Lobster with Ginger & Shallot

I doubt the lobster weighed in more than a kilogram. In fact, I suspect its weight hovered in the range of a mere 600-800 grams. Size aside, execution was commendable with the meat fresh and sweet with a nice and light ginger overtone.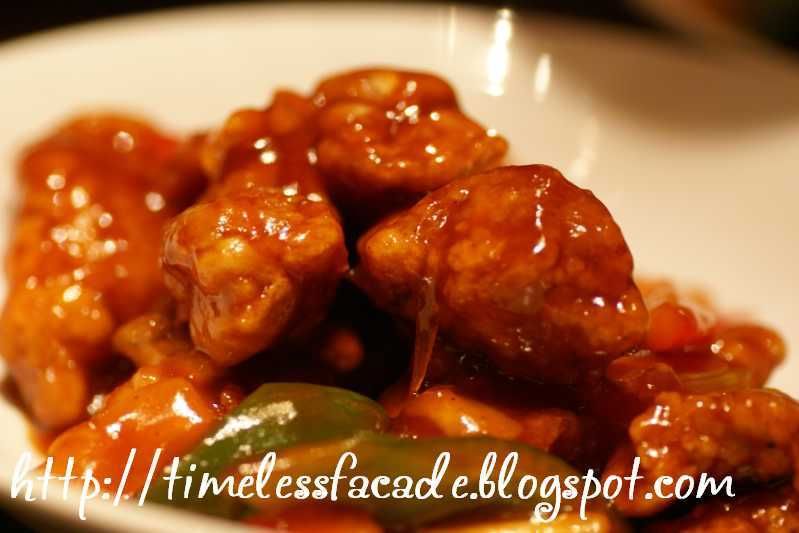 Sweet & Sour Pork
This dish was in addition to our set menu and rather average if I may say. The flour coating was a tad too thick while the sauce was too sweet for our liking. Predictably, there was quite a bit of left over when we were done.


Stewed South African Sliced Abalone with Dried Oyster & Fish Maw
Presentation wise, this dish was awful, with everything looking mashed together under a blanket of really starchy gravy. But as the saying goes, never judge a book by its cover. It was a treasure pot of sorts with a respectable amount of abalone slices, fresh (not the usual dried ones) fish maw and a few dried oysters. The only gripe I had was that the oysters were a tad undercooked.


Stir Fried Vegetables with Mushrooms
Another addition to the menu and a most average dish. True, the mushrooms were nice but the vegetables were lacking in the quintessential wok hei taste.


Fried Glutinous Rice with Dried Meat & Mushroom
This was probably the only low in the otherwise excellent set menu. The rice was tasteless and a tad too dry. Ingredients were minimal as well.

Chinese New Year Pastries & Yam Paste with Pumpkin and Gingko nuts
The cookies were decent whereas the yam paste aka Orh Nee was a tad too watery for my liking. But I guess it all boils down to personal preference as my parents found it quite decent.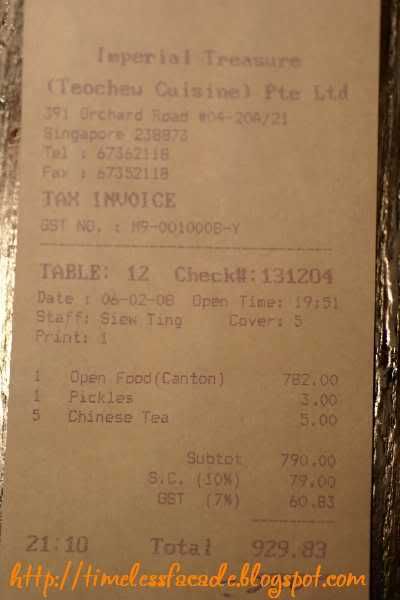 Bill
With a dinner for 5 hitting $930 without any drinks save for tea, its almost breaching the insanity mark. But well, its Chinese New Year and the food is really quite good. If such standard of food can be attained even during the CNY period where the food quality in most places would dip, then its a reasonable assumption that it would be better on normal days. I'll be eagerly awaiting.



Likes: Good food, nice semi private booth seats
Dislikes: A tad cramp, expensive

Final Verdict:
Ambience:6.5/10
Service:7/10
Food:8/10
Value for money:6.5/10

Overall:7/10

Address: #04-20A Ngee Ann City

Contact: 6736 2118

Opening Hours: Daily: 11am to 2.30pm, 6pm to 10.30pm