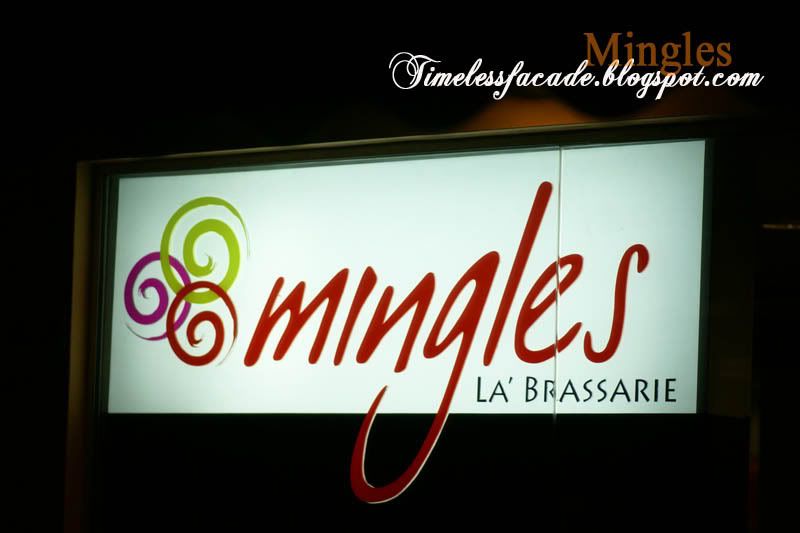 The once popular water theme park at East Coast known as Big Splash has recently been redeveloped as Big Splash @ Playground and is home to a handful of dining outlets, one of which is Mingles La' Brassarie.
Interior & Menu
Occupying a premise which can roughly seat about 60 people (estimate), Mingles's interior is simple and clean, tending towards a more casual setting. I personally found the cute half egg shell seats (or whatever you call them) rather appealing, especially for after dinner drinks or dessert.


Cheese Fries
A side order at $5.90, the portions were somewhat pathetic if you ask me. What was interesting about the fries was that the cheese had BBQ sauce in it, which made the whole concoction cheesy and BBQish at the same time - a nausea inducing combination for me. It didn't help that the fries weren't exactly very fantastic, coming in as average.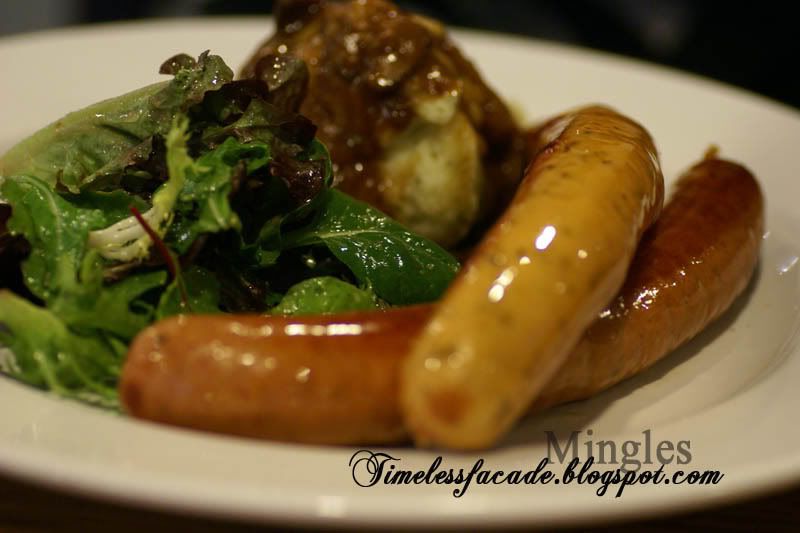 Bangers & Mash
You get to choose your sausages with this order so we had the Swiss Cheese Pork Sausage and Black Pepper Chicken Sausage. I thought that the black pepper sausage was quite good, bursting with flavour with sufficient amount of bite in every mouth. The cheese pork sausage, though not lousy, was a tad disappointing as the taste of the cheese threatened to overwhelm the sausage taste.


Mingles Ribeye Steak

Weighing in at just over 250g, the ribeye was done up medium rare according to specifications and boasted a saliva inducing lightly charred exterior. However the meat was a little disappointing, a tad lacking in firmness and chewiness. The red wine sauce it was topped with had no inkling of red wine and instead tasted like berry sauce - sweet and fruity. The same sauce overwhelmed the raw taste of the beef at times, which shouldn't be the case really.
Baked Alaska

The Baked Alaska is essentially ice cream and sponge cake encased within a thick layer of meringue which is then briefly placed in an extremely hot oven to firm the meringue. Mingles's rendition opted to omit the sponge cake which was a mistake in my humble opinion. It tasted exactly like ice cream with whipped cream on top! Give me
Borshch's
version anytime!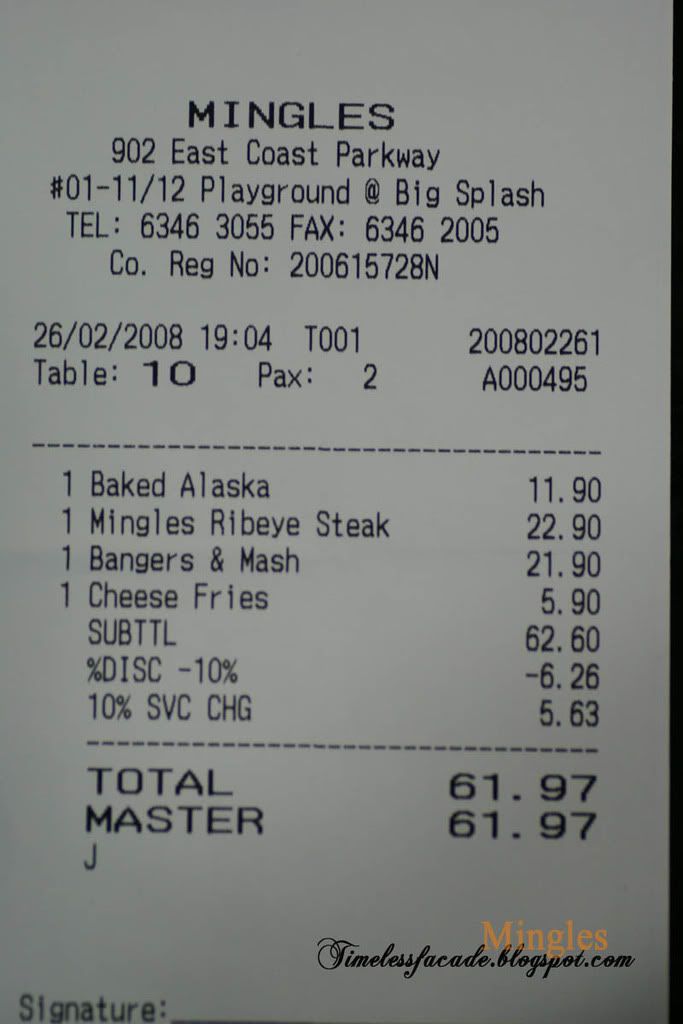 Bill
Dinner for 2 cost about $62 after a 10% credit card discount. I wouldn't call it expensive but it certainly isn't cheap for the average quality of food. Service is excellent though and thats a definite plus.
Likes: Good service
Dislikes: Food quality merely average
Final Verdict:
Ambience:7/10
Service:8/10
Food:6.5/10
Value for money:6.5/10
Overall:7/10
Address: Blk B Playground @ Big Splash, #01-11/12
Contact: 6346 3055
Opening Hours:
Mon-Thu: 11am - 10pm
Fri-Sun: 11am - 11pm