This trip to Nul Bom Korean Restaurant marks my foray into Korean cuisine, with my prior experiences with Korean food limited to those at food courts and probably the stuff they sell at Seoul's Incheon airport.
Interior & Menu
Situated amongst a row of shophouses along Telok Ayer street, this nondescript eatery houses a small and simply done up interior. Tables are limited and although there are private rooms available, capacity probably wouldn't exceed 30 pax all in all.


Side dishes

The bean sprouts, Kimchi and anchovies are pretty much staple in any Korean restaurants where the other dishes vary from eatery to eatery. I didn't find any of the sides outstanding but I appreciated the variety as well as the seemingly complimentary gesture (the cost is all factored into the price of the dishes of course).
Kim Chi Chi Gae - Kim Chi with Rice
This dish was quite spicy and looked the part as well. However, it wasn't anything to shout about either. But thats coming from someone who has almost zero knowledge about kim chi or Korean food in general.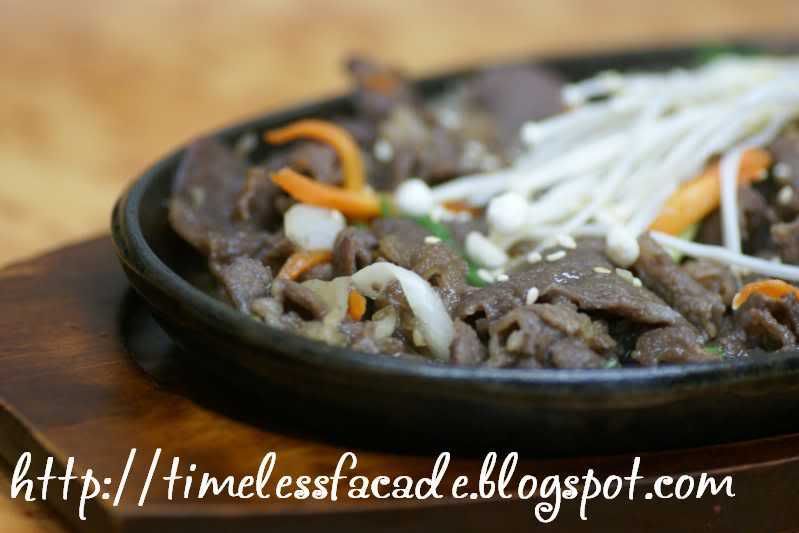 So Bul Go Gi - Beef BBQ
I'm at a loss as to how and where to begin describing the averageness of this dish. It tasted exactly like the ones I've have had from pseudo Korean stalls at food courts. This was much sweeter though through the addition of sugar(?) and had golden mushrooms to top it off.

Bill
I guess $39 for 2 pax isn't really expensive but I seriously doubt I'll be back in a hurry, especially when the food failed to impress. Did I mention that service wasn't very good as well?



Likes: Not too expensive
Dislikes: Average food

Final Verdict:
Ambience:6/10
Service:6/10
Food:6/10
Value for money:6/10

Overall:6/10

Address: 123 Telok Ayer Street

Contact: 6423-1552