Yet another new eatery to have opened up in the dining belt along the popular East Coast/Upper East Coast Road. Etna Italian Restaurant & Pizzeria, which has another outlet at Raffles place, boasts Italian food with authentic Sicilian products. Interestingly, Etna also happens to be the name of the highest volcano in Sicily and Europe, standing at 10500 ft.
Interior & Menu
Located within a short row of shophouses along Upper East Coast Road, Etna is almost impossible to miss with its huge signboard that lights up brightly in the evening. The interior is simply furnished with huge windows to allow sunlight in. Music is high strung which is quite unsettling at times especially if you are there for a relaxing quiet lunch likes yours truly.


Complimentary Bread & Appetisers
The bread looked haphazardly drizzled with olive oil and was hopelessly hard. Biting into one was akin to biting into a dry rag. The appetiser bowl consisted of slices of cheese, pepperoni, olives and figs, which were nothing special honestly. It was still a nice gesture though.


Bruschetta Etna
In all honesty, I've never eaten anything like Etna's rendition of the Bruschetta at any Italian restaurants before and I do not mean it as a compliment. The bread was rock hard and presentation was slip shod. The toppings didn't look fresh as well. How's that for dismal?


Insalata Di Gamberi
Essentially this salad was rocket leaves with prawns and doused in extra virgin olive oil. Fresh and zesty with fresh and crunchy, albeit rather small prawns, the salad was ironically the best dish of the day.


Quattro Stagioni
Quattro Stagioni, otherwise known as the four seasons pizza, is so named because of the 4 different sections of the pizza that offers the diner contrasting tastes. Etna's version had all the ingredients mixed up, which was fine, just that it veers away from tradition. Taste wise, the crust was significantly thicker than the usual Italian pizzas but at least the dough was fluffy, which made eating it quite enjoyable. The ingredients weren't much to shout about and overall the pizza tasted rather mundane.



Bistecca Al Gorgonzola

Grilled ribeye steak with gorgonzola cheese in a light cream sauce. With such a lip smacking description, I had expected something different or special. What I got was a slap in the face. Firstly, we had asked for the steak to be done medium but it looked more medium rare. Secondly, the buttery cream sauce was so overwhelming that I couldn't even make out any beef taste. Thirdly, the beef was sorely lacking in texture - soft and seemingly over tenderized. It didn't help that the accompany mashed potatoes tasted overly creamy as well. Want to know how nausea inducing this dish can get? Try it.
Taglierini Al Pesto Di Bronte

One of the recommended dishes, the Taglierini was purportedly home made and topped with a Sicilian pesto sauce made with Pistachios from Bronte in Sicily. As impressive as that may sound, it was more hype than substance, to me at least. The taglierini was al dente but the sauce didn't impress me very much, subtly sweet with no hint of pistachio whatsoever. And for the price ($22), I had expected it to come with toppings, however meager they might be, but sadly there was none.
Tiramisu Al Pistacchio
Another pistachio dish but in the form of a dessert. Very unique as grounded pistachios replaced the layer of cocoa powder commonly found in Tiramisus. There was also this layer of greenish cream which I assume to be made from pistachio. Sadly, the whole thing didn't taste like Tiramisu at all, coming across as very nutty. Perfectly acceptable as a cake, but definitely not as Tiramisu.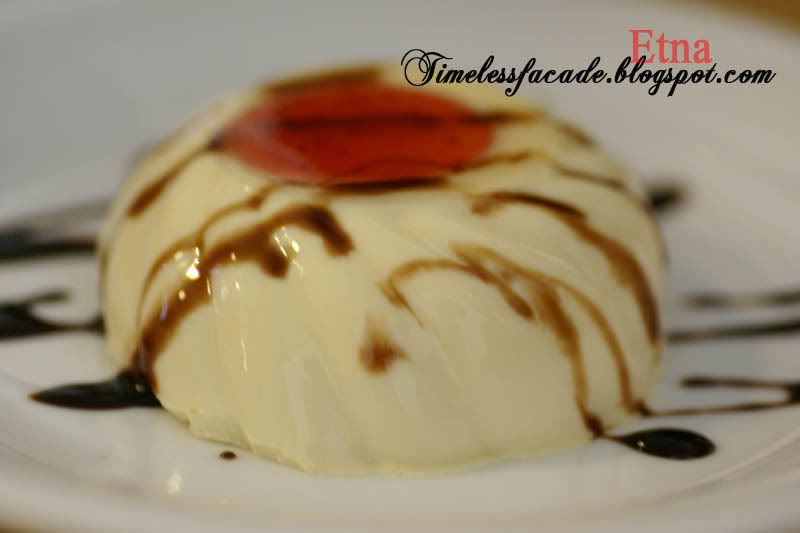 Panna Cotta Etna
Honestly, the Panna Cotta didn't quite do it for me. It was a tad too sticky and coagulated and not to mention bland. Even with the raspberry sauce, it tasted flat.


Torta Al Cioccolato
The chocolate cake seemed to have sat in the fridge for quite an extended period of time as it was undeniably dry. The taste of rum was negligible and overall it tasted very normal. At $8 a pop, I can easily buy a few cakes of similar quality.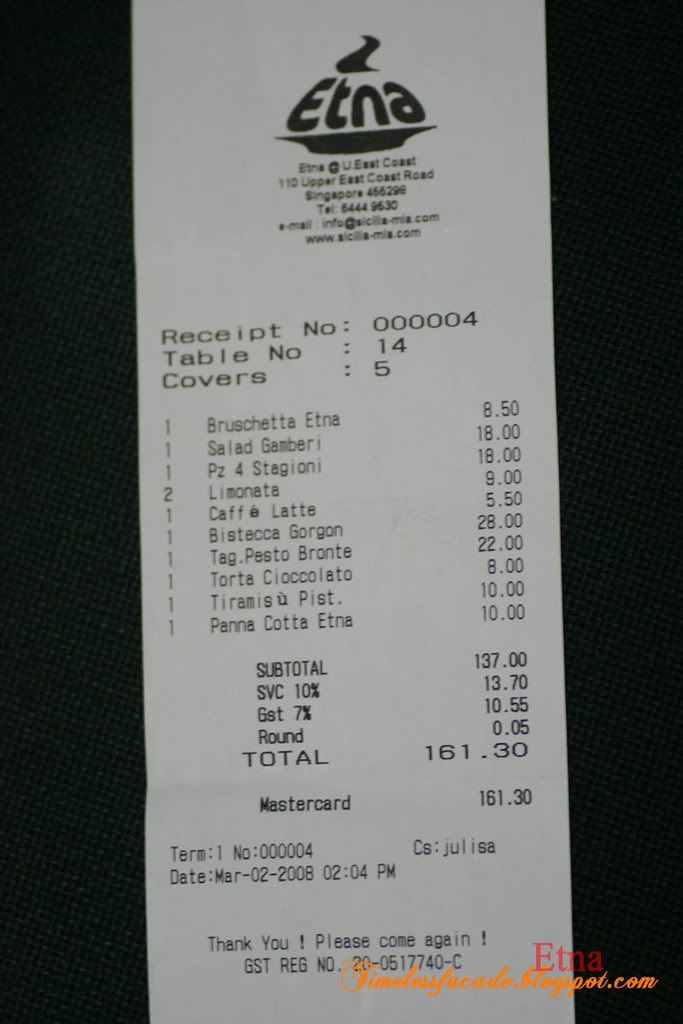 Bill
$161 for 5 pax is considered relatively cheap for Italian food, but quality really leaves much to be desired. Service is decent but thats not going to be enough to stop me from closing the chapter on Etna.



Likes: Decent service
Dislikes: Certain dishes are below average, a little pricey

Final Verdict:
Ambience:6.5/10
Service:7/10
Food:6/10
Value for money:6/10

Overall:6.375/10

Address: 110 Upper East Coast Road

Contact: 64449530

Opening Hours: 11am - 3pm (Lunch) & 6.30pm - 11pm (Dinner)