The vibrant dining scene of East Coast/Upper East Coast road has a new entrant - a small bistro by the name of Montreux. Its not exactly new to the East Coast area per se, with a small cafe going by the same name and owned by the same person operating out of the basement of Siglap Centre. The cafe only sells cakes and desserts though, while the bistro serves up appetisers and mains as well.
Partially hidden from view in a tiny shophouse just 2 units down from NTUC, Montreux's interior is simple, uncluttered and very "cafeish". Its really tiny though, probably maxing out at about 20 customers or so.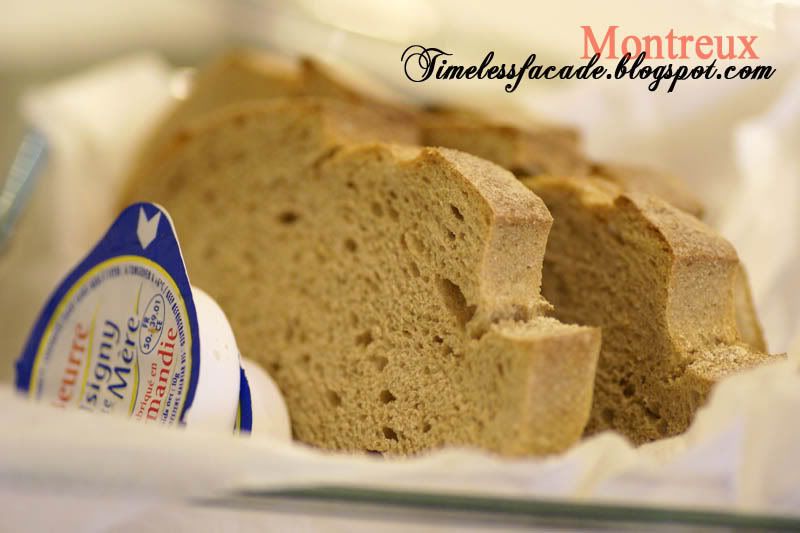 Complimentary Bread
The bread, though served warm, was at best forgettable. But no one complains of free bread especially when they are starving.


Beef Goulash
The soup of the day - Beef Goulash. Tangy with a hint of spice and a few chunks of beef, something which I certainly didn't expect from a low cost set dinner soup. It was a tad too watery though.


Bangers & Mash
Okay this hardly qualifies as bangers and mash although technically there's nothing wrong with it. Correct me if I am wrong though, but isn't bangers and mash suppose to come with huge sausages and not the teeny weeny ones you can get off the shelves from some supermart? However, having said that, its best to keep in mind that we are talking about a $12.90 set dinner here so I guess that kinda puts things into perspective. Just for the record, the sausages weren't great, average at best.


Half Spring Chicken
The half spring chicken was rather smallish but decent enough. Served up with a piece of overfried rosti, it was a tad dry (probably a little overcooked) with a light herb taste.


Hazelnut Cake
The cake had to be the highlight of the set dinner, or the entire meal for that matter. Smooth hazelnut and sponge sitting atop a nice crunchy wafer base. A very nice nutty taste. It did seem a tad too dry though. Also, only half a slice of cake was served, making portions really small.


Espresso Brownie
Our waiter recommended this and after the positive experience with the hazelnut cake, I had fairly high expectations of it. And it was quite good with molten chocolate atop and the cake a tad chewy and not too dry. However, I couldn't quite make out any taste of espresso at all. Montreux might want to consider adding more espresso into the mix or renaming the brownie?


Bill
2 set dinners plus an extra dessert cost $36, which certainly isn't expensive. Generally mains are average but desserts are better. If they could improve the quality of their mains, I'm sure Montreux Bistro will be a success, especially when service is good as well. On a side note, I've not tried anything from their ala carte menu because the items in it do seem rather expensive, which means that my review might not be entirely fair.



Likes: Small cosy space, good service
Dislikes: Food quality average

Final Verdict:
Ambience:7/10
Service:7/10
Food:6/10 (desserts are 7/10)
Value for money:7/10 (Only for set dinner)

Overall:6.75/10

Address: 922 East coast road

Contact: 6445 4991