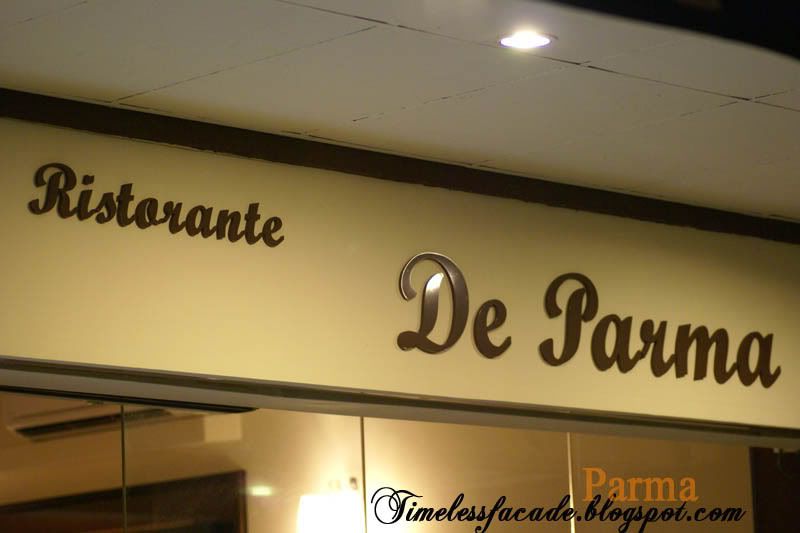 I finally had the chance to dine at Ristorante De Parma, a small family run Italian restaurant, one wet weekday evening. Strangely enough, although its been around for quite a while and I've always gone past it, I never had the urge to try it out, till that fateful evening.
Quietly located towards the end of a row of shophouses at the fringe of the hustle and bustle of Serangoon Gardens, Ristorante De Parma cuts a contrasting figure to the exuberance of the area. Decor is kept simple and no frills with soft, warm lighting and classy table arrangement. Soft easy listening music wafts through the air, setting the tone right for a relaxing meal.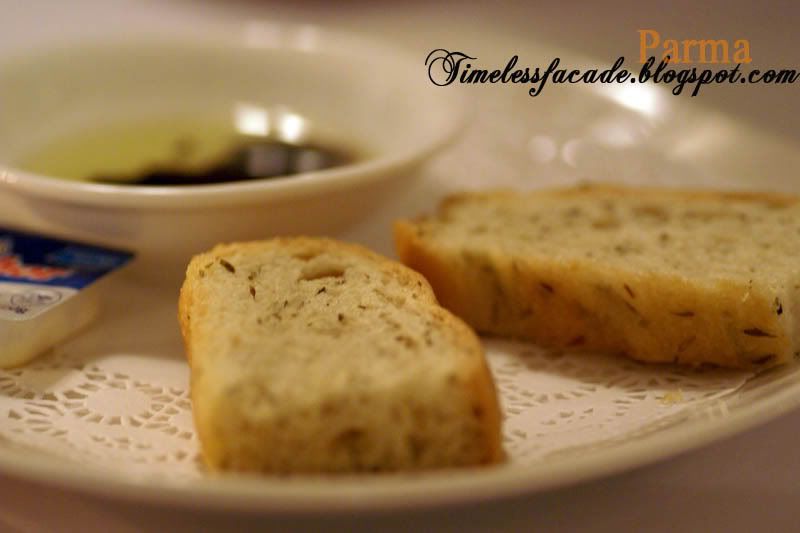 Complimentary Bread
I presume that each person was only entitled to one slice of bread, seeing that we were only served 2 slices. Though served warm, the bread was a tad too dry for my liking and neither the margarine or olive oil helped.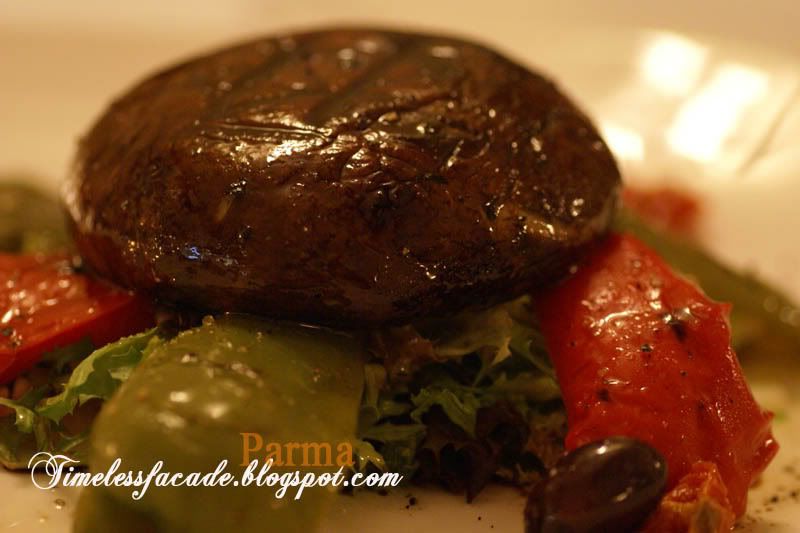 Funchi Triffolati al Moda Dello Chef ($12.90)
This dish is essentially a Portobello mushroom garnished with grilled bell peppers, sun dried tomatoes & olives with the house dressing. And notice I mentioned
a
mushroom, not mushrooms. The mushroom was huge, bigger than anything I've ever seen before, which of course doesn't say much because I haven't really seen a lot of mushrooms to begin with. Taste wise, it was juicy with a nice chewy texture to boot, but somehow it lacked the oomph factor. Not that it wasn't nice or anything, just not outstanding.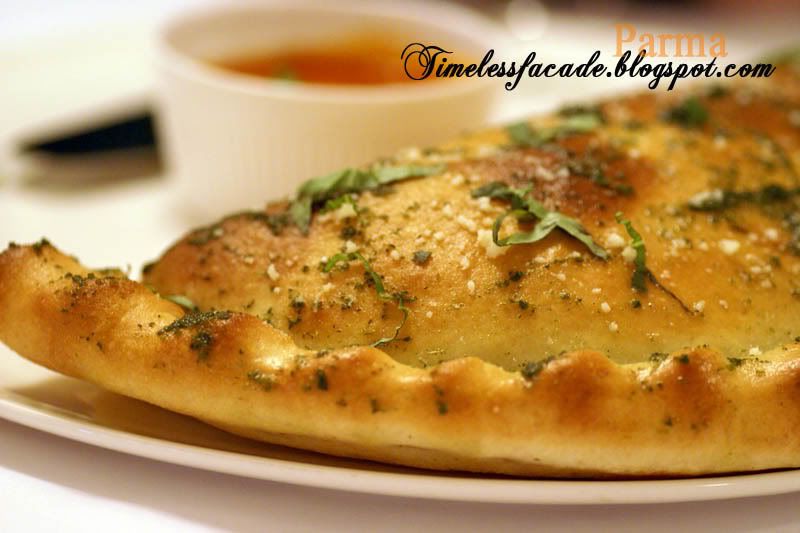 Calzone aka Folded Pizza ($24.90)
According to the menu, the Calzone is a Neapolitan specialty and means 'Trouser Leg', which honestly makes no sense to me. Introductions aside, I had a major grouse with it. The crust was a little too burnt, resulting in a rather hard exterior, which made slicing or chewing through it a chore. The filling of ham, bacon, onions, mushrooms, capsicums and smoked cheddar cheese was decent though.


Filetto Di Mento ($32.90)
For a change, I ordered my steak medium instead of medium rare this time round and it came as per instructions. Italian restaurants certainly aren't known for their steak so I was pleasantly surprised by the juiciness and texture of the meat as well as the beefy flavours which were complemented by the subtle red wine sauce. I would dare say the steak can give some of the more reputable steakhouses a run for their money. On a side note, the potato ball that came with it tasted weird.


Chocolate Fondant ($11.90)
Beautifully presented, the Chocolate Fondant was compact with a slightly hardened exterior, unlike the ones that many Italian restaurants have taken to doing nowadays. This made eating it all the more enjoyable especially when the molten chocolate started oozing out through a break in the crust. Paired with a scoop of vanilla ice cream, it was really quite enjoyable. Pity about its small size though.


Tiramisu ($12.90)
High marks in the aesthetics department for the Tiramisu as well. The sponge to mascarpone cheese ratio was quite balanced and it came across as light and fluffy with a lingering taste of alcohol sans the wetness. Its probably one of the more notable tiramisus I've eaten in a long while.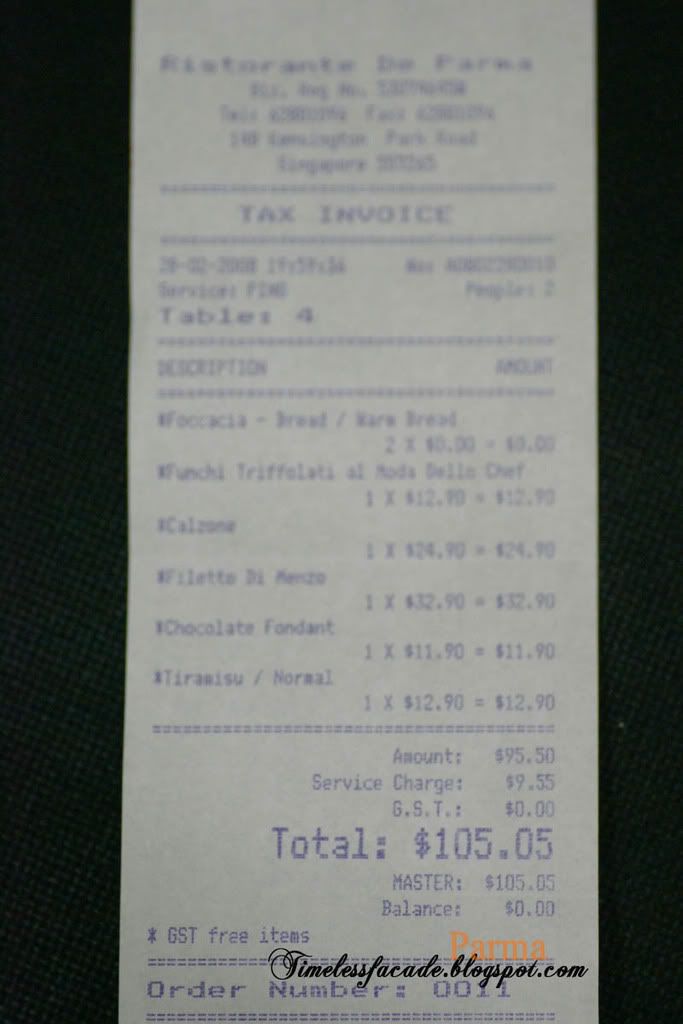 Bill
I am most reluctant to admit, but $105 for 1 appetiser, 2 mains and 2 desserts definitely tends towards the expensive side. Food quality is particularly impressive for a restaurant that utilizes only local chefs and service is attentive yet non intrusive. If prices could drop a notch or two, I'll be more than happy to return for dinner. Until then, I'll have to content myself with their seemingly reasonably priced set lunches (starting from $12.90++ I believe).
Likes: Food quality above average, good service
Dislikes: Expensive
Final Verdict:
Ambience:7/10
Service:7.5/10
Food:7.5/10
Value for money:6.5/10
Overall:7.125/10
Address:
14B Kensington Park Road
Contact:
6280 1096

Opening Hours: Daily: 11.30am - 2.30pm, 6pm - 10.30pm (Closed on Wed)