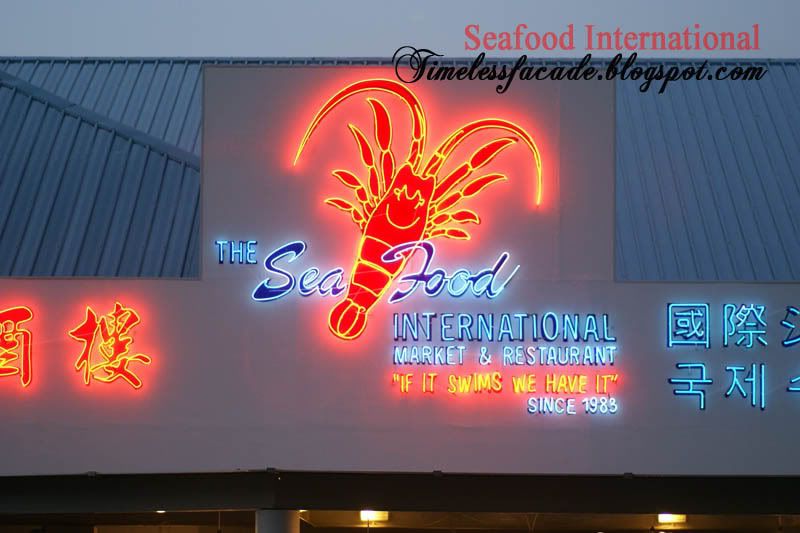 Had the opportunity to partake in a media dinner at the newly reopened The Seafood International Market & Restaurant, or TSIMR for short, courtesy of The New Paper. It was a reunion of sorts as I vaguely remember dining at its former premises at UDMC some years back. It has since transplanted to become the anchor tenant of Big Splash @ Playground.
Interior
TSIMR occupies an impressive 18,000 sq ft and can seat up to 700+ people if my memory serves me right. The draw of this place is its live seafood market concept which allows you to choose your desired seafood from the tanks and it will be cooked and served to your table. This concept, though not unheard of, was pioneered in the early 1980s by TSIMC.

The live seafood section is reminiscent of a supermarket while the dining area is like your typical seafood restaurant - huge and noisy. I liked the private dining areas at the two extensions though, which offered a nice view of the park and pond in the day. What I didn't appreciate was the fact that when the sky turned dark, outside visibility became close to zero and passers by could look in aka fishtank. Did I mention that the partitions were nothing more than a facade? During the course of our dinner, I could hear the adjourning rooms' conversation and loud guffaws.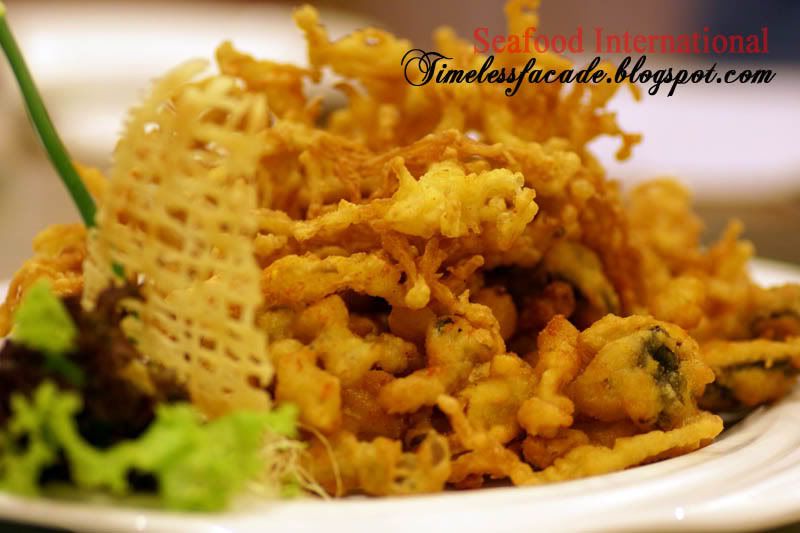 Assorted Mushrooms Deep Fried with Seven Spice Salt
Imagine my astonishment when I heard that the mushrooms were sold by weight. Its definitely a first for me and honestly, as preposterous as
selling Tofu by weight
. The seven spice salt was purportedly made from dried shrimp powder, curry powder, chilli, szechuan peppercorn, salt and two other secret spices. As impressive as this may sound, I found it nothing out of the ordinary, coming across merely as salty with a hint of spiciness. Ditto for the batter as well, which I personally found too thick and hinting subtly of oil residue.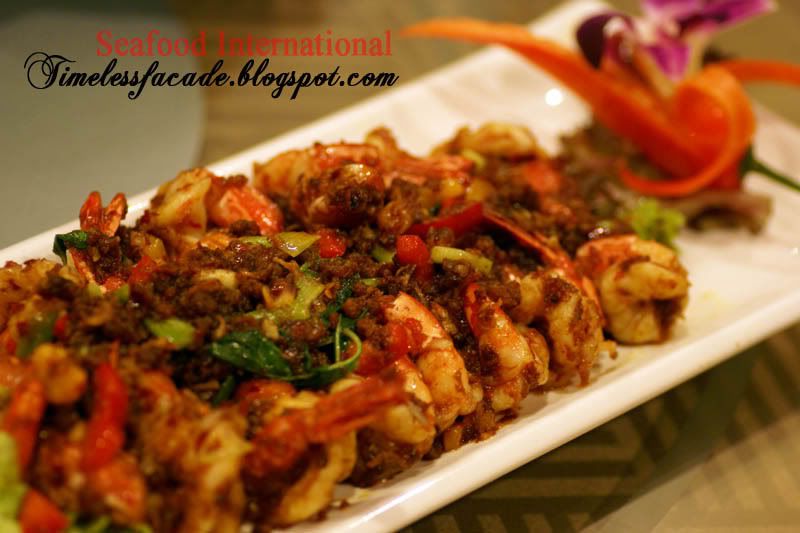 Prawns Stir Fried with Chilli & Basil Leaves

Beautifully presented with ornamental garnishes, the prawns gave an illusion of being terribly spicy. In reality, even someone who can't really take chilli like me could handle it without much effort (and water of course!). I didn't quite take to it though as the flesh was a tad soft and not firm. My guess is that it was a little undercooked.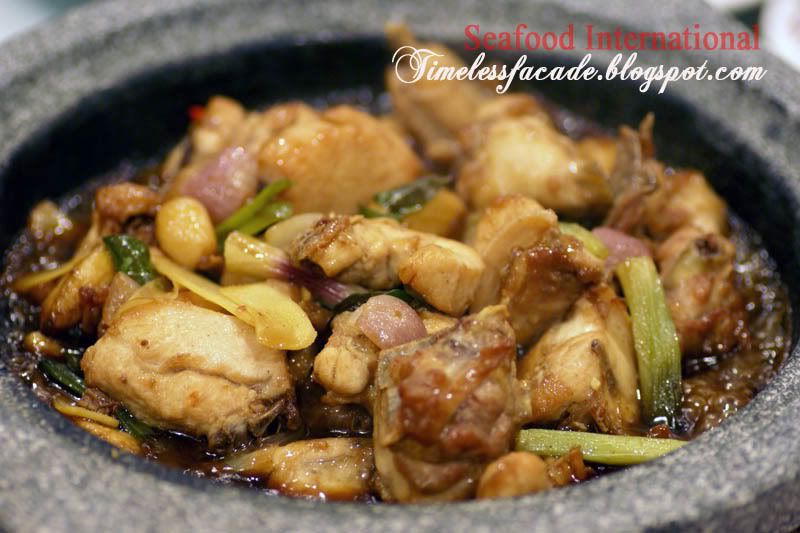 Sakura Chicken Braised with Tri - Sauce in Stonepot
I liked this dish the best even though it wasn't outstanding. Probably more of something that's close to my heart. Dished out in a huge stonepot, the chicken wasn't too dry and easy on the sweetness, carrying with it a light spice that made every bite rather enjoyable.


Golden Platter - Stir Fried Pumpkin with Salted Egg Yolk
Aptly named the golden platter, this dish intrigued me as I've never actually seen pumpkin cooked this way before. Prawns/lobsters with salted egg yolk? Yes. But pumpkin? It didn't turn out to be very appealing after all as the pumpkin slices were a little too soft for my liking. Coupled with the strong overtones of salted egg yolk, it was a recipe for nausea.


Curry Crab & Bread
I didn't try the crabs so I shall not comment, but the curry tasted rather normal to me, albeit a little heavier on the coconut milk. I liked the bread that came with the crabs though, sinfully buttery and crispy. Guaranteed to increase your cholesterol!


Call me ignorant or mountain tortise, but to my understanding, Pad Thai should be cooked with thin flat strips of glass noodles. TSIMR does a different rendition using thin vermicelli like noodles which I suppose are glass noodles as well. To be honest, the noodles were way too chewy and had the tendency to clump together, which made me feel like i was chewing on some kind of non sticky kueh.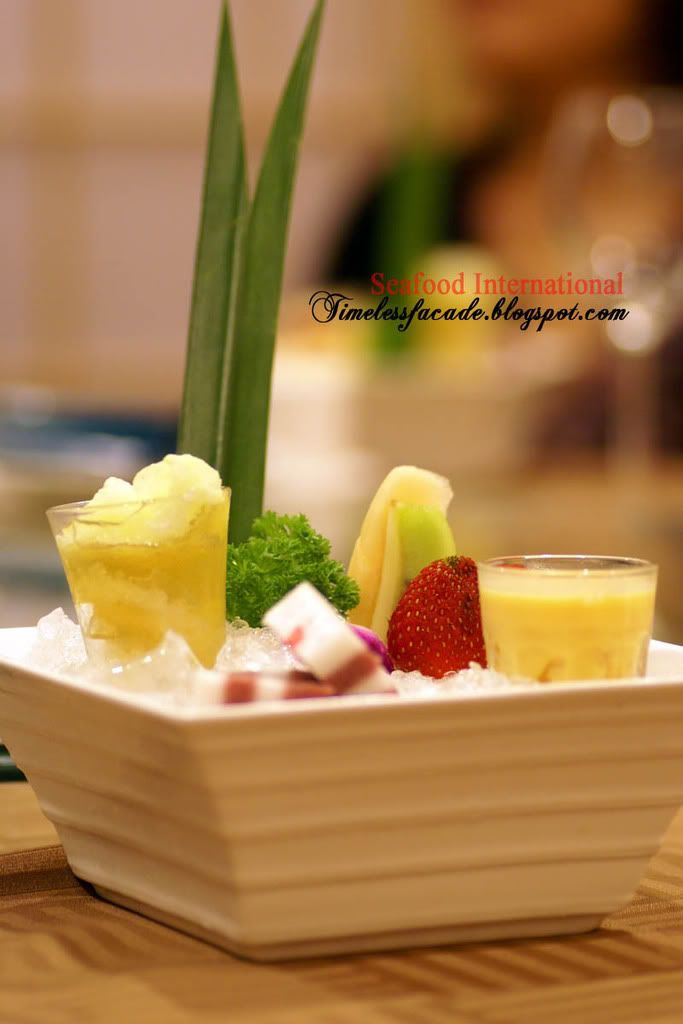 Wonder Four on Ice
With such a fanciful name, who needs superheroes? Corny jokes and stunning aesthetics aside, this dessert was just red bean kueh, mango pudding, some fruits and lemon grass jelly served on a bed of ice. As normal as it gets.

A little bird told me that the above dinner for 6 pax would have cost about $40/pax, which to me is a tad pricey. Food quality is average and service could have been more attentive. With that, I would like to thank TNP for the dinner once again.



Likes: You get to pick your own live seafood
Dislikes: Average food, a little pricey

Final Verdict:
Ambience:6.5/10
Service:7/10
Food:6/10
Value for money:6.5/10

Overall:6.5/10

Address: #01-01 Block A, Playground @ Big Splash, 902 East Coast Parkway

Contact: 6345 1211

Opening Hours: Daily: Lunch: 11.30am - 2.30pm; Dinner: 5.00pm - 12.00am