My colleague and I were wandering along East Coast road wondering what to have for lunch when we stumbled upon Stewhaus - a nondescript cafe located just next to
Sushi Jiro
.
Interior

Stepping into the simple no frills interior made me feel all warm and fuzzy, with its wooden finishings and smallish interior - just like returning home. Service was cordial but a little inattentive that sunny weekday afternoon though.
Summer Vegetables Soup with Kidney Beans & Mushroom soup
I've never actually drank summer vegetable soup before so it was quite an experience for me. The soup was refreshing and light but I didn't quite take to the kidney beans (personal preference). Overall a decent soup, but not something I would order again. As for the mushroom soup, it was nice and thick with generous bits of mushroom. However I did find it a bit too salty for my liking.


Half Pork Knuckle
Pork Knuckles are usually grilled (at least those that I've eaten) so it came as a surprise that Stewhaus's rendition was baked instead. The pros of such a cooking method is that the pork knuckle turns out healthier (less oil) but the downside is that it sacrifices quite a bit on taste and texture. For one, the meat wasn't fibrous, coming across as gluten like and the nice grilled taste which I personally like was missing. Thumbs up for the skin still retaining its crispiness though.


Mixed Berry Stew
Another first for me. Zesty from all the berries yet sweet at the same time from the ice cream. Very contrasting flavours indeed but not exactly something to shout about.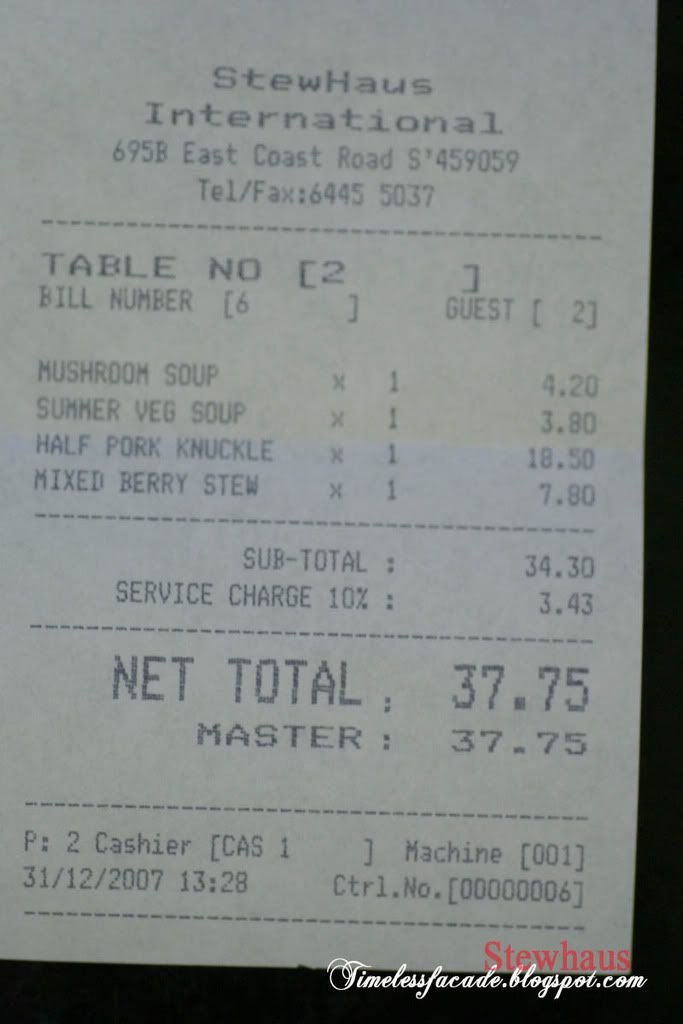 Bill
$38 for 2 soups, 1 main and 1 dessert isn't exactly expensive but its not cheap either. Food quality falls just above the average mark and only service charge is levied (No GST). Would I be back? If I happen to be in that area, maybe.



Likes: Homely feel, average pricing
Dislikes: Food average

Final Verdict:
Ambience:7/10
Service:7/10
Food:6.5/10
Value for money:6.5/10

Overall:6.75/10

Address: 695B East Coast Road

Contact: 6445 5037

Opening Hours: Tue-Sun: 11am - 11pm (Closed on Mon)

Website: http://www.stewhaus.com