Sweet to indulge - the catchy tagline behind Sweet Indulgence, a quaint little cafe that resides along quiet Stanley Street and the venue of choice for our monthly dinner.
Interior & Table Arrangement
Fronted by a pink signboard, Sweet Indulgence's interior is rather small and "cafeish", sitting up to a maximum of 24 pax while the al fresco area can take another 10 or so. The thing that irked me quite a bit was that the air conditioning wasn't cool enough even though it had just rained. Imagine if it was a bright sunny afternoon. On a more positive note, the entire place exuded a nice cosy vibe, setting the tone right for a relaxing after work dinner.


Complimentary Bread
I didn't think too much of the complimentary bread. For starters, it wasn't served warm. Not to mention it was dry and sparse as well. But hey, its free.


Pear Juice
I liked the shooter of pear juice - light and sweet. Complimentary as well.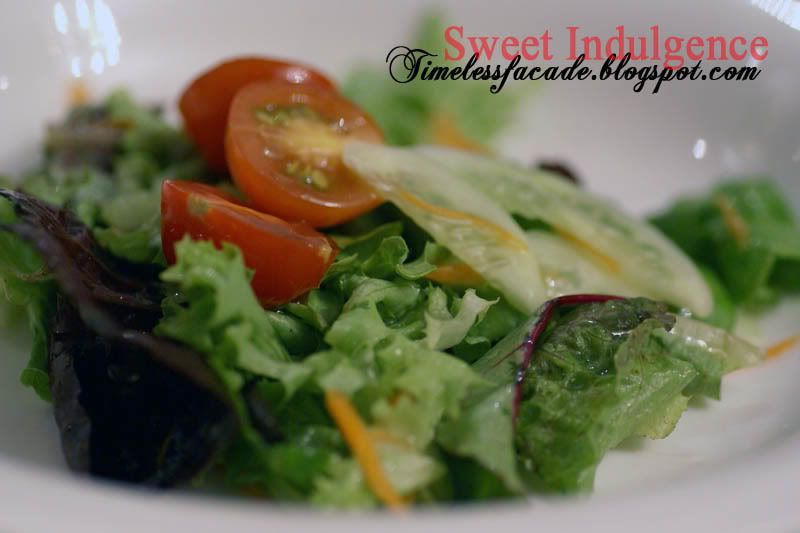 Salad
A simple salad with only freshly cut vegetables. Pity about the overwhelming Italian dressing, which came across as much too strong. A light dressing is always welcomed.


Cream of Broccoli
Salty salty salty. That was the first impression that hit me when I took a sip of the soup. Other then that, nothing else actually registered in my taste buds which was quite sad really.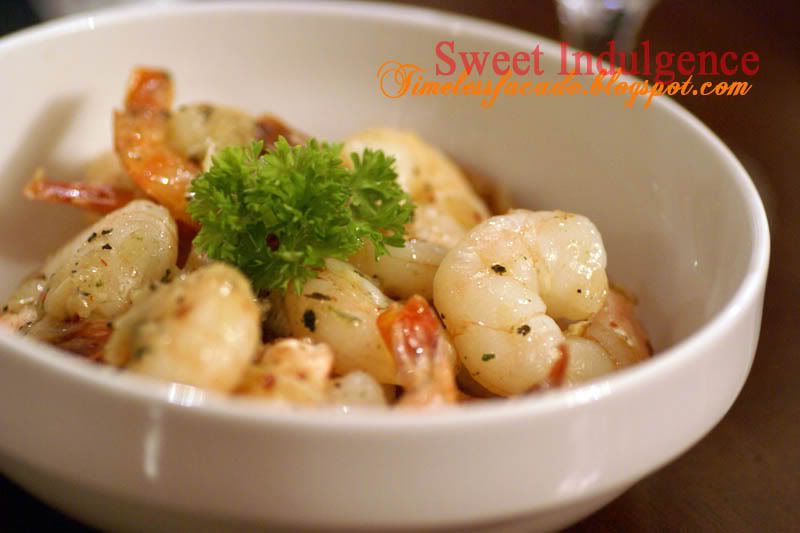 Garlic Prawns
This dish came as compensation due to the removal of a choice for the main course from our pre agreed list. To be honest, I'm almost glad that happened as the prawns were really quite good. Thought small, they were fresh and crunchy with a hint of pepper. Light yet full of flavour. I would have stuffed myself silly if not for the fact that we had to share a bowl amongst 5 pax.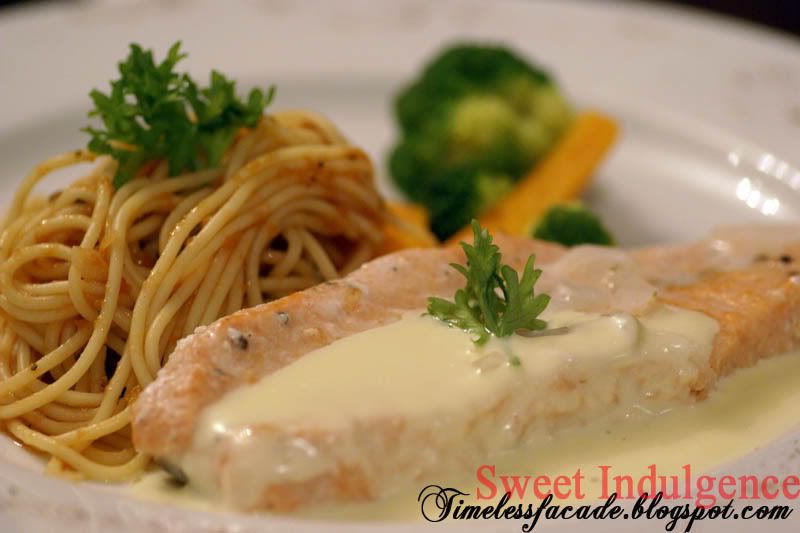 Poached Salmon with White Sauce & Herbs, served with Pasta and Seasonal Vegetables
I didn't choose this main but had a taste of it. First thoughts, the salmon had none of the overwhelming raw fishy taste that I absolutely abhor. Drizzled with the creamy white sauce, it was actually quite decent. The same can't be said about the pasta though, which was bland and overcooked, as evident by the overly soft texture.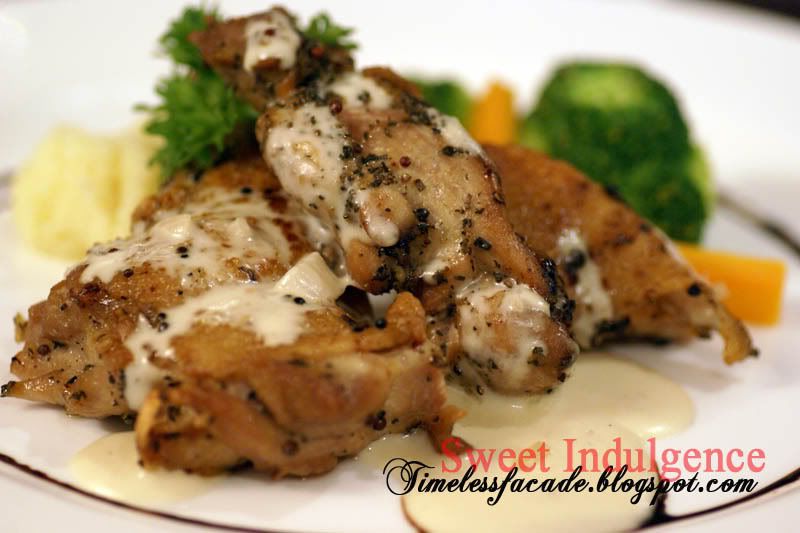 Oven Baked Chicken Thigh Steak with Crisp Skin served with Chef Sauce & Potato Mash infused with Vanilla and Cream
I opted for this as my main and wasn't too bowled over by it. For one, I had expected crackling crispy skin but got none. The meat was tender and tasty though but could have been juicier. As for the mashed potato, I would have preferred it to be smoother. But having said that, I appreciate the creativity behind the infusion of vanilla and cream.


Strawberry Cheesecake
I honestly don't know what to make of this. Sweet Indulgence is known for its desserts but if the cheesecake was anything to go by, I wouldn't buy it whole sale. Aesthetics aside, the cake was moist yet firm but almost tasteless. In fact, it was so forgettable that I didn't remember eating it until I saw my empty plate. And its tiny by the way.


Warm Choco Lava Indulgence
We got this complimentary dessert to share between 4 pax as Sweet Indulgence swapped our agreed upon Tiramisu to the lacklustre Strawberry Cheesecake due to some logistics problem. Billed as a best selling hot favourite, the choco lava cake oozed decadent thick chocolate through a break in the outer crust. Now here's the part that really bugs me. The crust was very kueh like - soft and limp, which meant that the whole thing came crumbling down after we made a hole in the crust. But for something that retails at $8.90, I guess its quite worth it.


Bill
The 20 of us chalked up a bill of $671 inclusive of the $11 for corkage. That works out to be $33 per pax which I find pretty reasonable for the amount and quality of food we got (we got a glass of coke each as well). Just for the record, food quality hovers just around the average mark but service and service recovery is quite good. Okay to give it a try if you are in the area. Just don't get your expectations too high.



Likes: Good service and service recovery, reasonable prices
Dislikes: Average food

Final Verdict:
Ambience:6.5/10
Service:7.5/10
Food:6.5/10
Value for money:7/10

Overall:6.875/10

Address: 2 Stanley Street

Contact: 6223 7707

Opening Hours: Mon-Fri: 10am - 10pm. Closed Sat, Sun, PH