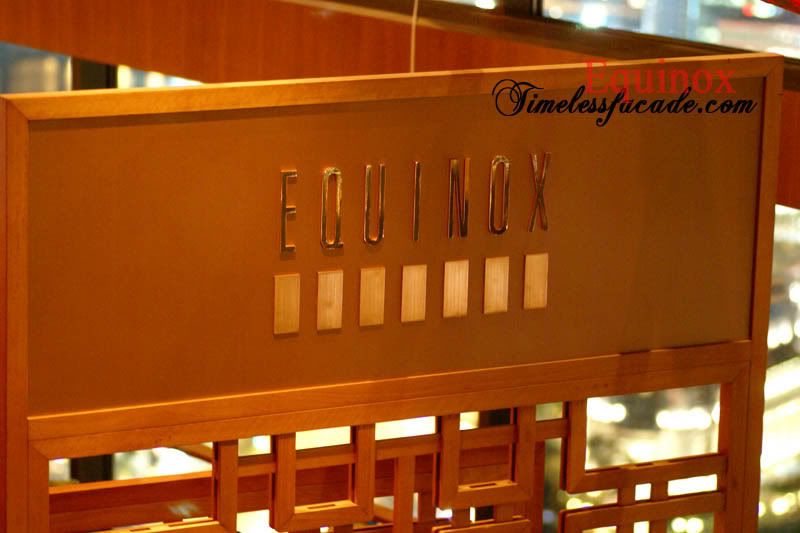 Had dinner at Equinox Restaurant - the much acclaimed restaurant perched right at the top of Swissotel The Stamford, on the 69th storey no less, which at 226m, gives it one of the highest vantage points in Singapore. Famed more for its bird's eye view than its Asian and Western cuisines, Equinox has consistently made it to various Singapore restaurant publications as one of the top restaurants in Singapore nevertheless.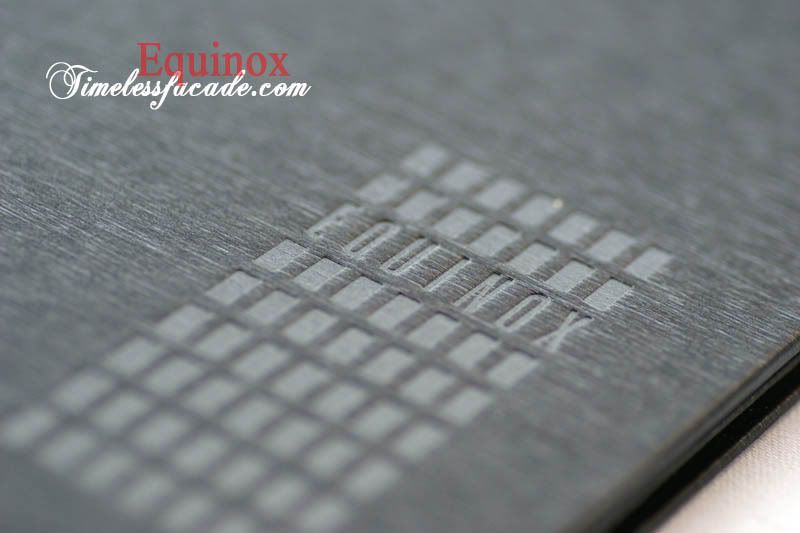 View from the top & Interior
From the moment you step out of the express elevator, the panoramic backdrop of Singapore's urban landscape greets you through floor to ceiling windows. The amphitheatre styled restaurant is tastefully designed with subtle oriental influences through the use of wood and overhanging red Chinese lanterns. The world slows to a crawl in this elegant restaurant, giving one a sense of space and serenity, perfect for a laid back dinner.


Stamford Tower Cocktail & Complimentary Bread
The complimentary bread looked really appetising with lots of variety but the truth of the matter was, it was lousy. Most of the bread was dry and hard and probably the only decent one was the bun with sugar and cheese but even then, it was too sweet. It definitely didn't help that the accompanying butter was rock hard as well.


Cappucino of Wild Mushrooms
The soup sure didn't look enticing, especially with the seemingly charred black slice of toast atop. But to give it credit, it tasted decent but did come across as a tad too oily for my liking. There was definitely nothing wild about the taste and I can probably get better mushroom soup elsewhere at a fraction of the price. (I'm not sure how much it costs because it comes with my degustation menu, but being Equinox, you can be sure it isn't going to be cheap).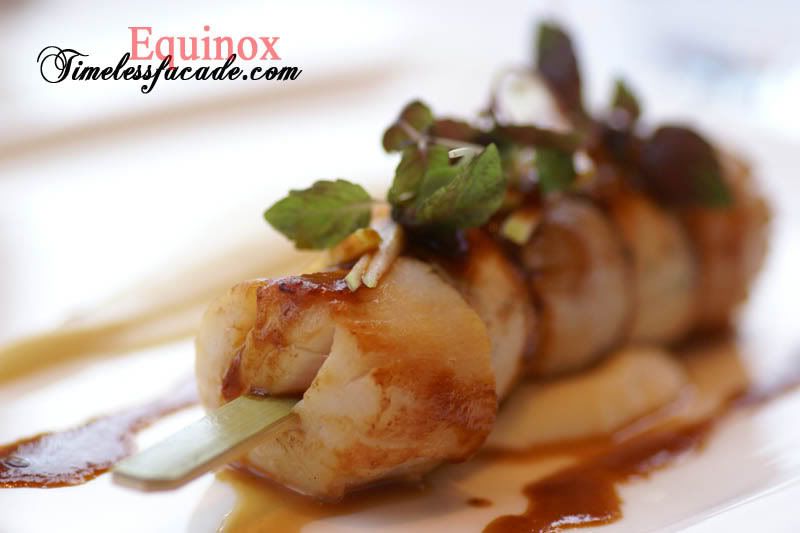 Roasted Japanese Scallops
Plain bland would be most apt in describing the scallops. Huge as they were, they were neither sweet nor juicy. Interestingly, straddled in between pieces of scallops were scallop lookalike soft and wobbly pieces of Boudin Blanc, white sausages made from pork without the blood, which had a faint liver taste. So in actual fact, there were only 3 pieces of scallops, all for a whopping $28.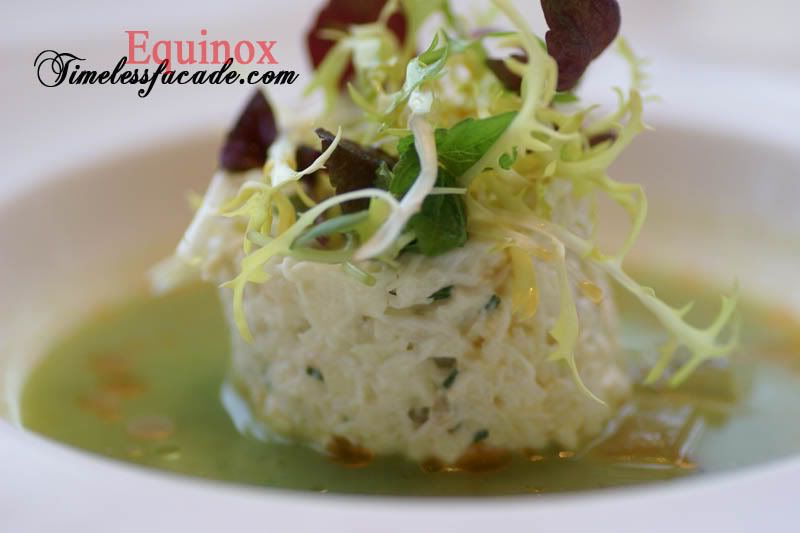 Tian of Mud Crab and Avocado
Just a little background on the word Tian. Its actually a square or rectangular French casserole dish originally used for baking. Fanciful names and aesthetics aside, the mud crab and avocado was decent, with the rawness of the crab not overpowering. The bits of avocado in between provided a refreshing change from the monotony of the crab.


Roast Foie Gras Escalope
I shuddered as I took my first bite of the foie gras. First there came shock and then disappointment started to set in. It was neither soft nor wobbly! I am really appalled at such standards. However, I must say that the honey cake that came alongside was spongy and actually made the foie gras bearable.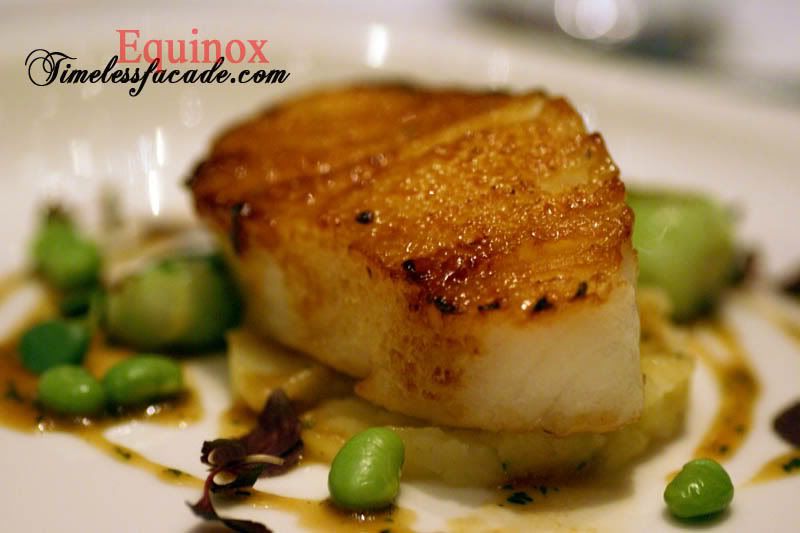 White Miso Glazed Cod

I've always liked cod fish and Equinox's rendition of the cod was quite good, with the flesh being soft and smooth yet firm enough to retain its form. However I did find the drizzled white miso sauce a little too sweet which made me nauseous after a while. Thank god for the greens that came with it!
Tenderloin of Beef 'Rossini'
Done up medium rare as per my request, the beef was absolutely disappointing. Dry and tough doesn't even begin to describe it. Portions were small and it lacked the sweetness and beefy taste that all decent beef should have. What more can I say?


Hazelnut Chocolate Bar

I liked this quite a bit. The chocolate bar was quite smooth yet not too rich with a nice crunchy biscuit base. Accompanying the chocolate bar was a nice scoop of mint ice cream which I don't usually like, but this one was light and sat very well with me.
Sweet Temptation - Milk Chocolate Orange Gateau, Fig and Sangria Gelee & Yoghurt Sorbet, Contemporary Apple Tart & Nougat Chips, Araguani Chocolate Cream & Vanilla Chantilly & Coffee Granite


Overall the dessert platter was decent. For starters, the milk chocolate orange gateau was rather interesting with the chocolate gateau hinting strongly of orange. Quite a nice combination in my humble opinion.
I didn't quite take to the fig and sangria gelee though, as I'm not exactly a fan of fig or sangria. And the texture of the gelee (jello) reminded me of hardened "kuay" then anything else. The yoghurt sorbert was alright though but nothing fantastic.
The contemporary apple tart's biscuit was a tad too hard and dry but the apple cubes were nice without being too sweet or sour. Having said that, it wasn't exactly wow for me.
The highlight of the dessert platter has to be the Araguani chocolate cream. Topped with vanilla chantilly (cream) and coffee granite, this combination proved to be rather interesting when everything was mixed together. Bitter and sweet altogether. The addition of chocolate balls to this dessert gave it a nice crunchy texture as well.
Bill
Expectations, expectations, expectations. That's what it all boils down to. Seriously, the food isn't bad, just that I had high expectations of it with all the hype and of course the steep pricing, standing at just over $310 ($177 after 50% discount) for 2 pax. Service is good but honestly, the food's not worth returning for. For the view and ambience, maybe.
Likes: Good service, fantastic view
Dislikes: Average food, expensive
Final Verdict:
Ambience:8.5/10
Service:7.5/10
Food:6.5/10
Value for money:5.5/10
Overall:7/10
Address: Level 69, Swissotel The Stamford
Contact: 68373322
Opening Hours:
Lunch (buffet): 12.00pm to 2.30pm (Mon to Sat)
Brunch: 11.00am to 2.30pm (Sun)
Hi-Tea (buffet): 3.00pm to 5.00pm (Mon to Sat) / 3.30pm to 5.30pm (Sun)
Dinner (a-la-carte): 6.30pm to 11.00pm (Mon to Sat) / 7.00pm to 11.00pm (Sun)
Website: http://www.equinoxcomplex.com