My second foray into Korean food - a very late dinner at Auntie Kim's one weekday night. I've heard many good things about Auntie Kim's and since my last visit to
Nul Bom
was less then ideal, I thought it would be nice to explore new Korean places.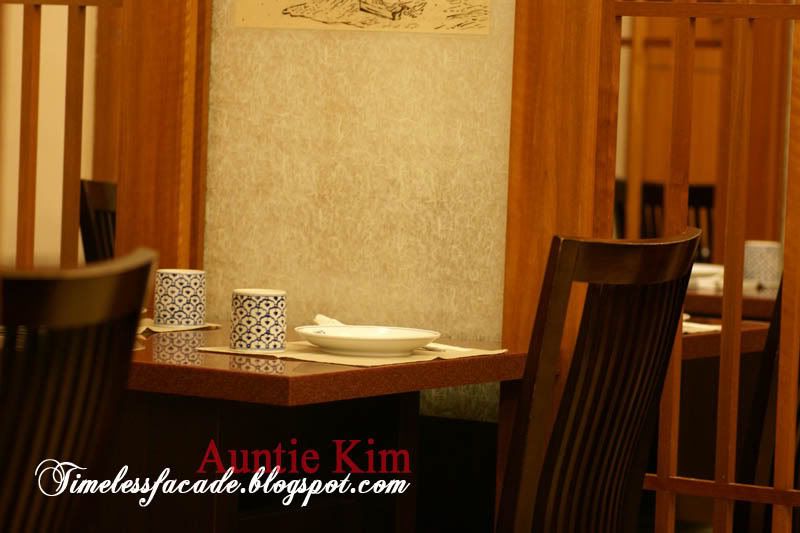 Interior
Located within a row of shophouses along Upper Thomson Road, Auntie Kim's interior is rather smallish and elegant with its dark wooden tables set against light coloured walls. Korean music lingers in the background and service is extended by waiters in black suits and waitresses in traditional Korean costumes.


Side dishes
I didn't find any of the side dishes particularly outstanding or lousy for that matter. There was the usual kimchi, beansprouts and anchovies which I'm beginning to feel that they taste almost the same everywhere. But as mentioned before in my entry on
Nul Bom
, I do appreciate the variety.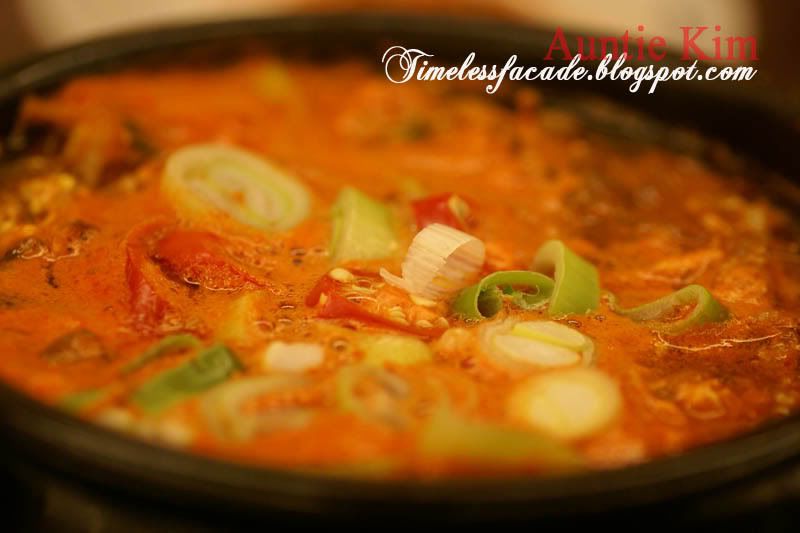 Yookgae Jang - Spicy Beef & Scallion Soup
This dish looked really really spicy with its intense reddish colour. However, that was just a facade. Even someone who can't really take spicy stuff, like me, could take it without so much as breaking out in sweat. I personally found the soup rather bland and the beef slices were a tad too tough and overcooked for my liking.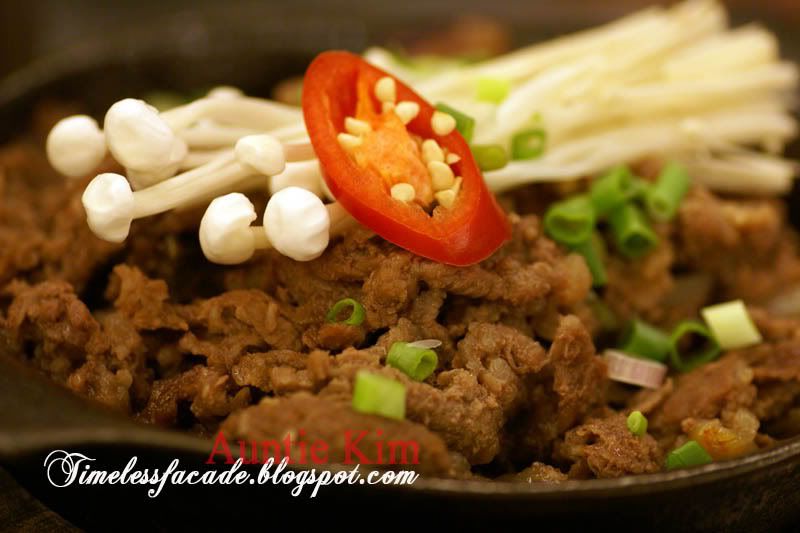 So Jungsik - Hotplate Beef
The beef was overcooked but still decently tender probably due to it being thinly sliced. I found it too sweet for my liking but maybe that's how Koreans eat it. I like the few strands of golden mushroom that came with it though, crunchy and breaking the monotony of just chewing through meat.


Dessert
This came complimentary and I honestly don't know whats in it. To me it was just a chilled drink which reeked strongly of Cinammon. Definitely not my idea of a sweet ending.


Bill
We paid about $35 for a rather filling dinner (thanks to the sides) but after having tried out Korean food for a second time, I still dont find myself taking to it. Is it just me or have I been ordering the wrong things or going to the wrong places?



Likes: Good service, not really expensive
Dislikes: Food not suited to my tastebuds

Final Verdict:
Ambience:7/10
Service:7/10
Food:6/10
Value for money:6.5/10

Overall:6.625/10

Address: 265 Upper Thomson Road

Contact: 6452 2112

Opening Hours: Daily: 11am - 3pm, 5.30pm - 10pm