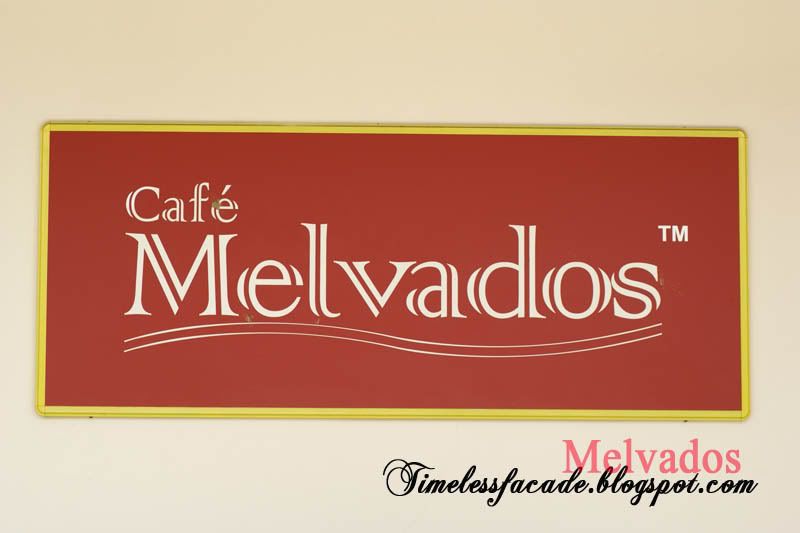 Read quite a bit about Melvados and its famous brownies so dropped by one sunny afternoon to try them out.
Interior
Opened just slightly over a year ago in end 2006, Melvados is located within the upmarket residential enclave of Bukit Timah, playing neighbours to only a clinic and a pub. The decor is simple, with cheap looking wooden tables and chairs sparsely populating the granite floor. There are cosy sofas too but those are of the limited variety. The entire place is small, probably fitting in about 20 pax at most. With huge floor to ceiling windows, the place exudes a nice cosy feeling, just perfect for a lazy afternoon tea session.


Menu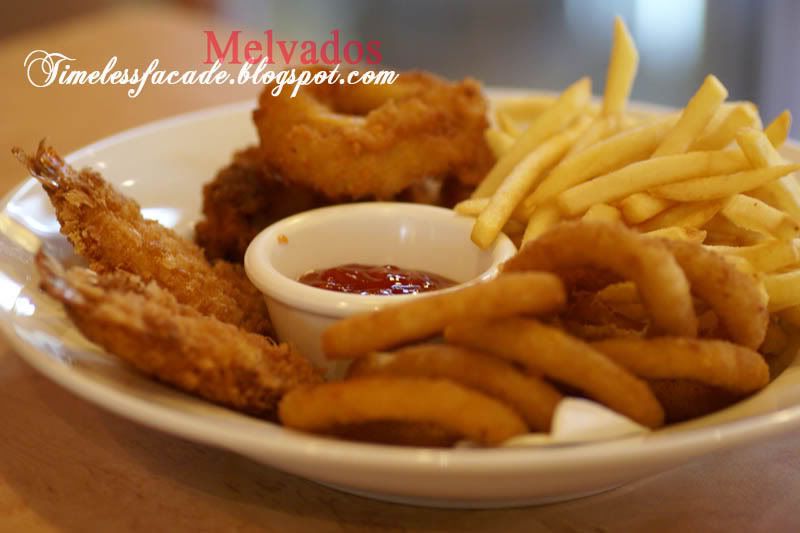 Seafood Platter
I'm not exactly a fan of seafood platters as they usually consist of alot of deep fried stuff that tend to make me nauseous after a while. This one was no exception. Served with onion rings, fries, calamari and fish/prawn cakes, the platter was, if I may say, off the charts. Not that I mean it in a good way though. Everything (save for the fries) was rather tasteless and too filled with thick batter that tasted exactly like deep fried flour.
Black & White Kisses
Billed as Melvados's signature brownie, the Black & White Kisses was actually quite good. Moist and not too rich with a nice wholesome baked taste and topped with black and white hershey's kisses. The only bone I had was the consistently smooth homogeneous texture of the brownie, which made it seem a little weird. However such gripes are forgotten when the brownie is paired with the vanilla ice cream, making for a sweet and delightful dessert without the chocolate overload.


Sizzling Brownies Sensation
Ever heard of hotplate brownie? No? Neither have I. It was that curiosity that prompted us to order this dessert. In retrospect, it wasn't such a good idea after all. A brownie served on a hot plate with a scoop of rapidly melting ice cream. How special is that? I did a quick calculation and the novelty of a hotplate cost us an additional $2.10 with the exact same ingredients as their signature Black & White Kisses. There's another problem with serving brownies on a hotplate. The underside of the brownie will harden and stick to the base and the ice cream melts so fast that its a little more than just flavoured cream after a while.


Chocolate Madness
I didn't quite take to this brownie as it was a tad hard and dry when served. Not exactly my cup of tea. And for the record, it didn't really taste that strongly of chocolate as inferred by its name.


I'm really not sure about the going prices for brownies because I don't eat enough of them to know but I'm guessing $18.50 for 3 brownies is a wee bit on the high side. Meldavos serves mains like pasta and sandwiches as well but sticking to just the brownies might just be a safer bet.
Likes: Nice small cafe, decent brownies
Dislikes: A little pricey.
Final Verdict:
Ambience:6.5/10
Service:6.5/10
Food:6.5/10 (for the brownies only)
Value for money:6.5/10
Overall:6.5/10
Address: #01-01 King's Arcade, 559 Bukit Timah Road
Contact: 64693101
Opening Hours: Daily: 10.30am - 10pm
Website:http://www.melvados.com/