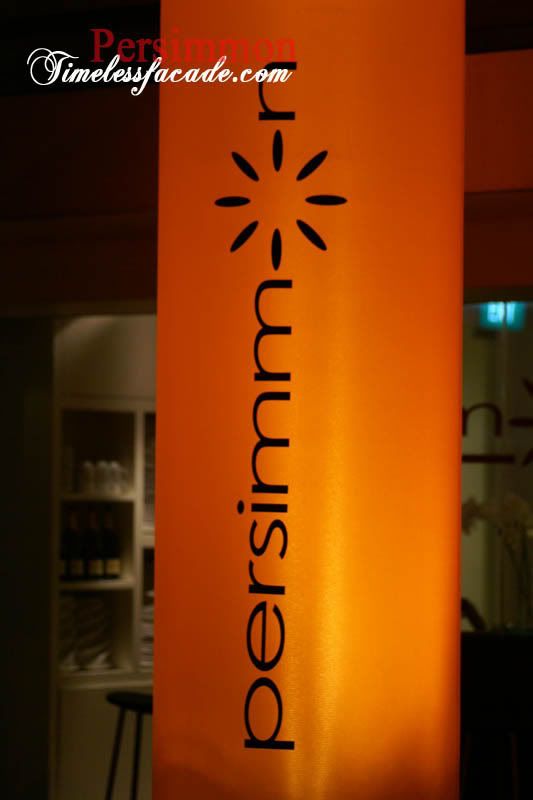 Had the opportunity to partake in a tasting session at Persimmon one Wednesday evening, courtesy of its co owner, Helena, who also co owns the casual eatery
Epicurious
at Roberston Quay. Persimmon bills itself as a fusion restaurant, incorporating both chinese and western food to blend up its own variety of fusion. Think somewhere along the lines of another Singapore fusion restaurant,
Wild Rocket
.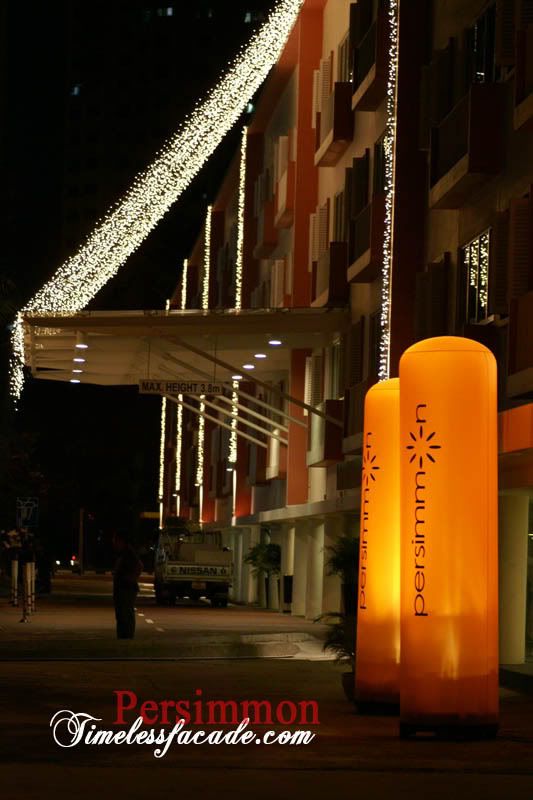 Exterior, Interior & Menu
Stepping into Persimmon is reminiscent of stepping into a high class coffeeshop, with its checkered tile floors, white top tables and wooden chairs. What it lacks is the spinning ceiling fans which have been replaced by air conditioning units but I'm definitely not complaining. Not with Singapore's heat and humidity. Coupled with a low ceiling and retro music, it made for a soothing and laid back atmosphere.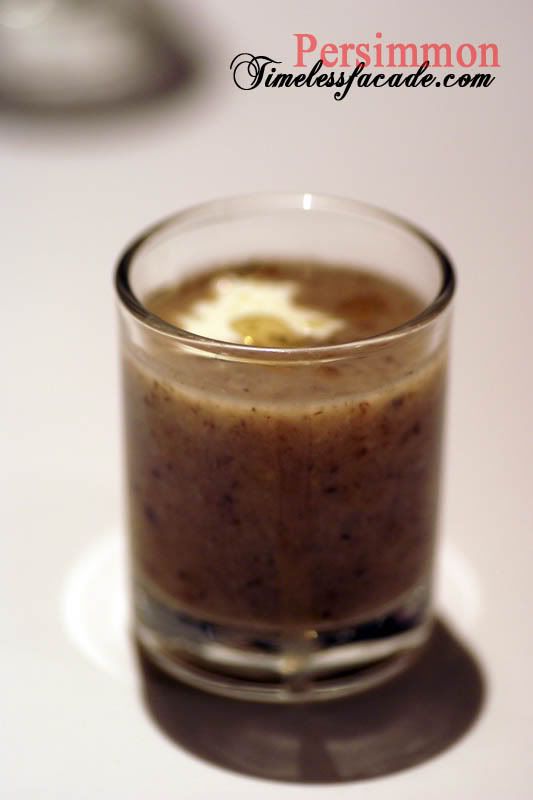 Mushroom & Sesame Shooter
I liked this inconspicuous little shot glass of warm mushroom soup. Savoury with a hint of sesame and bits of mushroom. There was suppose to be 绍兴酒 in it but that was apparently not evident.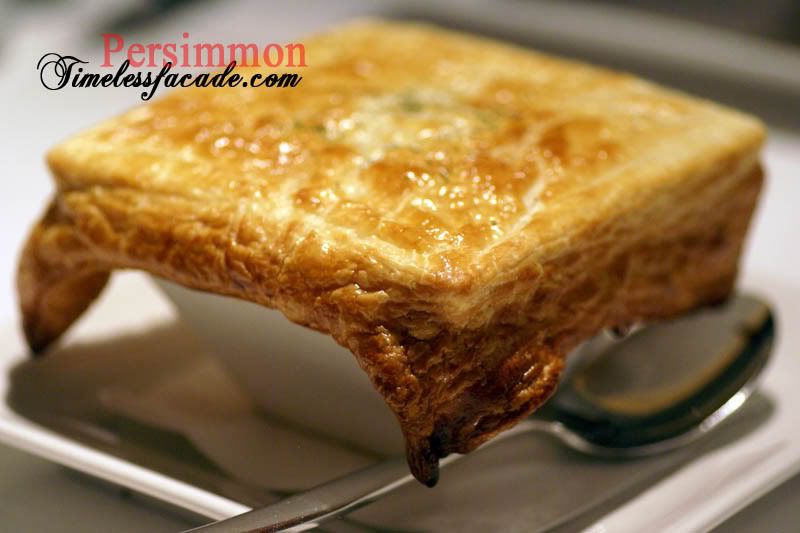 Fisherman's Pie
Persimmon's rendition of the fisherman's pie took a different twist from the norm. Instead of the usual seafood ingredients enveloped within a mould of pastry, this one was more of a soup bowl covered with a puff pastry lid. Another interesting thing was the choice of soup, which was a less oily version of the ubiquitous Laksa gravy. Honestly, I didn't find the soup or the ingredients very outstanding, coming across as decent at best. The pastry also needed some reworking in my humble opinion, probably through the addition of more butter to make it more fragrant and creamier to the tastebuds.


Fried Kway Teow with Wagyu Beef
I'm sorry to say this, but as fragrant and tasty as the kway teow may be, it is still CKT (Char Kway Teow), albeit of a less oily version than the ones you find in hawker centres outside. It came with a poached quail egg and mushrooms but lacked the discernible wok hei taste due to it being pan fried I believe. Did I mention that it was a tad too salty as well?
The accompanying wagyu beef came served atop a bed of beansprouts and was tender, juicy and almost mouthwatering. But being too thinly sliced, it was a little overcooked and I honestly couldn't tell that it was wagyu beef. So much for such an expensive breed of beef.
On a side note, it would definitely be funny if someone called it 牛肉河粉.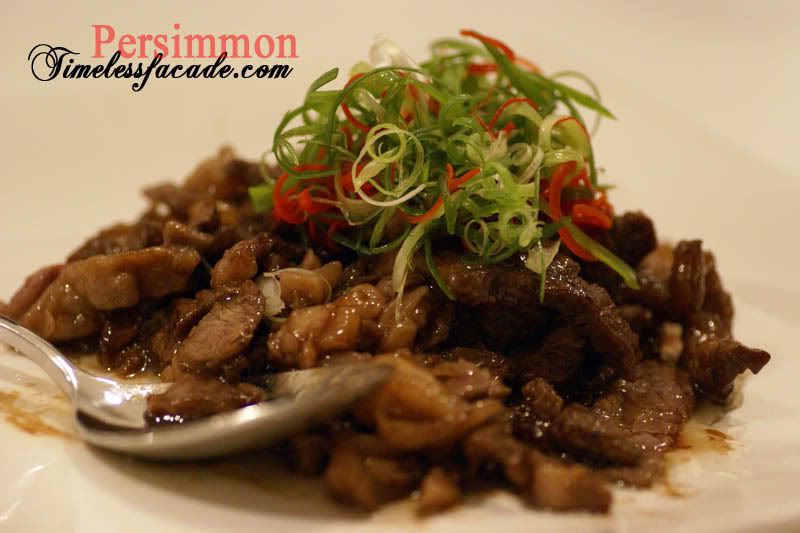 Wagyu Beef
As with the wagyu beef from the CKT, this dish of wagyu was thinly sliced and a tad overcooked, but at least portions were more significant and each slice held more bite. I just wonder how much would such a dish cost.

White Pepper Crab Cake with Tunghoon Salad & Scallop
I've never really been a fan of crab cakes and Persimmon's offering wasn't just about to change that. But thats not to say it wasn't good. As a matter of fact, it was quite decent, with lots of shredded crab, but just not outstanding.
The tunghoon salad held quite a few surprises with its overly zesty taste harbouring a spicy aftermath that hits you slowly but surely. And the lone fleshy scallop that came alongside was a little too undercooked, soft and bland.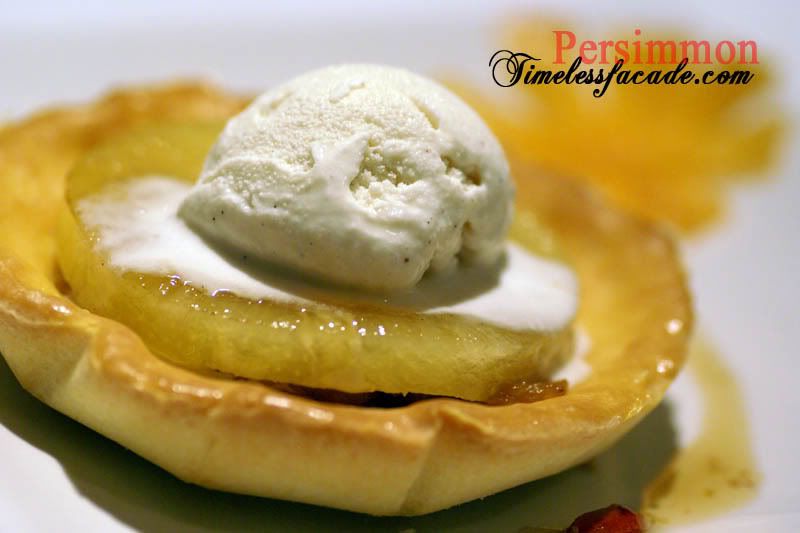 Pineapple Tart

Now this was one huge unconventional pineapple tart. A scoop of ice cream atop a sweet pineapple ring, covering a layer of caramelised pineapple, all on a huge tart base. I'm a sucker for pineapple tarts so I liked it quite a fair bit with the nice and smooth ice cream but I did think that it could have been better. The tart base lacked the oven baked taste which I personally like and it wasn't crumbly enough. That aside, its really quite worth the eat.
Overall I think the food is pretty decent and probably a few minor tweaks here and there would suffice. As mentioned earlier, it was a complimentary tasting session hence I am unsure of the prices but a quick glance at the regular menu shows most main courses to be in the $20+ range. I might do a revisit, just as soon as I am able to ascertain the food prices.
To end, please allow me to extend my thanks to Helena for the invite and for being an excellent host.
Likes: Nice environment, above average food
Dislikes: Inaccessible with expensive parking
Final Verdict:
Ambience:7.5/10
Service:7/10
Food:7/10
Value for money:/10
Overall:7.167/10
Address: #01-07 The Link Hotel, 50 Tiong Bahru Road
Contact: 62272271
Opening Hours:
Lunch: 11.00am - 3.00pm
Dinner: 5.00pm - 11.00pm
Website: http://www.persimmon.com.sg