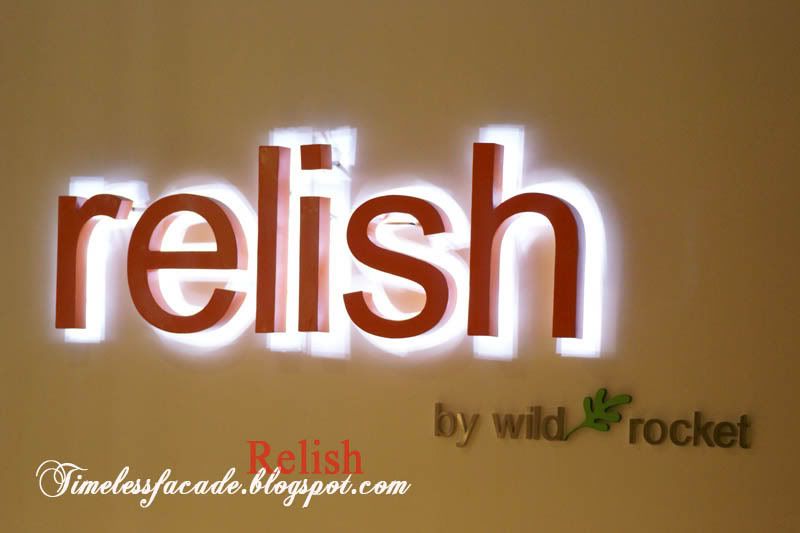 Banking on his wildly popular
Wild Rocket
restaurant, lawyer turned chef, Willin Low, has opened up a new burger joint serving up his signature Wild Rocket burger and other rather innovative burgers.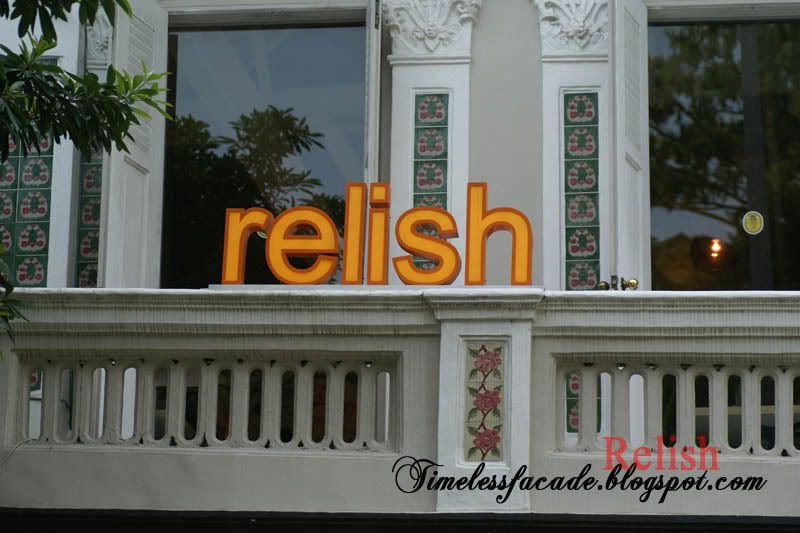 Exterior & Interior
Situated on the second floor (right above Da Paolo) of a charming colonial bungalow along Bukit Timah Road, Relish boasts an uncluttered no frills interior with wooden furniture and wacky murals on the wall. Everything about the place screams casual.


Bacon Cheese Burger
Now who can resist a thick beef patty topped with slices of cheese and bacon sandwiched between a roasted sesame bun? The beef patty was finely chopped and I liked the semi rough texture. A pity it was a wee bit too overcooked but at least it retained its juiciness. The sun dried tomato salsa tasted a little weak this time round. Still a great burger nonetheless, just that it reminded me Wild Rocket's signature burger with an addition of cheese and bacon.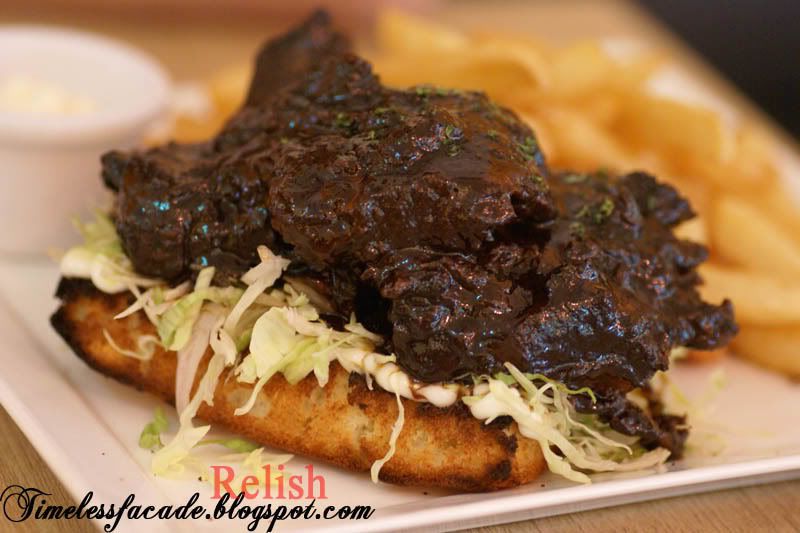 Char Siew Burger
This is the first time I've actually seen such a burger and its actually quite interesting. Lean meat covered with a special home made sauce on a toasted bun. Personally I found the sauce way too sweet for my liking and because it was quite coagulated, consuming too much of it made me nauseous. The meat was very lean and fibrous though, making it a joy to chew on. All in all, it tasted like a fat free version of Kong Ba Pao. Did I mention that the bread was a little too charred?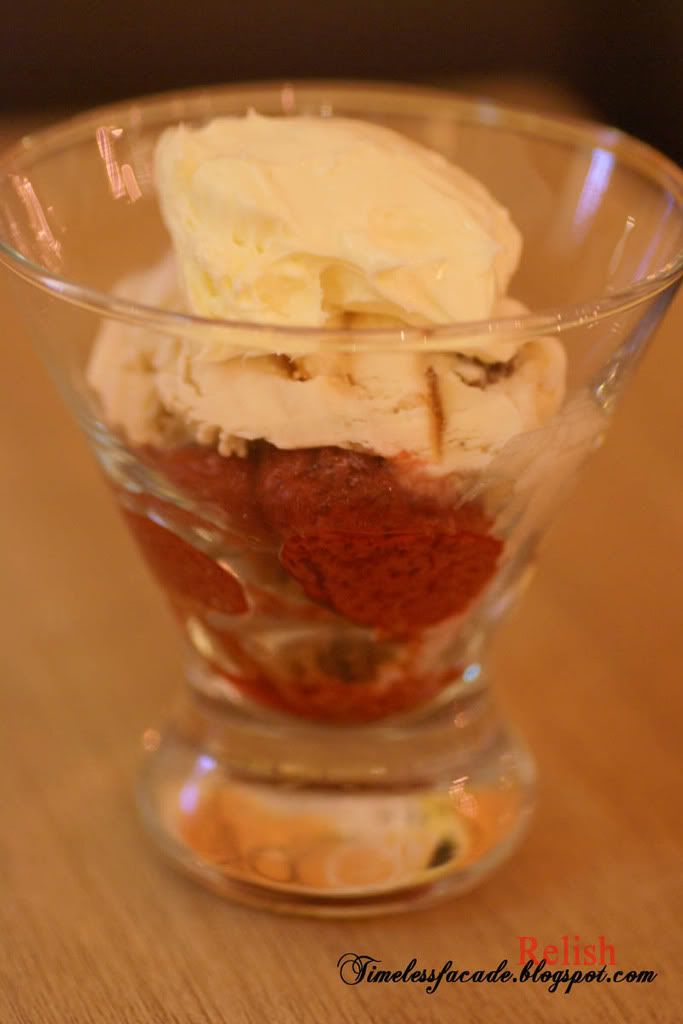 Wild Rocket Signature Cheesecake

A Wild Rocket signature dessert, the deconstructed cheesecake had a layer of cracker crumbs topped with sweetened strawberries and then topped again with a scoop of vanilla ice cream and cream cheese. The cream cheese was lightly sour and complemented the sweet ice cream and cracker/biscuit base perfectly. Personally I felt that the cracker/biscuit base could have been more buttery for a smoother aftertaste.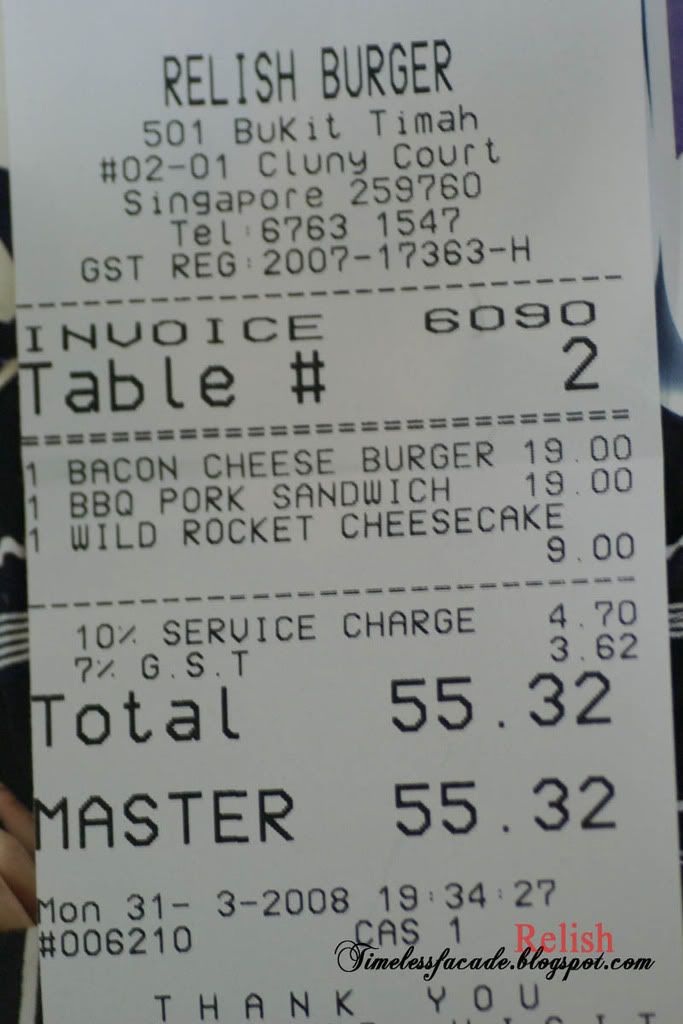 Bill
A high carbohydrate dinner for 2 cost about $55 which is rather average pricing. The burgers are good without a doubt and filling (they come with lots of fries). Service is good as well so the next time I'm craving for expensive burgers, I'll know where to look.
Likes: Good food, good service
Dislikes: Inaccessible location, parking is a headache
Final Verdict:
Ambience:7/10
Service:7/10
Food:7.5/10
Value for money:6.5/10
Overall:7/10
Address: #02-01 Cluny Court, 501 Bukit Timah Road
Contact: 67631547
Opening Hours:
Mon-Fri: Noon - 3pm, 6pm - 11pm
Sat & Sun: Noon - 11pm
Website: http://www.wildrocket.com.sg/relish.htm