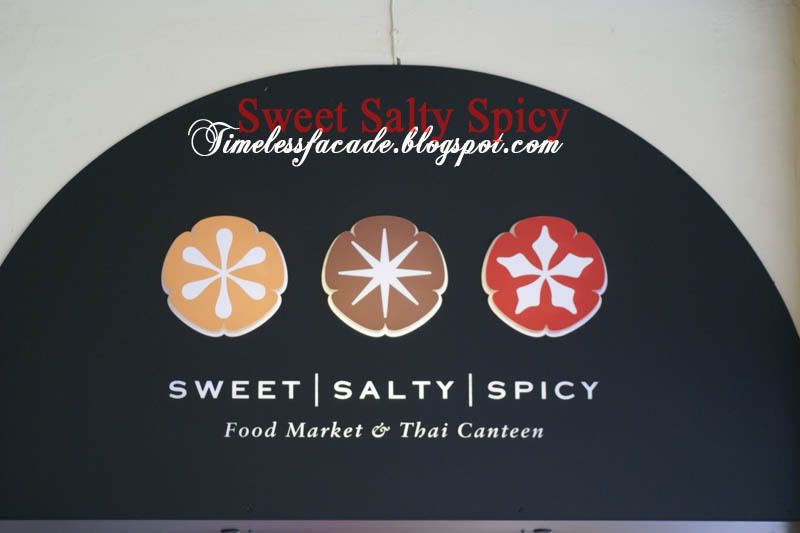 Had lunch at Sweet Salty Spicy Food Market & Thai Canteen (SSS for short), a newly opened modern Thai restaurant in the western regions of Singapore. Set up by Chef Christopher Miller of Poppi and helmed by Chef Richards, who trained under Chef Peter Bowyer from Sailors Thai in Sydney Rocks district fame, SSS aims to fill the gap between Thai fine dining restaurants and Thai chain outlets.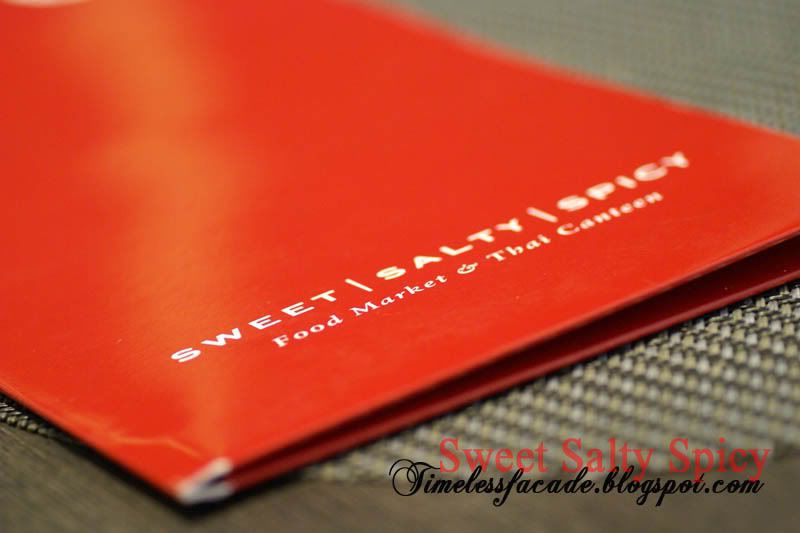 Located along serene Upper Bukit Timah Road, SSS, which is one of the new kids on the block, resides towards the end of a row of shops also known as The Rail Mall. The interior is simply done up with shelves of Thai sauces and condiments on display together with fresh local produce of herbs and vegetables. Hanging fruits at the entrance add to the down to earth market feel of the place.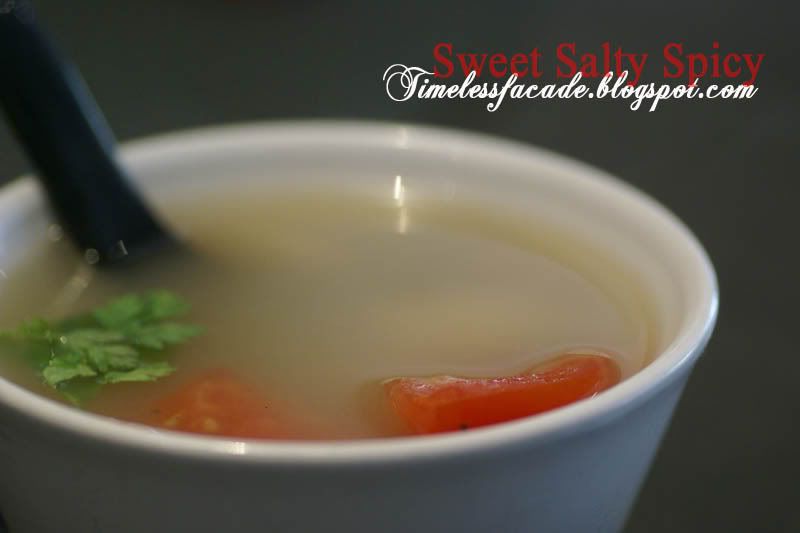 Hot and Sour Soup with Prawns, Straw Mushrooms and Aromatics
Notice that the name mentioned prawns. However, there was only 1 prawn, albeit of a rather large size. Bone picking aside, the soup was light yet sourish and hits you before you even know it. Its not so much the chilli kind of spicy but the wasabi kind of 呛, which has been known to reduce grown men to tears. Although I'm not one for spicy stuff, I liked this soup quite a bit.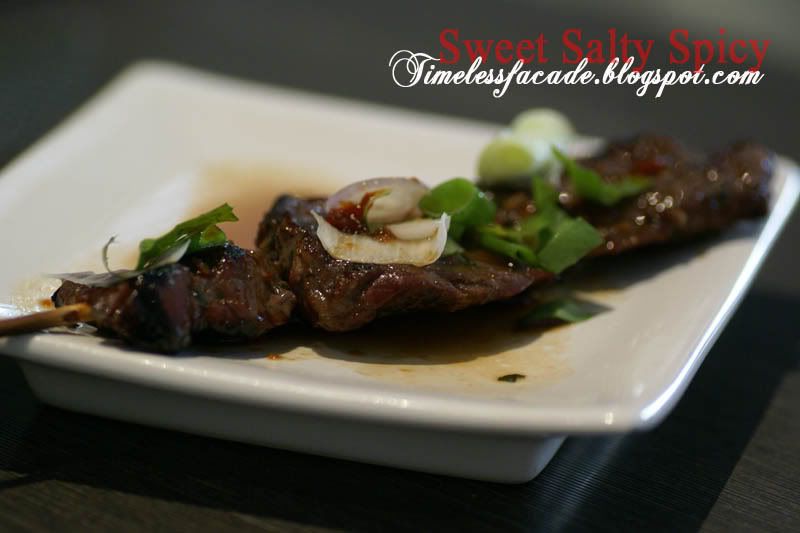 Wagyu Beef Skewer

At $5.50 a skewer and 2 mouthfuls, this is one expensive piece of beef. However I must admit that the beef was excellent. Tender and succulent with a tinge of sourish herbs taste complementing the natural beefy flavours of the meat - all these without being done medium rare.
Sweet Barbeque Pork in Thai Spices with Fresh Vegetables
This dish is very much akin to our local char siew except that it was much drier with an unidentifiable lightly sweet yet salty spice taste. With the meat being dry, it naturally got tougher and more chewy, which isn't necessarily a good thing, especially for people with weak teeth like myself. Still a relatively decent dish overall.


Roast Duck with Flat Rice Noodles in a Fragrant Thai Herb Broth with Bean Sprouts and Fried Garlic
First impression, this dish looked like a typical bowl of duck meat kway teow. Interestingly, the broth reminded me of the gravy used in lor mee, albeit of a much sweeter version. The duck slices were nice and chewy but the rice noodles, though silky and smooth, tended to clump together.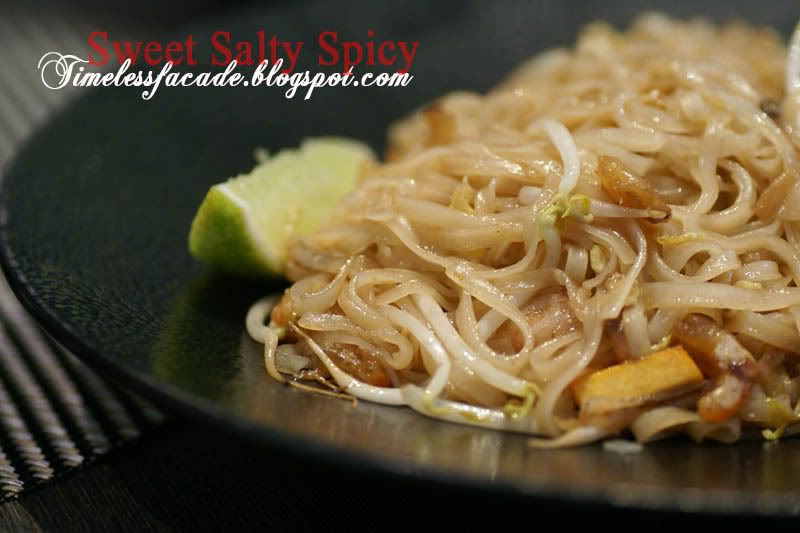 'Pat Thai' Stir Fried Thai Rice Noodles
This has got to be one of the best Pat Thai I've eaten in a long long while. A tad chewy and moist, the Pat Thai was fried with dried shrimps, beansprouts and huge prawns, exuding a nice fragrant aroma when served. Another plus point was that the noodles didn't clump together even when the dish turned cold. Probably the only gripe I had was the sweetness of the dish, which was a little excessive for me personally.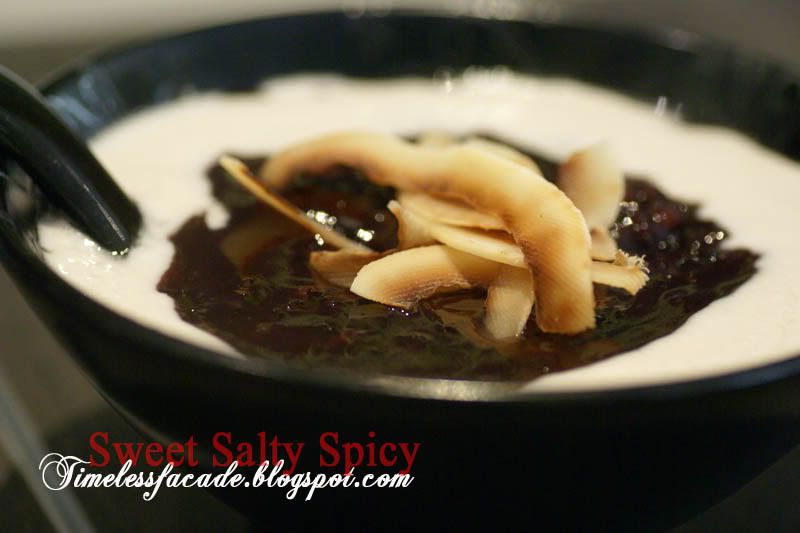 Black Sticky Rice with Caramelised Coconut and Coconut Cream
For those who have eaten enough of such dishes, you would probably know that this is essentially Pulot/Burbur Hitam. And although I dont really fancy it, I must say that this one was quite appetising, not too starchy but could do with a lot less sugar.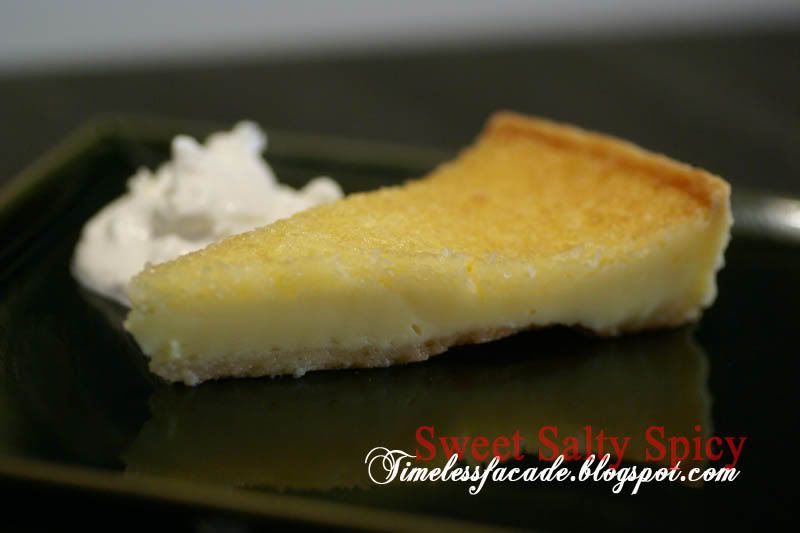 Coconut Custard Tart
Served up with a dollop of fresh cream, the tart looked limp and tired, much to my disappointment. However it wasn't half as bad as it looked, tasting pretty much like egg tart with a layer of sweetened coconut. To be fair, it was actually quite nice but it might have been better if served chilled.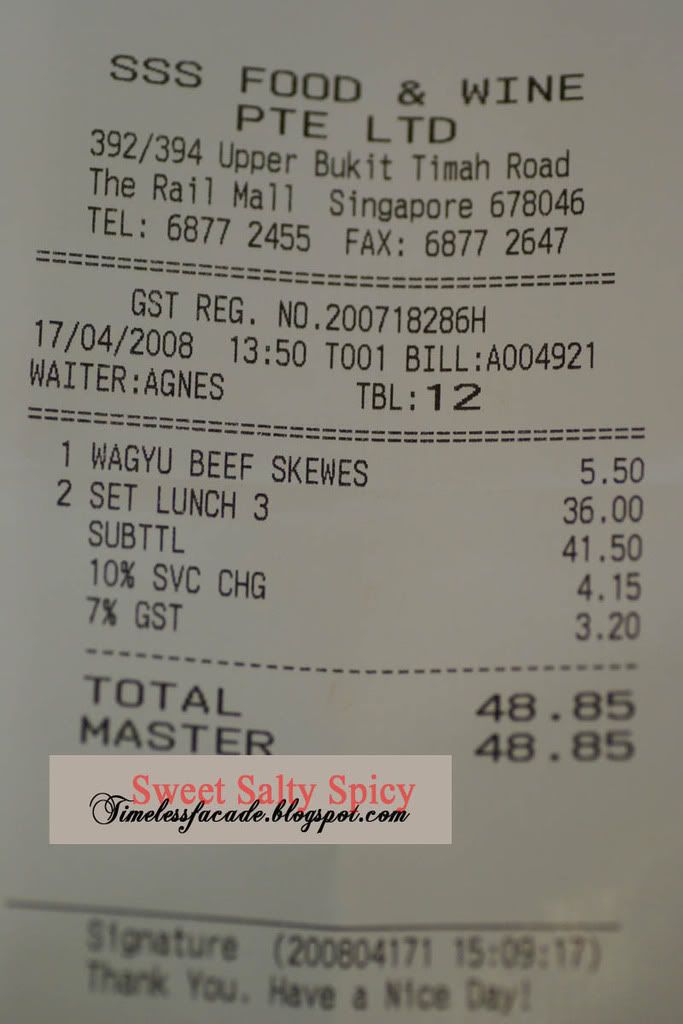 Bill
Honestly, $50 for the spread and quality isn't expensive. However portions aren't big so hearty eaters might need to order something extra from the ala carte menu. I'm not sure about the portions come dinner time but prices tend towards the higher end during that period. Think $12 for a plate of Pat Thai. SSS isn't the cheapest Thai food place nor the best, but for the prices, its worth it.
Likes: Good food, free parking
Dislikes: Can be a little pricey
Final Verdict:
Ambience:7/10
Service:7/10
Food:7/10
Value for money:7/10
Overall:7/10
Address: 392/394 Upper Bukit Timah Road, The Rail Mall
Contact: 68772544
Opening Hours:
(Mon-Fri): Lunch: 11am-2pm, Dinner: 6pm-11pm
(Sat, Sun, PH): Lunch: 11am - 4pm, Dinner: 6pm-11pm