Wood Restaurant & Bar, a newly opened upmarket restaurant that offers food cooked only by wood and charcoal - the old fashioned method before gas came about and certainly an interesting concept.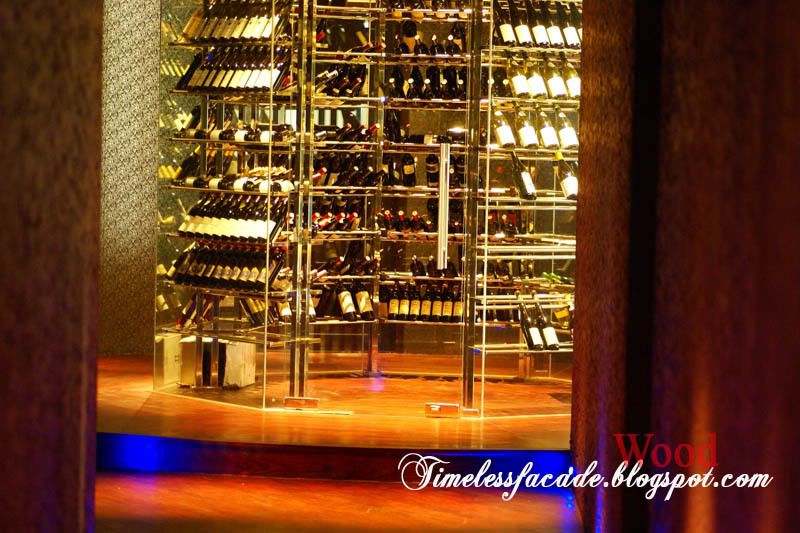 Exterior & Interior

Hidden on the ground floor in one forsaken corner of Vivocity, Wood's chef is none other Jake Klein, whose stepfather, Steven Raichlen, is the creator of Barbecue University and known as America's grilling expert. From the facade to the interior, Wood oozes unadulterated class in itself. A short walk through the wooden tunnel from the entrance leads to a magnificent glass wine cellar and the sublimely chic seating area with its posh booth seats, floor to ceiling windows and the huge open concept kitchen. One gripe though. The windows don't face the sea directly, unlike most of the other restaurants at Vivocity.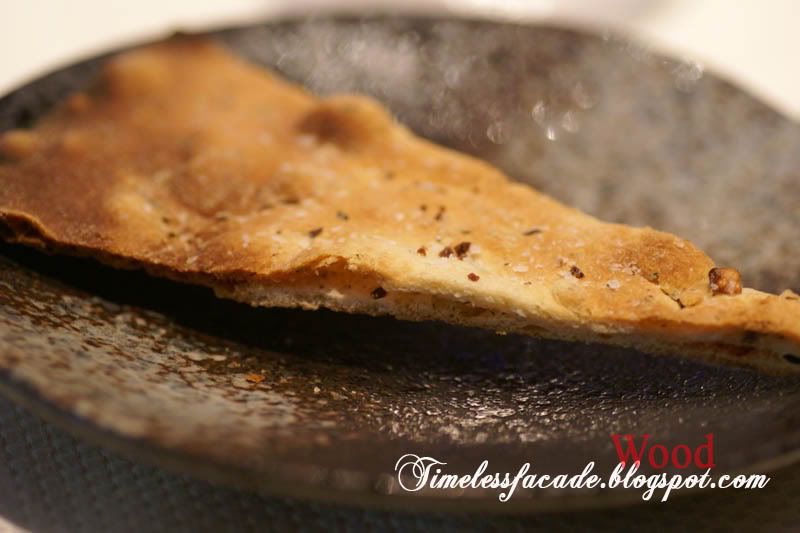 Complimentary Bread
Its the first time I'm eating focaccia that comes in pizza slices and it was something different. It almost tasted like pizza sans the toppings except that the bread was a little burnt and dry. I still liked it enough with the olive oil though to gobble it all up and yearn for seconds, which unfortunately was never offered.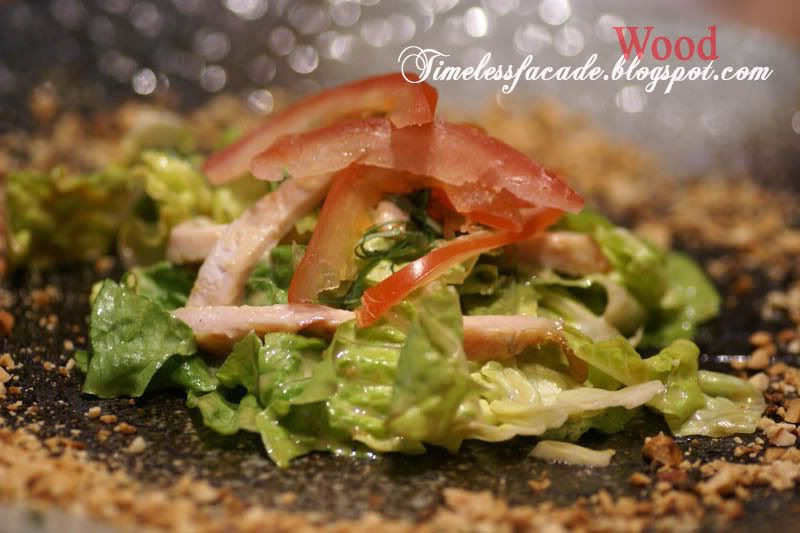 Smoked Chicken Salad with Hoisin Vinaigrette and Toasted Peanut
Aesthetically pleasing, the salad portion was small, no doubt about it. What I liked about it was the lightly smoked chicken slivers which went well with the savoury Hoisin vinaigrette and toasted grounded peanuts. It helped that the vegetables were fresh as well.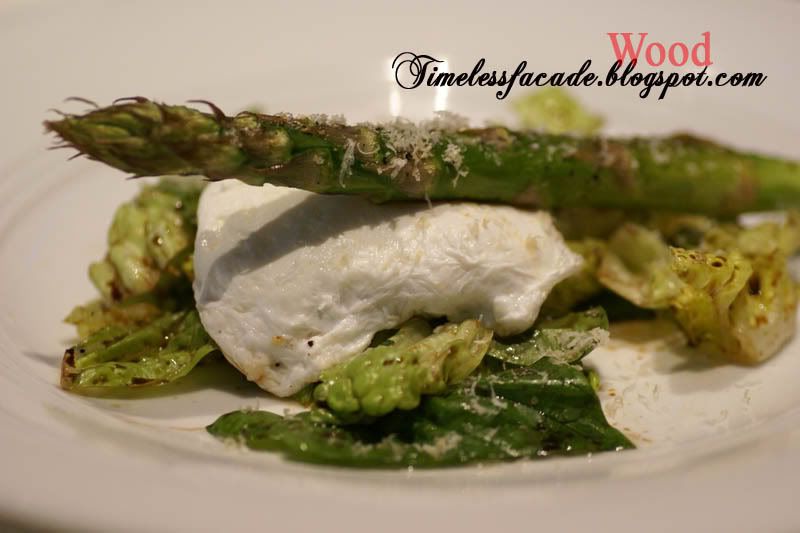 Roasted Asparagus, Baby Greens and Poached Egg
I personally found this dish a little lacklustre as compared to the smoked chicken salad. But having said that, it was still quite good. For starters, this has got to be the biggest asparagus I've seen (not that I've been around much though) and it was well seasoned with salt and pepper. The poached egg wasn't anything special though but the greens were fresh and crunchy.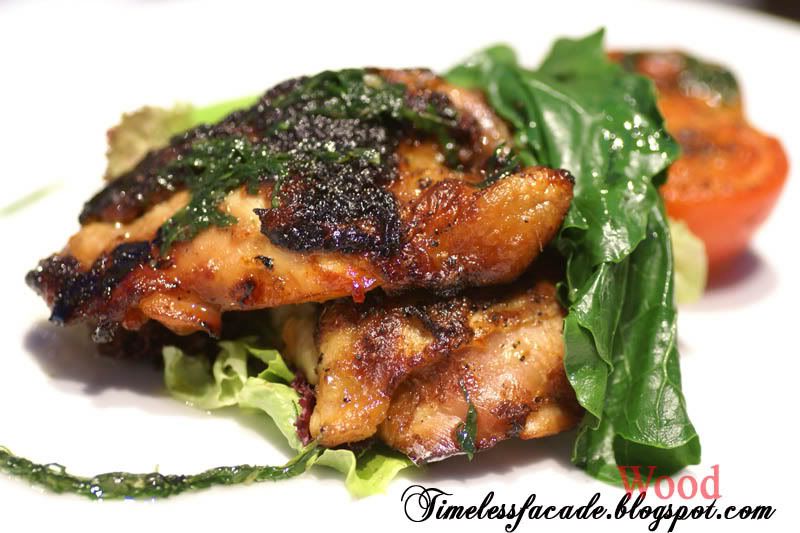 Wood Roasted Spring Chicken with Lemon, Garlic and Parsley
The chicken looked a tad charred when served. However it was very fragrant and juicy with a lingering herb taste in every bite. I did find it a little too salty at certain parts though, probably due to the heterogeneous seasoning distribution. But all in all a most delightful dish.


14 Days House Aged Ribeye, Rosemary, Garlic & Extra Virgin Olive Oil

I honestly can't taste the difference between a 14 days aged ribeye and a normal ribeye or a 90 days aged ribeye for that matter, so its just a name to me. The ribeye was done medium instead of the medium rare that I had requested, but it was still good. Succulent and juicy with a strong hint of herbs that didn't threaten to overpower the inherent beefy taste. Not the best I've tried, but certainly in a league of its own. Watch out for the small portions though. The beef is probably around 5-6 oz (just a rough guess).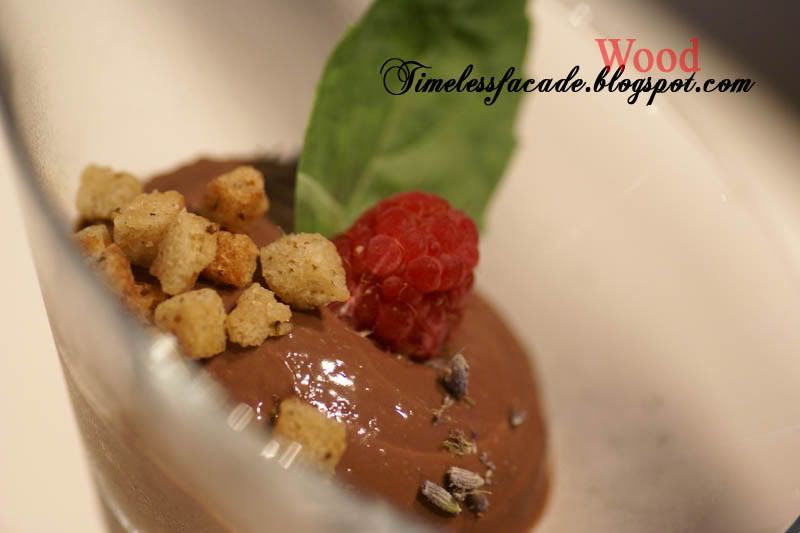 Valhorna Chocolate Pudding with Lavender Croutons and Sea Salt

The chocolate pudding didn't come across as too sweet and very smooth with the dried lavender providing a nice floral complement to the chocolate. The croutons provided a nice crunchy texture to the whole dessert.
Thyme Roasted White Peach with Yogurt Ice Cream
I can't help but profess my liking for this dessert. A didn't taste like it was roasted piece of peach sitting atop chunks of biscuit crumbs with buttery overtones and topped with a nice creamy and sourish yogurt ice cream. Most delightful if you ask me.


Bill
An excellent lunch for 2 cost an almost princely sum of about $95 ($10++ goes to the bottled water. They don't serve iced water by the way). Good things definitely don't come cheap and the 4 course set dinner starts from $75++ per pax ($120++ with wine pairing) with slightly bigger portions and a larger variety of dishes to choose from. Service is good as well and for those who prefer privacy, there are private rooms to cater to various group sizes. There's even a romantic private room for 2 complete with a private entrance, if you can afford/are willing to chalk up $300 in bills that is.
I'll definitely be back, but probably only for lunch. The small portions and steep prices for dinner are a little bit too much for me to swallow. For now.
Likes: Good food, nice place, good service
Dislikes: Expensive, portions a little small
Final Verdict:
Ambience:7.5/10
Service:7.5/10
Food:8/10
Value for money:6/10
Overall:7.25/10
Address: #01-53 VivoCity
Contact: 6375-9663
Opening Hours:
Lunch
11.30am – 2.30pm
Dinner
6.30pm – 10.30pm
Bar
11.30am – midnight
(weekdays)
11.30pm – 1am
(weekends)
Website: http://thecaffebar.com/wood/