Preceding my
previous visit
to Chef Chan almost a year back just before it closed to go private, I was back again after its reopening to sample what private dining had to offer. Of course it helped that Chef Chan was offering a promotion which showcased its signature dishes from all 23 years it has been in business.
Interior, Menu, Table Setting & Appetiser

Located in a nondescript section of the posh and grand National Museum, Chef Chan takes quite a bit of luck to find. There are no signs whatsoever as to where the restaurant is and even the signboard faces inwards into the restaurant. Asking around would probably be a better option. The place is small, filled mainly with antiques Chef Chan has amassed over the years and of course 4 private rooms and a large dining area which seats up to 46 pax by reservations only (No walk in customers are allowed). Honestly I didn't find the rooms too private as we were only seperated from the next table by a peusdo wall partition.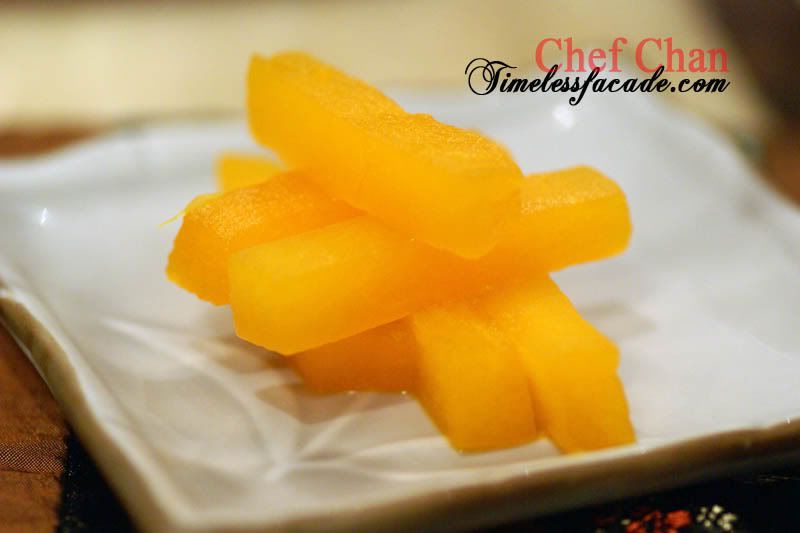 Melon Strips Enlivened with Orange Juice
Probably melon strips soaked with orange juice would be more apt in describing this dish. The melon strips were crunchy but was completely overwhelmed by the excessively sweet orange taste. I would have suspected that the melon strips were dipped into F&N Fanta orange juice if not for the fact that there was visible pulp on the melons.


Prawn Balls Stuffed with Pate and Wine

Each of us had 1 prawn ball to our name and that was insufficient to say the least. The prawn balls were crispy but a tad too salty with a very strong prawn taste which overwhelmed any taste from the pate and probably the wine as well.
Stir Fried Shark's Fin with Eggs, Bean Sprouts and Spring Onion Served in Lettuce Leaves
This dish was actually very similar to what I had at
Joo Heng
sometime back except that Joo Heng's rendition probably cost much less than this one, with noticeably less shark's fin as well (Not that theres much to start with anyway). Paired up with lettuce, this dish was lightly salty and nice but failed to wow me. I reckon you don't really need much culinary skill to whip up such a dish.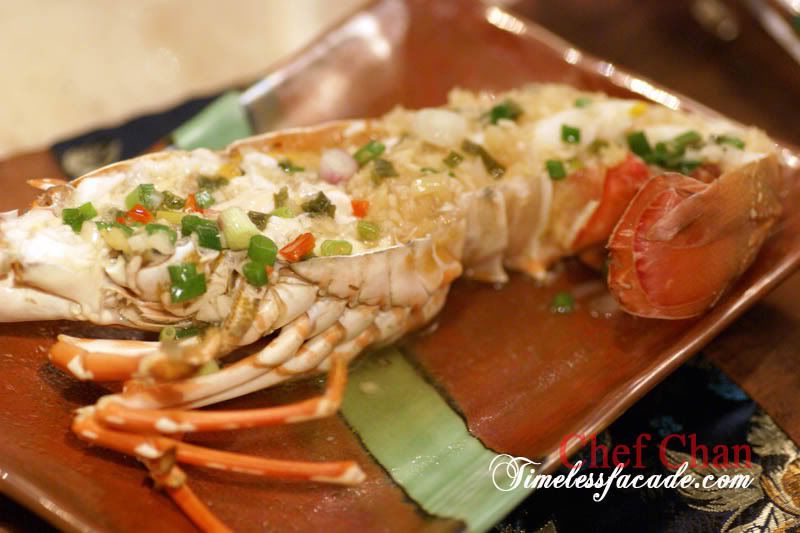 Steamed Lobster with Garlic
Each of us got a lobster probably weighing in at about 300g or so. Fresh and sweet, this should have been one of the highlights of our meal. Unfortunately, the copious amount of garlic over parts of the lobster threatened to kill my tastebuds, rendering me almost immune to whatever succulent sweetness the lobster had to offer.


Steamed Sliced Garoupa in Village Style
The fish was freshly sweet with the flesh firm yet tender. Complementing it was a lightly savoury but a tad too starchy gravy. Portions were ridiculously small and each of us probably got only 4-5 slices of fish.


Sauteed Vegetable with Shredded Mushroom
This dish was greeted with much dismay and comments that anyone could have whipped up such a simple dish. I agree. The vegetables were a little too drenched in the gravy and didn't taste out of the ordinary. I'm pretty sure I've eaten better vegetable dishes at the coffeeshop cze char stall near my place.


Chef Chan's Famous Crispy Roast Chicken
Undisputedly the Pièce de résistance of the entire meal and probably the most well known dish of Chef Chan, the Crispy Roast Chicken. The
last time
I had it, it was lacking in flavours so I didn't quite get my expectations too high this time round. I don't know if my low expectations were the reason but the chicken blew me away. It was, if I may say, nothing short of excellent. Crispy skin that crackled with every bite coupled with tender, moist and flavourful meat. A gem indeed! The only tiny gripe I had was that the meat tended towards the salty side closer to the bone.
Papaya with White Fungus & Herbal Jelly with Glutinous Rice & Mango
We had the option of 2 desserts, 1 warm and 1 cold. I chose the latter which was the herbal jelly and promptly regretted it. The mango pieces that came with it seemed very unripe, crunchy and sour. It definitely didn't go well with the sweet glutinous rice or the slightly bitter herbal jelly. All in all a total disaster.
I had a taste of the papaya with white fungus and it was quite decent, sweet yet very light on the palate. But nothing fantastic.

Bill
The 9 of us chalked up a bill of about $860, which works out to be about $96 per person and the truth is, I wasn't even full after that. Food quality overall was decent with only the chicken shining through. For the price, I had really expected more. Especially when most of the dishes are supposedly Chef Chan's signature dishes and being private dining, most, if not all dishes should be prepared by Chef Chan himself.
I can only take cold comfort in the fact that service was good and we had a 10% discount off the bill. I really cannot fathom paying anymore.
Likes: Exclusive, the chicken is excellent!
Dislikes: Expensive, food quality in general is decent only
Final Verdict:
Ambience:7.5/10
Service:7/10
Food:7/10 (9/10 for the chicken)
Value for money:5.5/10
Overall:6.75/10
Address: #01-06 National Museum of Singapore, 93 Stamford Road
Contact: 63330073
Opening Hours:
Lunch: 11.45am - 2.30pm
Dinner: 6.15pm - 10.30pm
Closed on Sundays.
Website: http://www.chefchanrestaurant.com.sg/