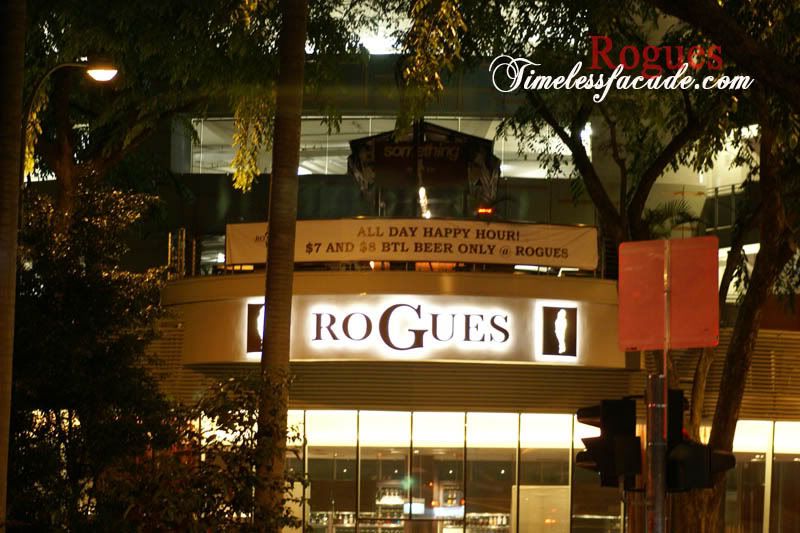 Managed to book myself in for a special dessert tasting session at Rogues one weekday evening all thanks to its pastry chef, Gerard. During my
previous visit
to Rogues when it first opened a year and a half back, only lunch was served and come nightfall, the place transformed into a watering hole. However I'm pleased to note that such an arrangement has since changed and Rogues now serves food in the evening as well.
The interior was as I remembered it, opulent with plush sofas and floor to ceiling windows. A nice place to chill out after a day's work if I may say.
Starter - Warm Granny Smith Crumble, Chilled Cream of Mango Sago, Lychee Air, Cranberry Reduction
I liked the apple crumble quite a bit. Very crusty without being too hard or too sweet and filled with cubes of delicious Granny Smith apples. I didn't quite appreciate the lychee air though, tasteless and probably present solely for aesthetic purposes.
Most places do a very thick rendition of the cream of mango sago so it came as a mild surprise that this one was relatively smooth and a little runny, harbouring a tinge of sweetness within. However it will still render you nauseous if you take too much of it. Hence the shot glass serving.


Entree - Satin Pistachio Praline Mousse, Home Made Zabayone Gelato, Liquorise Orange Candy Shot, Summer Berry Coulis
I've never really been a fan of pistachio so the praline mousse didn't exactly wow me although I must admit that it was quite good. Creamily smooth with a heart of crunchy pistachio which had a texture similar to biscuit wafer.
Alcoholics would like the Liquorise Orange Candy but personally, I found the alcohol taste in the jelly too strong for my liking.
The zabayone gelato was a little tiny but rather pleasing with a sweet undertone. Just for the record, zabayone is a custard made by whipping egg whites with muscato and finishing it with a little cointreau.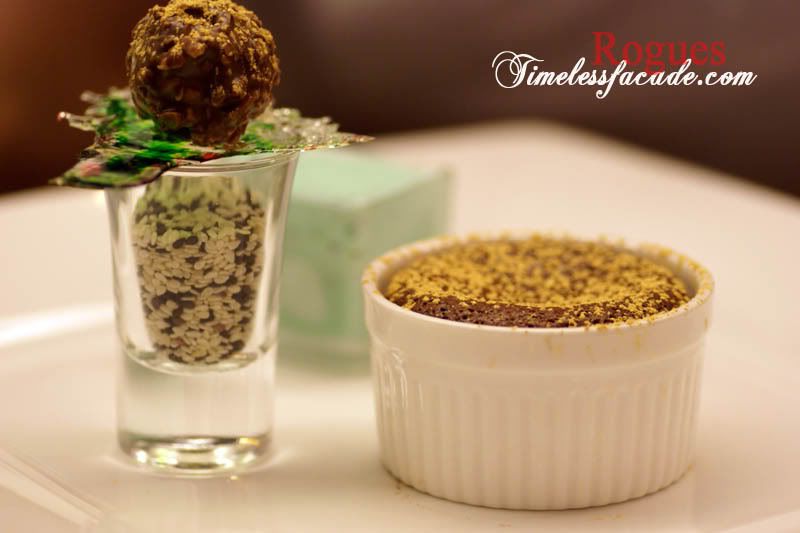 Curtains - Warm Cuban Chocolate Cake, Heart of Hot Hazelnut Lava, Home Made Chocolate Mint Gelato, Hazelnut Truffle
Interestingly, Cuban chocolate was used to make the cake. Not that I could taste any difference from the usual valrhona ones though. The crust was a tad too dry but I liked the hazelnut lava, which came across as savoury instead of sweet - a deviation from the norm.
The mint gelato came served in a nice cubic glass and wasn't too strong on the mint taste. Appetising yet reserved. Not too shabby and that's coming from someone who has a moderate dislike for mint.
The hazelnut truffle came served atop a shot glass of sesame seeds with a slice of hardened candy acting as a divider. Honestly, the truffle looked and tasted like a piece of Ferraro Rocher chocolate, which was obviously nothing too spectacular.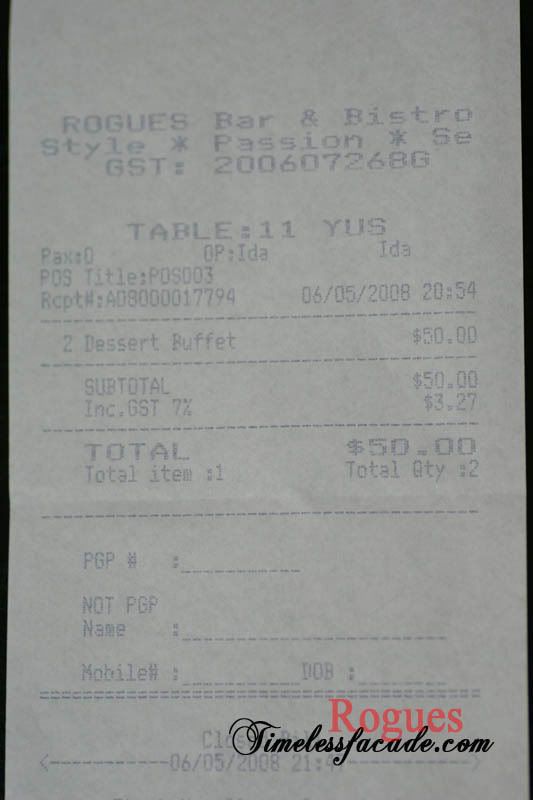 Bill
In case you were wondering. No, the dessert tasting wasn't free. It came at a price. $50 for 2 pax to be exact, which might seem a tad too expensive for only 3 desserts and a drink. However I must point out that the desserts are of reasonably good quality and do not feature on the menu, which in some way, gives it a novelty status.
ps: I'm still thinking of the Chocolate Paradise I had during my
first visit
.
Likes: Desserts are good.
Dislikes: Not exactly filling.
Final Verdict:
Ambience:7.5/10
Service:7.5/10
Food:7.5/10
Value for money:6.5/10
Overall:7.25/10
Address: #01-42/45, 146 Market Street
Contact: 65570040
Opening Hours: 11am - 1am daily
Website: http://www.rogues.com.sg/