Had dinner with my folks one weekend evening and didn't want to venture far from home so ended up at Ju Bao, which is headed by the former head chef of Lei Garden, Yip Kin Chee.
Located at Teck Chye Terrace along Upper Serangoon Road, or more commonly known to people in the neighbourhood as "Hongkong Street" for its high concentration of Cantonese restaurants, Ju Bao's selling point is purportedly its great Cantonese food at affordable prices. Crowds throng this place during weekends so if you are thinking of having dinner, please go early.
Broccoli with Scallops

Our waitress tried to hard sell this dish to us and we succumbed. After all, how expensive or bad tasting could it be? On both accounts, it was a grave mistake. The scallops were small and lacking in bite but the major bummer was the fishy smell they emitted. The broccoli was still decent but at $22 for such a small portion, you have got to be kidding me.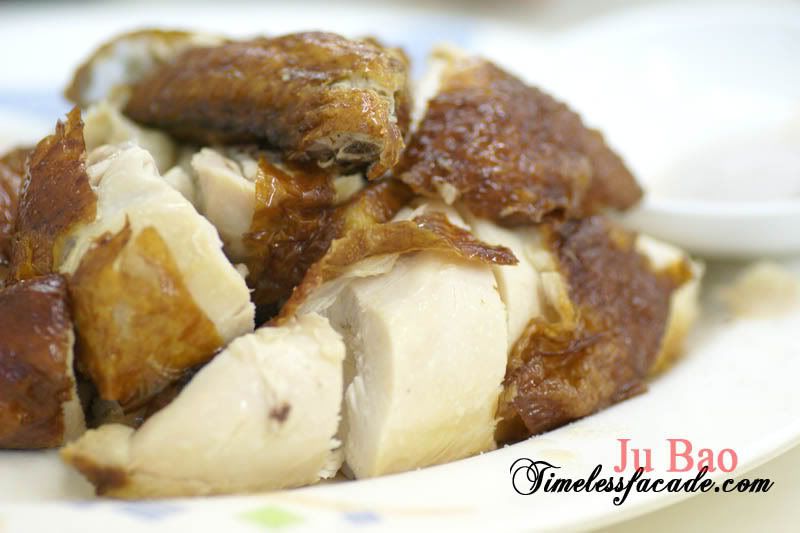 Crispy Chicken
I suspected the chicken was precooked and left to cool in the kitchen because it was cool when served. And it was very oily. Some parts of the chicken were very salty while other parts were bland. Did I mention that portions were small as well? Sadly, the only positive note was probably the moist and tender meat, which made eating the chicken bearable, but barely.


Steamed Tofu
The tofu was smooth and came topped with mushrooms, minced meat and some other garnishes. However the dish in its entirety tasted rather bland and $8 for 4 relatively small pieces is terribly expensive.


Bill
While the absolute prices of the food didn't seem much, but factor in the quality and quantity of the food and its really a case of too little (quality & quantity) and too much (price). An unsatisfying dinner for the 3 of us cost about $47, which would have been better spent elsewhere. From the former head chef of Lei Garden, I had expected way better. Did I go on an off day or is the place just over hyped? I seriously wonder.



Likes: Nothing
Dislikes: Food quality average, rather pricey, parking is a headache

Final Verdict:

Ambience:6/10
Service:6/10
Food:6/10
Value for money:6/10

Overall:6/10

Address: 19 Teck Chye Terrace

Contact: 6280 2208

Opening Hours: Daily: 11.30am to 2.30pm, 5.30 to 10.30pm