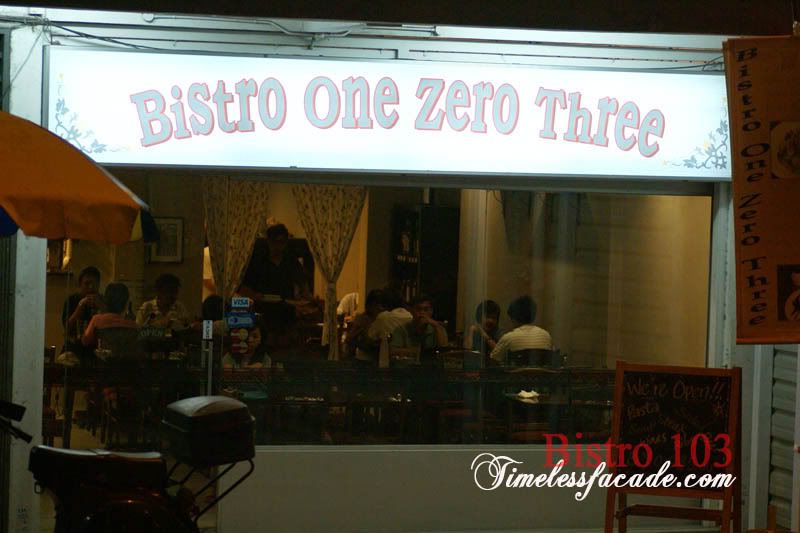 Heard many good things about Bistro 103's food and service so made the trip west one evening to try it out for myself. Opened in April 2007, Bistro 103 is a small family run restaurant with the husband as the chef and his wife and brother in law manning the store.
Interior & Menu


Located at the unlikelinesses of places, in a small shop unit along Pasir Panjang Road just next to a motorcycle repair shop and
Manhill Restaurant
, Bistro 103 offers a simple and unpretentious dining area filled with wooden furniture and daily specials scribbled on a chalkboard. From what I understand, the menu is rotated monthly and corkage stands at $5++.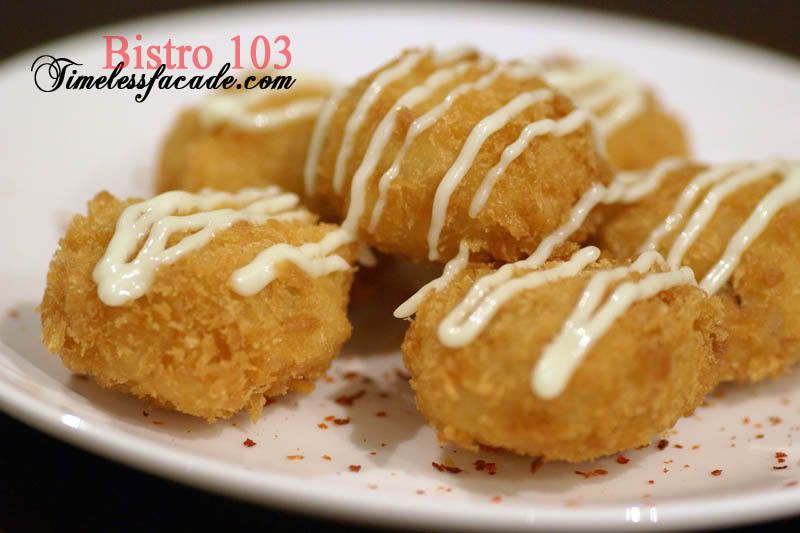 Breaded Seafood Tofu with Wasabi Mayo

This was something unique which I have never tried anywhere else before. The tofu was coated with bread crumbs and deep fried till a crisp. There was a slight hint of tofu taste but the texture seemed a little too firm for my liking. Also, the bread crumbs came across as a little too thick as well.

Bacon, Ham and Mushrooms
We chose to have this dish done with a tomato base for a change and I must say it was quite well executed. The tomato sauce was lightly sweet with a mild tomato undertone, which is vastly different from the usual zesty type of tomato sauce that I'm used to. The pasta was a little too overcooked though, as evident by its limpness. The quantity of mushrooms was also found lacking but the generous servings of ham and bacon made up for it somewhat. Maybe they should just omit the mushrooms in the title altogether.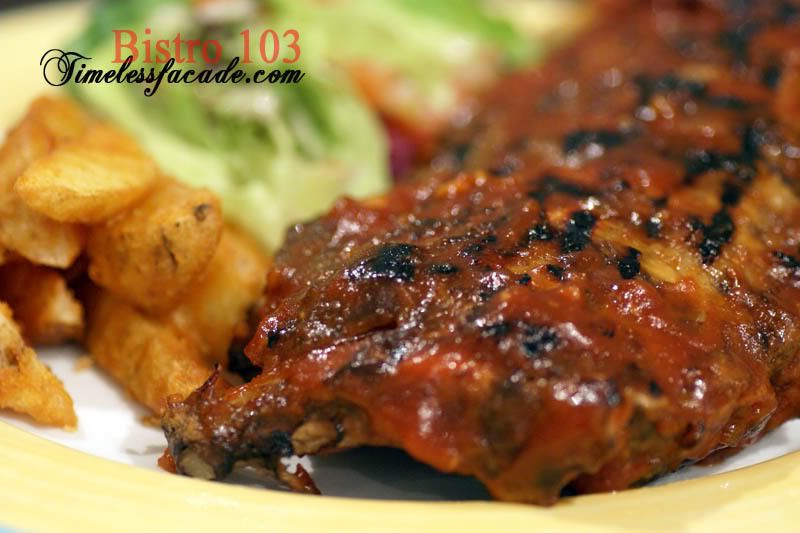 Oven Baked Barbeque Pork Ribs
This came as a recommendation and though huge in serving size, I found the execution a little wanting. The marination was not thorough enough and some parts tasted bland. On the upside, the meat fell off the bone with minimal resistance yet retained a certain degree of firmness. Nice but could have been better.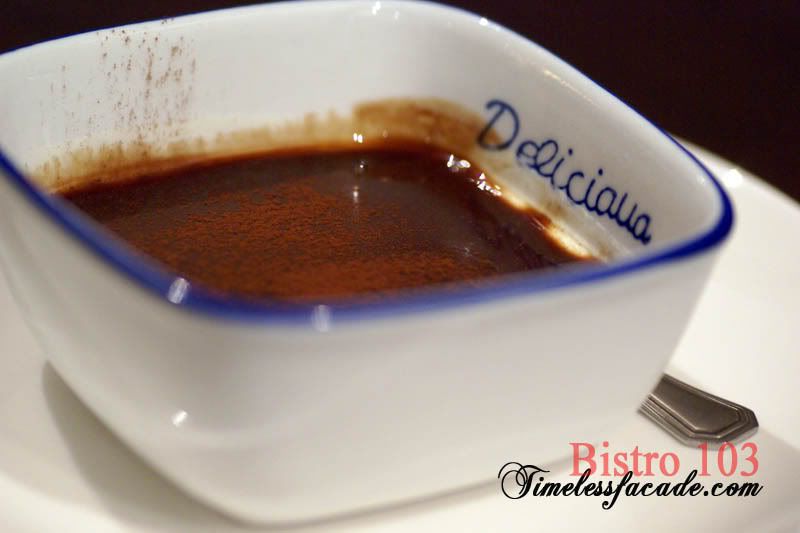 Chocolate Panna Cotta
Usually chocolate and panna cotta in the same dish would do the trick for me but not in this case. The panna cotta wasn't firm enough and I couldn't quite make out the taste of it as the layer of chocolate syrup and cocoa powder above proved a tad too overwhelming. So much for a $5 dessert.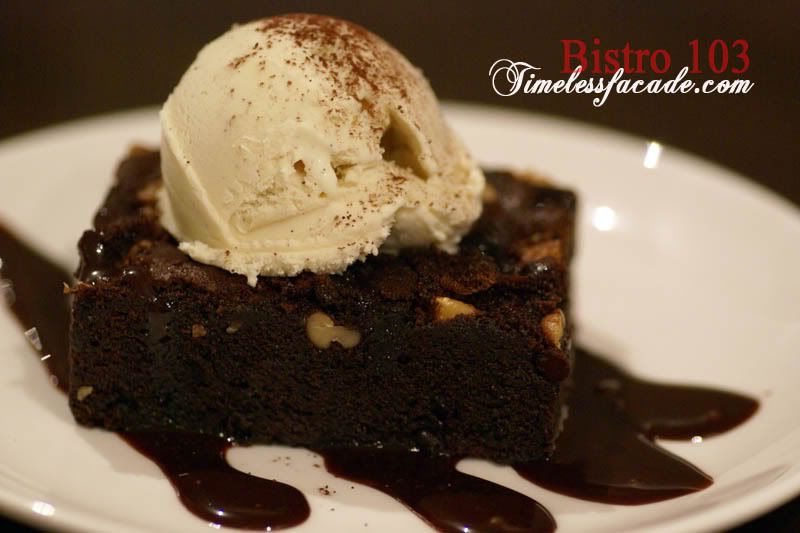 Brownie with Ice Cream
A staple personal favourite, the brownie was served steaming hot (literally!) as evident by the steam it emitted when I cut through it. Moist(a little too moist actually) and not too sweet. Coupled with the normal tasting ice cream, it made for a sweet and not too expensive ($5) ending.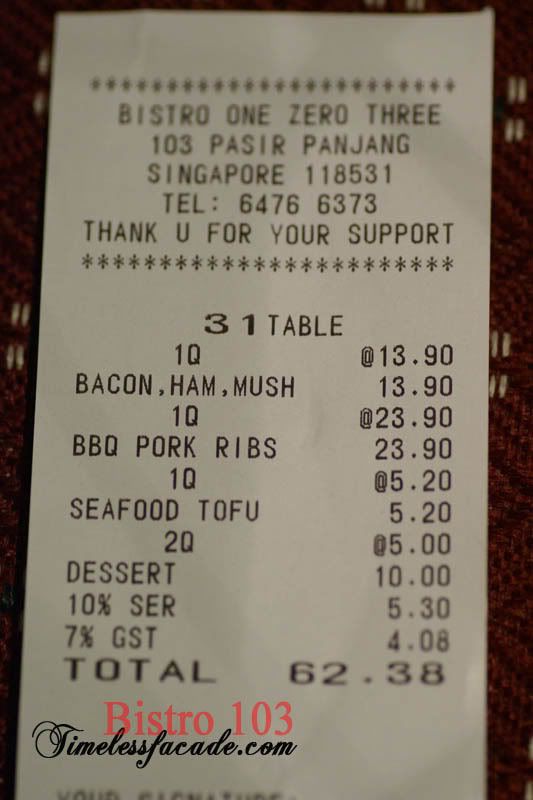 Bill
Dinner for 2 cost about $62 which does stretch the value for money notion a little thin. But hey, its $62 for an appetiser, 2 mains and 2 desserts - a value proposition that can hardly be found elsewhere, not for the quality of food nor the service. And if you need that extra nudge, try patriotism. Its after all, local.
Likes: Food quality is quite decent, good service
Dislikes: Location, location, location
Final Verdict:
Ambience:6.5/10
Service:7/10
Food:7/10
Value for money:6.5/10
Overall:6.75/10
Address: 103 Pasir Panjang Road
Contact: 6476 6373
Opening Hours:
Tue-Fri: 11.30am - 3pm, 6pm - 9.30pm
Sat: 6pm - 9.30pm
Sun: 10.30am - 3pm, 6pm - 9.30pm