Have you ever wished you could have a nice and relaxing weekend brunch/lunch in a lush greenery setting without the midday heat or the pesky mosquitoes? Well that was certainly on my mind as I headed to Canopy for a lazy weekend lunch with my gf.
Exterior, Interior & Menu
Located smack in the middle of Bishan Park, Canopy is managed by Asmara spa and the cosiness is apparent from the minute you step in. Comfortable padded chairs coupled with huge wooden trim glass doors that allow sunlight to peer in make for a nice resort feel. The arched ceilings add a touch of colonial class and best of all, the interior is airconditioned. Canopy offers al fresco seating as well but unless you don't mind sweating it out on a hot day then by all means go ahead.


Eggs Benedict
One of the items on the breakfast/lunch menu, the eggs benedict was a rip off in my humble opinion. $12++ for 2 slices of bread, 2 slices of ham and 2 poached eggs drizzled with Hollandaise sauce just screams expensive. And to top it off, it wasn't exactly outstanding. The egg yolk wasn't the least bit runny and the bread was a tad too dry.


Wagyu Steak with Skinny Fries & Herb Butter
A daily special that was scribbled on an overhanging chalkboard, the wagyu beef weighed in at about 300g(according to the waitress) and came as per requested - medium rare. However that's where the complimentaries end. The wagyu didn't taste like wagyu at all. The meat wasn't as tender or succulent as I had expected it to be and it was pretty much tasteless. I know of places which can put this dish to shame with their normal beef. And in case you are wondering, the herb butter was pretty bland as well.


Linguine Tossed with Lobster
As tantalizing as this dish may sound, it was a disappointment really. For starters, the linguine wasn't al dente and came across as very bland. The small lobster cubes (yes cubes), though crunchy and fresh, were bland as well and overall the whole dish was rather dry.

ps: I could count the number of lobster cubes with 2 hands. I suspect all the cubes combined can barely form one whole medium sized prawn.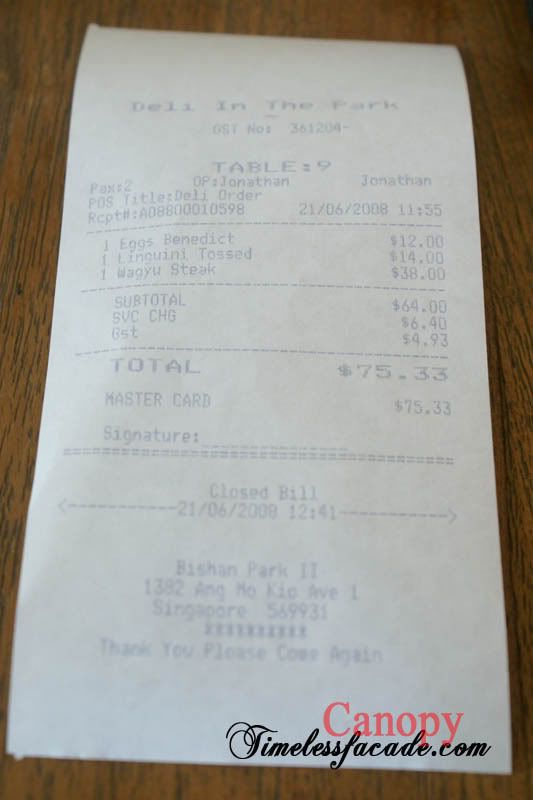 Bill
Disappointment would be an understatement, not when I had to fork out over $75 for a less than satisfying lunch. Service was a tad slow and the food was so average that I didn't have the heart nor the wallet to stay on for dessert. The good thing about this place is its setting, but unless the management decides to lower the prices or buck up on the quality, the neighbouring joint shows more promise.



Likes: Nice place
Dislikes: Food quality leaves much to be desired, expensive, service slow

Final Verdict:

Ambience:8/10
Service:6.5/10
Food:6/10
Value for money:5.5/10

Overall:6.5/10

Address: 1382 Ang Mo Kio Ave 1, Bishan Park II

Contact: 6556 1533

Opening Hours: Daily: 10am - 10pm