Attended a wedding tasting lunch at Hilton courtesy of my friend who will be tying the knot later this year.
Interior & Table Arrangement
Well not much can be said about the interior because it was held in one of the function rooms which are named after countries, with this particular one being Singapore.


Complimentary Bread
It was a unanimous decision. The bread was good. Served up warm, it exuded a mild fragrance together with a nice crackling sound when I broke off a piece to savour. The soft yet fluffy dough complemented with a thin layer of salted butter was enough to make us request for seconds. And for the record, I had 5 buns, which is definitely a first for me in such situations.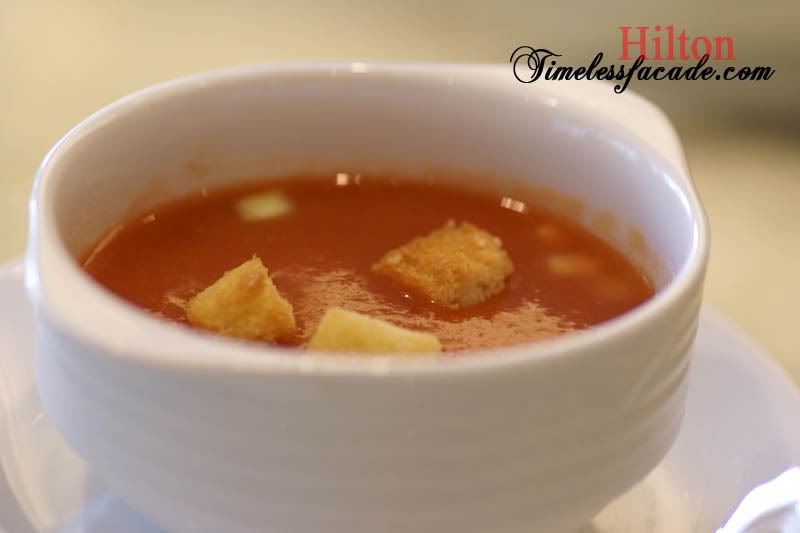 Gazpacho
I'm honestly not a fan of tomato soup, even more so chilled tomato soup, so I didn't quite take to it. And neither did anyone else around the table. But I personally felt that it could have been stronger on the taste as it did seem a little runny to me.


Madras Long Grain Rice with Raisin and Almond
The good thing about long grain rice is that the grains stay seperate and fluffy after cooking, which was the case in this dish. When eaten with the almond slices and raisins, it made for a nice and light (healthy as well!) rice dish. A pity there weren't enough almonds or raisins to go around so there was quite a bit of rice leftover.


Roasted Stuffed Duck on Sauteed Sweet Cabbage with Mustad Cream
Ironically, the star of this dish wasn't the duck but the cabbage, which was sauteed to the right softness and flavourful. The duck on the other hand, wasn't exactly duck per se. According to the chef, a mixture of minced chicken, walnut and spinach were used to make the stuffing which was then rolled with a layer of fatty duck skin with some duck meat attached. The result? A highly chewy duck skin which was almost impossible to cut through, probably due to the amount of fats under the skin. The stuffing was still decent though but the skin really spoilt the whole dish.


Sea Bream with Roots Vegetables in Saffron Cream
The aesthetics of this dish proved to be the sole consolation for this dish, which is sad really. Huge portions aside, the fish meat was seriously tough and I was left wondering if it was really fish because the texture said otherwise. The saffron cream sauce was also a tad weak and it didn't help that the fish itself was rather bland.


Smoked Chicken Breast with Fresh Poached Prawn & Spicy Mango Salsa

I'm sorry but wheres the spice? The diced mangoes were sinfully sweet and had nary a taste of spice. As for the chicken breast, it had but an ever so faint trace of smokiness, which I would definitely have missed if I had eaten it with the mangoes. A longer smoking time would definitely be appreciated.
Hilton's Famous Cheesecake
Hilton has every right to be proud of its cheesecake because its really in a class of its own. Lightly moist and extremely cheesy, this classic American cheesecake is good enough to make me throw any diet plans out of the window. If you prefer the lighter chiffon variant, I would suggest you steer clear of Hilton's offering and head down to
Cheesecake Cafe
instead.
A good start and a good ending. Hilton just needs to fill up the hollow center. Thanks for the invite!
Likes: The bread and the cheesecake, good service
Dislikes: Average food overall
Final Verdict:
Ambience:/10 (Its a function room)
Service:7.5/10
Food:6.5/10 (8/10 for the bread and the cheesecake)
Value for money:/10 (Its free)
Overall:7/10
Address: 581 Orchard Road
Contact: 67372233