After a rather impressive dinner at Prego
the last time
, I made plans to drop by again for lunch to get my Italian fix. It was also a follow up of sorts, as Fairmont had just taken over management of the hotel and I was really interested to know if Prego's culinary standard had been maintained.
Interior
Strangely enough, for a public holiday lunch period, the place was only operating at about half capacity - an ominous sign of things to come?


Complimentary Bread
Served warm, the huge loaf of complimentary bread was a little crisp on the outside yet soft and chewy on the inside. Not too bad except for the fact that it required a little more effort to actually break off a piece. It also seemed to be lacking a little in the fragrance department. But may I remind you that its free.


Calamari
The calamari was quite well done in my humble opinion, not overly chewy and coated with a thin layer of salted batter. Throw in a smooth and light dip and overall its quite a good dish. Just beware of the $26 price tag, which for the quantity, is a total rip off. If I am not mistaken, most other Italian restaurants sell similar portions of calamari for between $12 - $20, so what gives?


Fusili Calabrese
A most average dish honestly. The fusili was immersed in a tangy, spicy gravy and came with pork strips and mushrooms. Couldn't quite make out the taste of the pork strips or mushrooms though as the gravy was rather overwhelming. And seriously, the pork strips could really lose some fats.


Aglio Olio
This has got to be one of the entries that line the bottom of my Aglio Olio hierarchy. Though al dente, it was very bland. No olive oil, no garlic oil, nothing. Unless of course you take into account the pathetic scattering of herbs and chilli flakes. And at $22 a pop, it really puts the phrase, value for money, to shame.


Pizza Prego
With a name like Pizza Prego, I would have expected it to be top notch if not fantastic. But while decent, it was actually quite some distance away from making me go wow. The crust was thin but a tad burnt and ingredients were really scarce. 1 slice of parma ham and 1 block of cheese per slice. Talk about miserable. I couldn't quite taste the ham but it did give the pizza a fibrous texture which broke the monotony of biting through bread. I liked the combination of the cheese and the tomato based crust though, cheesy with a mild tang.


Creme Brulee
The sugar layer was evidently over burnt but luckily, didn't stick to the teeth. Made from real vanilla beans, the pudding came across as very smooth and quivery. Contrasting the sweetness was a scoop of zesty raspberry sorbet, which took the nausea out of eating too much eggy sweet stuff at one go.


Tiramisu
One of the stars of Prego and also one of my personal favourites, the classical Tiramisu. However I must say that it was a little lacklustre this time round with the mascarpone cheese being overly sticky and not as light as before. The sponge did seem a little too dry as well, probably from being left in the refrigerator for too long. But overall still quite enjoyable.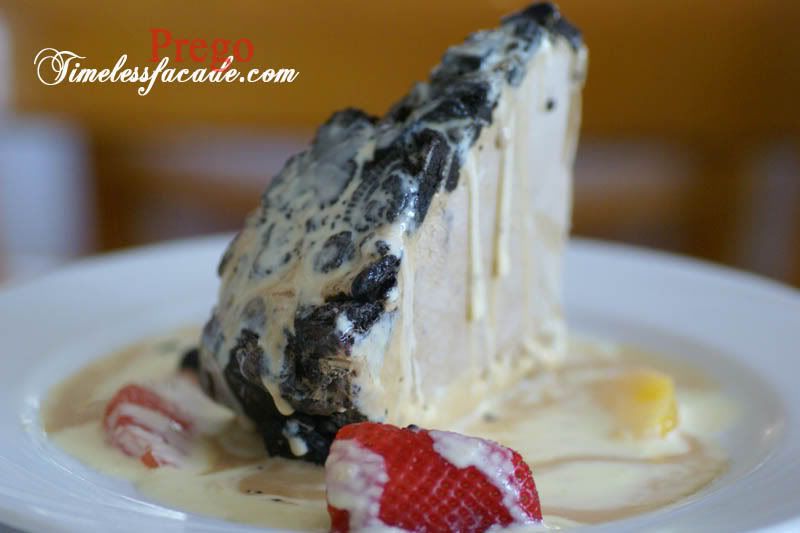 Zuccotto
Zuccotto is supposed to be a chilled dessert with the right amount of alcohol combined with cake and ice cream. Prego's rendition reminded me more of coffee ice cream covered with a layer of oreo crumbs. No traces of cake anywhere. No alcohol taste either. But to be fair, it was quite decent and could have passed off as a mud pie.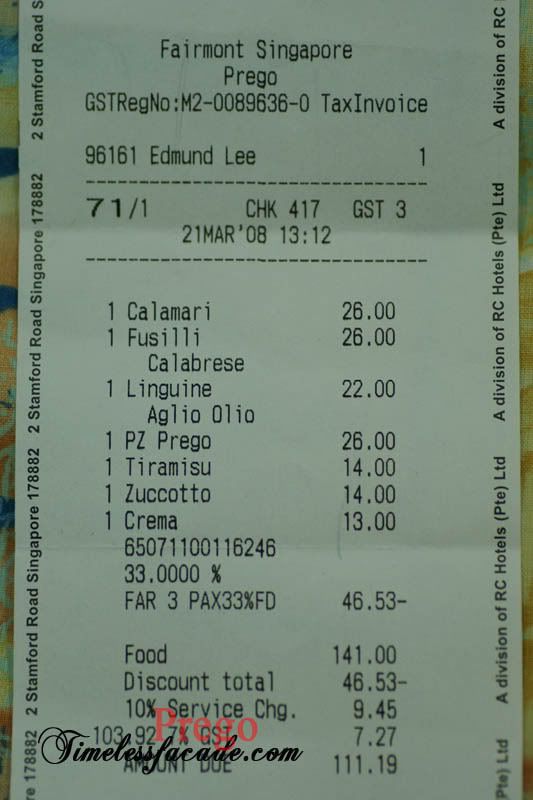 Bill
A stomach bursting lunch cost us to the tune of $166 ($111 after discount) which doesn't quite seem to be justified by the quality of food. I'm trying dinner next and if standards keep plummeting, I'm taking my money elsewhere.



Likes: I've a discount!
Dislikes: A little pricey, food quality has dipped slightly

Final Verdict:

Ambience:7/10
Service:7/10
Food:6.5/10
Value for money:6.5/10

Overall:6.75/10

Address: Level 1, Raffles The Plaza, 80 Bras Basah Road

Contact: 64316156

Opening Hours: 11.30am to 2.30pm & 6.30pm to 10.30pm Daily