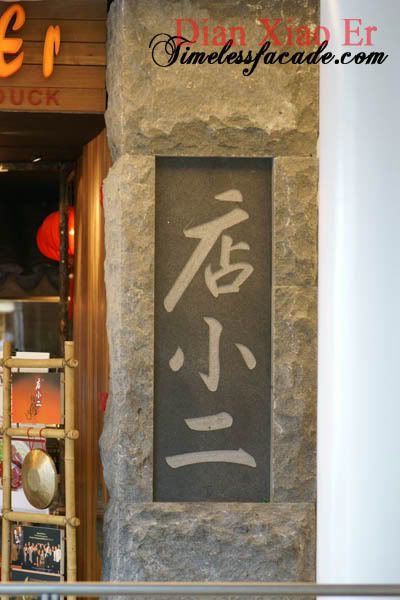 Saw that Dian Xiao Er was rather empty one afternoon while I was at Vivocity so popped in for a quick lunch. Legend has it that a Xiao Er (waiter) at a roast duck restaurant combined herbs with roast duck to help his bedridden master recover. The master showed remarkable improvements in his condition and emerged even stronger than before, thus giving rise to the Herbal Roast Duck, which Dian Xiao Er is known for.
Exterior & Menu
All of Dian Xiao Er's restaurants are painstakingly designed to replicate the teahouses of ancient China and the outlet at Vivo certainly looks the part with its wooden beams, grey brick walls and red Chinese lanterns. Tables and chairs were of the wooden variant as well and honestly I felt that everything was cramped too close for comfort. Overhearing the adjourning table's conversation proved too easy for comfort.


Soup of the Day
The soup of the day was lotus root soup, which came across as light and sweet with chunks of meat and lotus root inside. Definitely a great way to start off the meal.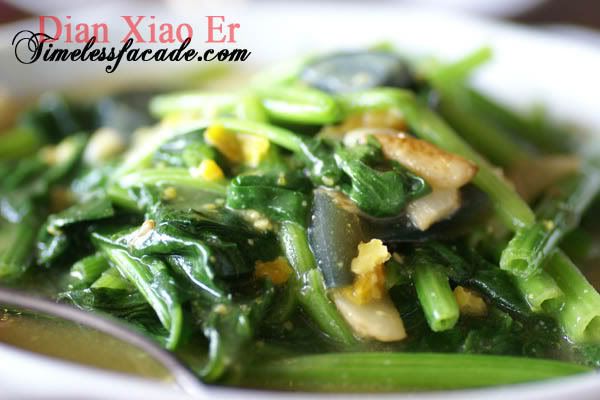 Poached Spinach with Century and Salted Eggs
This method of cooking usually uses 3 types of eggs but I guess Dian Xiao Er decided to go without the normal egg, using only century and salted eggs. I found the vegetables a tad too soft for my liking and the taste struck me as rather ordinary.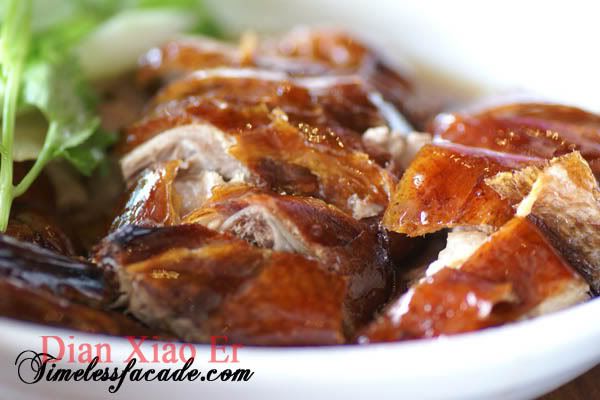 Herbal Roast Duck
There have been many claims that a trip to Dian Xiao Er is never complete without ordering the legendary herbal roast duck. I didn't quite attest to those claims though, finding the duck to be less then extraordinary. Maybe I'm just picky but it was really way too sweet for my liking, even though the skin was crisp and the meat firm. Strangely enough, the duck tasted to me like 九层糕 or nine layered cake sans the texture.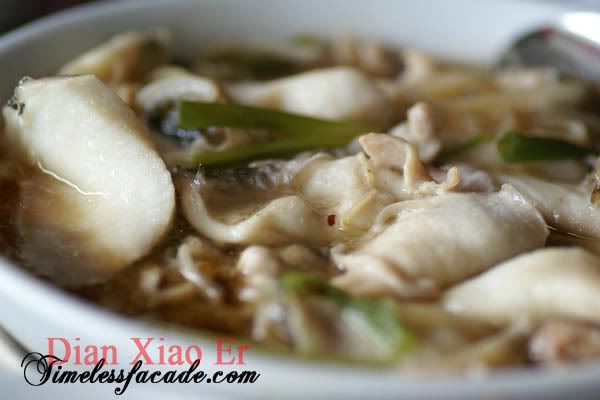 Old Style Steamed Fish Slices
I don't know what does old style entail so I shall not comment, but the fish wasn't exactly fresh and that definitely didn't sit well with me. There was really alot of fish leftover when we were done.


Bill
Overall the lunch didn't impress me much and it wasn't cheap either, standing at about $49 for 2 pax. Quantity is sufficient but there is much room for improvement quality wise. Until then, I guess I won't be returning to Dian Xiao Er in a hurry.
Likes: Decor
Dislikes: Food wasn't fantastic
Final Verdict:
Ambience:7/10
Service:6.5/10
Food:6.5/10
Value for money:6/10
Overall:6.5/10
Address: #02-137/8 VivoCity
Contact: 6376 9786
Opening Hours:
Mon - Fri
11.30am - 2.30pm
5.30pm - 9.30pm
Weekend and Public Holiday
11.30am - 3.00pm
5.30pm - 9.30pm
Website: http://www.dianxiaoer.net/