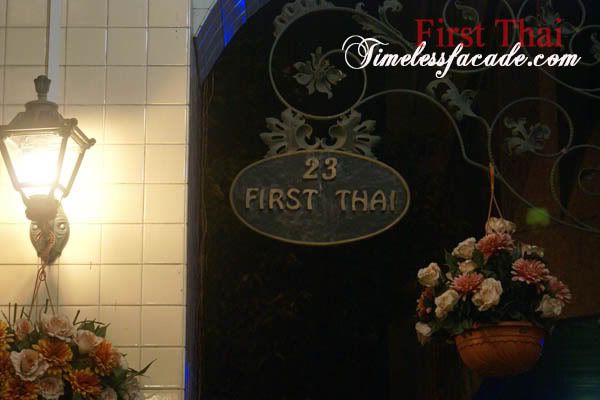 Fresh with the memory of Bangkok's excellent Thai food and armed with a craving for Phad Thai, I headed down to First Thai at Purvis Street, which purportedly serves up authentic Thai food at reasonable prices.
Interior & Menu
The place sits right at the front of Purvis Street, making it easy to find and plays neighbours to Yet Con, which is next door and Chin Chin just across the road. Decor is very coffeeshop like save for the nice green olden style windows that look out to the main road. There is no airconditioning at this eatery so be prepared to sweat it out on a hot day. If the place is full, you'll probably have to share a table with someone or queue up outside the shop. Do note that you will not be seated until everyone in your group is present.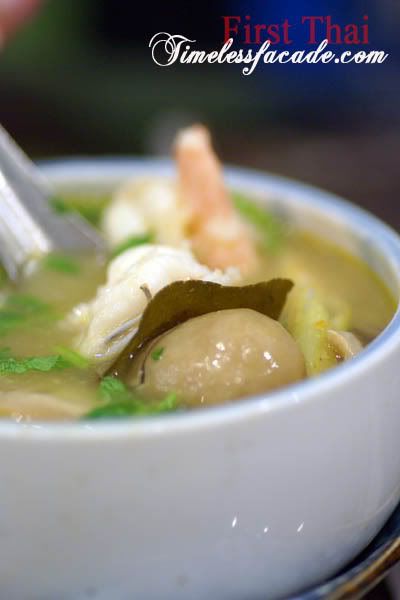 Tom Yam Soup Individual Serving ($7)

This is one of the better tom yam soups that I've tried in Singapore and at $7 a pop, it really isn't too expensive given the amount of ingredients in it. Light and sourish with a tinge of spiciness. But I would have preferred it a little spicier. And thats coming from someone whose spice tolerance level is rather low.
Pandan Chicken ($8)
Ok I got to admit that this isn't exactly cheap, at $8 for 4 bite sized pieces of pandan chicken. The chicken, though nice and juicy, didn't exactly wow me probably because of its rather mild taste. There was no burst in the mouth melody of flavours that I experienced while eating it in Bangkok. But still a nice eat nevertheless.


Phad Thai ($8)
One of the highly recommended dishes and purportedly one of the best in Singapore, the Phad Thai was actually quite good. Lightly sweet with a firm and chewy texture. However, it was a little too wet as compared to what I had in Bangkok. The ubiquitous dried shrimps were also missing. I know that dried shrimps are optional but they give an added texture and introduce a much appreciated salty dimension to the dish. Personally I still prefer the Phad Thai from
Sweet Salty Spicy Food Market & Thai Canteen
.
The cost of food sufficient for 1 pax stood at $23 (no GST, no service charge), which is still acceptable given the quality of food. However, drinks cost me an additional $8 which is terribly expensive. $3 for a glass of coconut juce, $4 if you want less ice. 50 cents for warm water and 50 cents for ice only. So technically if you wanted ice water, it will be $1/cup. Theres the more expensive option of bottled water though, starting at $2 (without ice). Sorry but I think its a rip off, especially when its only a coffeeshop. If I ever visit again, I'll be sure to bring my own water.
Likes: Above average quality of food, price of food not too expensive
Dislikes: Place can get quite warm, drinks are expensive
Final Verdict:
Ambience:/10
Service:7/10
Food:7/10
Value for money:7/10
Overall:7/10
Address: 23 Purvis Street
Contact: 6339 3123
Opening Hours:
Lunch: 12-3pm (2.15pm last order)

Dinner: 6-10pm (9.15pm last order)

Closed on Alternate Mondays
.