Had the opportunity to partake in a food tasting session at Fresh Bulggogi, courtesy of Benny, the marketing manager for Zingrill Holdings, which also owns and operates the Breeks, Seoul Garden and Zingdo chains of restaurants.
Exterior, Interior & Menu
Located on level 3 of the viewing gallery at Changi Airport Terminal 2, Fresh Bulggogi spots a fresh lime green and black facade and plays immediate neighbour to Fish & Co. The interior (at least where I sat) consists of booth seats that can seat 4 pax very comfortably or 6 pax if you happen to be smaller in size. The concept of Fresh Bulggogi is built upon that of Seoul Garden save for 2 major differences. First, it only has an ala carte menu with no buffet option. Second, the food items sold are slightly more upmarket, with stuff like half shell scallops, sashimi grade salmon, just to name a few. It also serves up quick meals like Bibim Baps for time strapped customers who are in a hurry to catch their flights. For customers who dread perspiring while having steamboat, this place eliminates the problem by placing the pot in a dug in enclosure and installing cool air blowers right above the pot level. This prevents the heat from dissipating upwards and keeps the surroundings cool.


Pine Mushroom Salad with Prawns
Honestly the salad wasn't to my liking and was rather lacklustre in my humble opinion. The pine mushrooms tasted rather bland while the prawns were rather small in size and barely sweet. However there is one positive remark I must make and that is the effort put in to remove the prawn intestines. Not many places, even high class restaurants, bother doing so.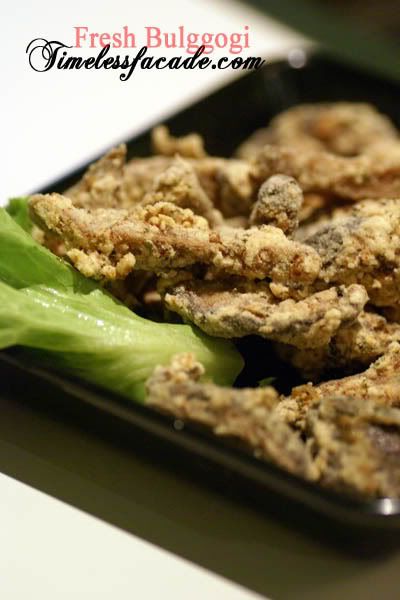 Deep Fried Assorted Mushrooms
This was actually comfort food for all of us. Assorted mushrooms coated with batter and deep fried till crisp on the outside yet soft on the inside. Very nice and chewy but I did find the batter a wee bit too thick. A little more moisture in the mushrooms would also be much appreciated.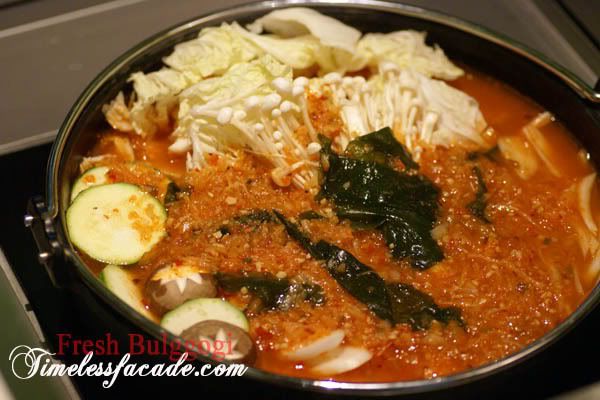 Kimchi Jjigae with Sliced Salmon (김치찌개)
Unfortunately, none of us at the table could fully appreciate this humble Korean stew. It was essentially vegetables, mushrooms and rice cakes in a kimchi broth. According to wikipedia, Kimchi Jjigae is best cooked with older more fermented kimchi, which creates a much stronger taste and also contains more beneficial bacteria also found in yoghurt. The salmon slices were passably fresh but tasted rather weird with the kimchi broth.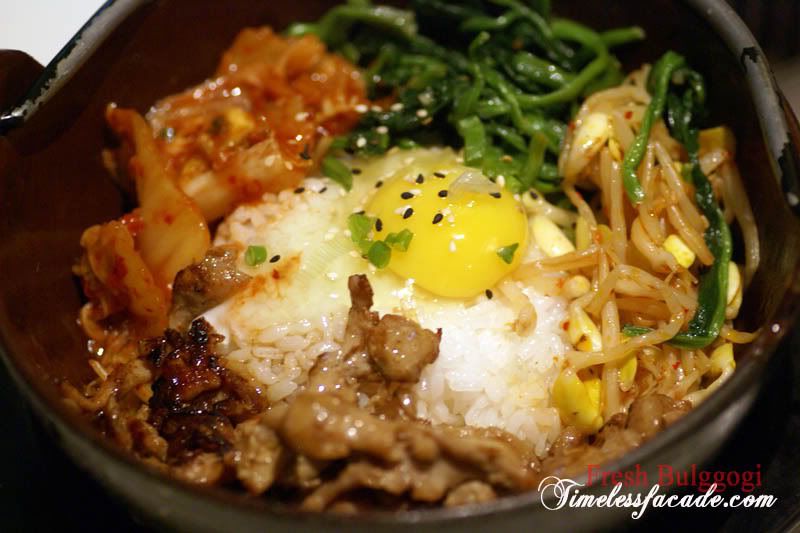 Garlic Chicken Bap

A classic Korean dish and one that I've eaten a couple of times, the garlic chicken bap was surprisingly quite decent. For starters, the kimchi was lightly sour and spicy while the chicken was well marinated and you could actually taste the marination. Add the fact that the rice was moist and a little sticky and it made for a rather nice dish.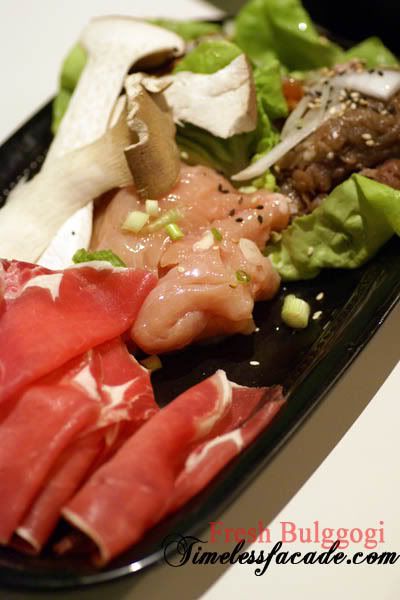 Premium Set C (Chicken Breast Meat, Beef Bulggogi, Chicken Bulggogi and Sliced Beef)
For our steamboat, we had a choice of 2 soup bases, kimchi and chicken, of which we chose the latter. I wouldn't go as far as to say the broth was great, but it was decently sweet yet light.
We had the premium set C for the sliced beef. Seriously, how bad can steamboat get? Everything tasted relatively fresh but the thinly sliced beef did look a darker shade of red as compared to what other tables were getting (this is based purely on our observations). The set is meant for 2 but in case the ingredients are insufficient, there is always the ala carte top up option.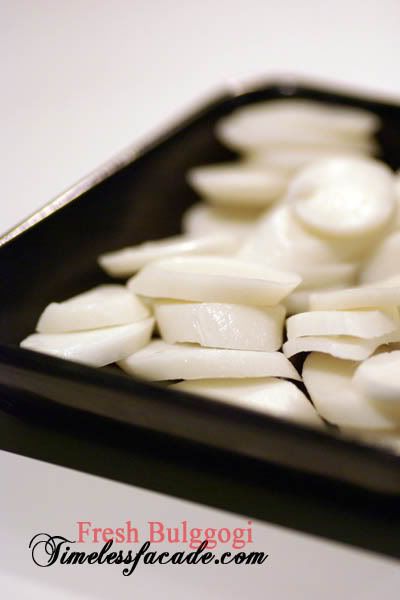 Chicken Bulggogi & Korean Rice Cakes
2 of our top up options, the chicken bulggogi, which the Koreans eat with lettuce and the rice cakes, which look like sliced fishcakes but tasted to me like chewy kueh when cooked.

Honestly, I know nuts to nothing about Korean food but personally I found the food overall to be rather decent, maybe not wholly authentic but certainly very edible. Prices are on the high side ( the damage for 4 pax was about $165 inclusive of 6 juices/soft drinks and 4 ice cream desserts) but thats to be expected since its at the airport. Oh and take note that they do not serve sky juice. Service was friendly but the place did seem a little short handed at times.



Likes: Minimal perspiration while eating steamboat
Dislikes: Service a little slow

Final Verdict:
Ambience:7/10
Service:6.5/10
Food:6.5/10
Value for money:/10

Overall:6.67/10

Address: #03-6059 Viewing Mall South, Changi Airport Terminal 2

Contact: 62221339

Opening Hours: Daily: 1130am - 10pm

Website: http://www.zingrill.com.sg/