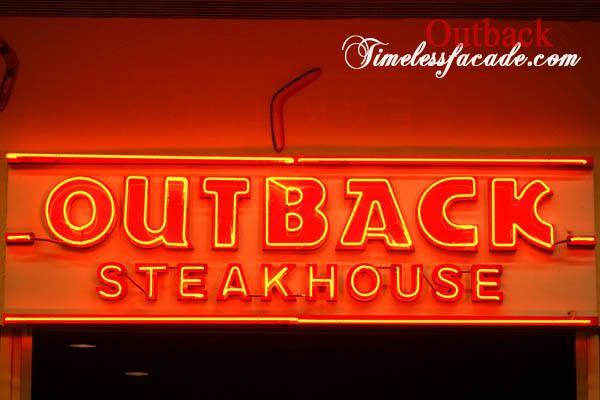 I realise that I've never written anything about Outback Steakhouse despite quite a few visits to to the restaurant both in Singapore and overseas, so here goes. Popped by with my gf on a not so quiet Thursday evening.
Interior & Menu
The interior is cosy and cheerful with wooden booth seats for extra privacy. Signs and stickers adorn the wall with overhanging lamp shades for a casual laid back atmosphere. Interestingly, while Outback is supposed to embody the spirit of the Australian outback - rugged, friendly and casual, this successful chain actually started out in the US and the owners have never stepped foot into Australia! So much for authenticity I guess.


Cheese Fries & Complimentary Bread
The complimentary bread was relatively huge and came served on a cutting board with a knife and butter. I thought it was rather average tasting though.
I'm a sucker for fries and cheese so anything that combines these two ingredients together works magic for me. It definitely helped that the fries were chunky and crispy while the cheese was thick and had lots of bacon chips in it.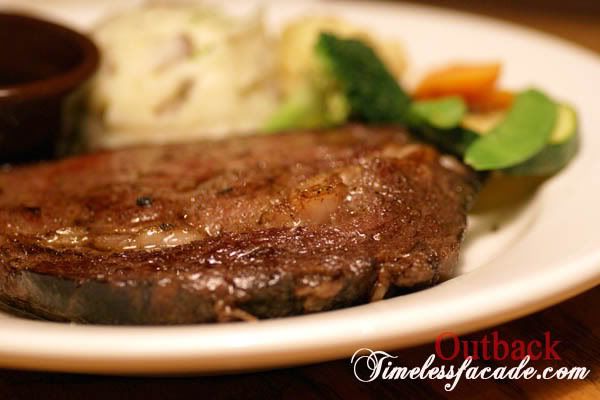 Prime Minister's Prime Rib

At 8oz, this is one of the smaller prime ribs that I've had (I usually prefer a 10oz or 12oz). Slow roasted in an oven, the medium rare rib was succulent and tender but I did find it a little too fatty. It could have done with a dash of salt and pepper as well to complement the natural beefy taste of the rib. There's an option to add on homemade mushroom sauce or peppercorn sauce, but at $6.90 a pop, I'd rather pass.
Sizzling Chicken
The sizzling chicken had me salivating at the fragrance it emitted at the table. However I did find this dish a little lacking. The boneless chicken came across as a tad too dry though still reasonably fibrous. Nothing special but still very palatable.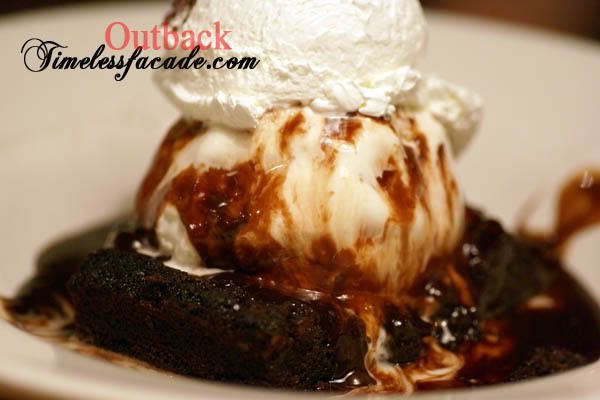 Chocolate Thunder from Down Under
Warm and rich chocolate sauce drizzled over soft and moist pecan brownie with a nice smooth scoop of vanilla ice cream. Whats not to like?However, at $15.90++ for this dessert, I had expected a humongous slab of brownie topped with yet another humongous scoop of ice cream, enough to stuff 2 people. What I got was really disappointing, size wise. To be fair, the brownie and ice cream was bigger than usual, but only by that much. A very nice and sinful dessert!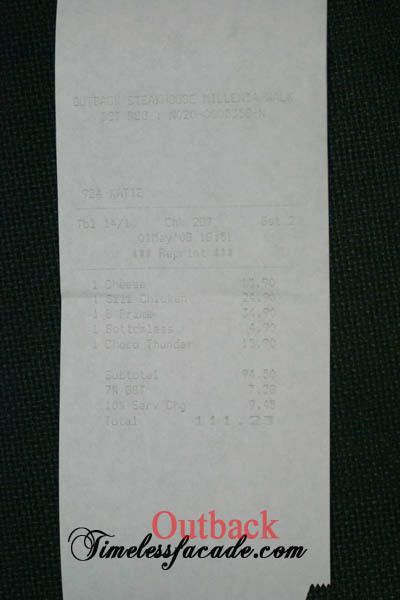 Bill
$111 for 2 pax is certainly on the high side for a hearty but relatively unimpressive dinner. Food quality is above average at best but what I like is the casual setting and friendly service. Soft drinks are free flow if you order a glass, so please don't spend unnecessary money by ordering 2 glasses when you can order 1 glass to share, alongside free ice water.



Likes: Hearty food, casual setting
Dislikes: Expensive

Final Verdict:
Ambience:7/10
Service:7/10
Food:7/10
Value for money:6/10

Overall:6.75/10

Address: #01-99 Millenia Walk, 9 Raffles Boulevard

Contact: 6837 3242

Opening Hours: 1130am - 1030pm daily

Website: http://www.outback-sea.com/_sg/about.asp