Made the trip east to Chin Lee or 深利美食馆 for dinner with my parents after seeing it in appear in a couple of television programs and writeups with regard to its good food and reasonable prices.
Interior & Menu
Located just below a block of flats at Bedok North, Chin Lee's reputation was evident as the place was packed on a Sunday evening and families without reservations were asked to wait or turned away. The air conditioned interior was simply done up like any traditional Chinese restaurant except that they offer two private rooms which can be booked in advance.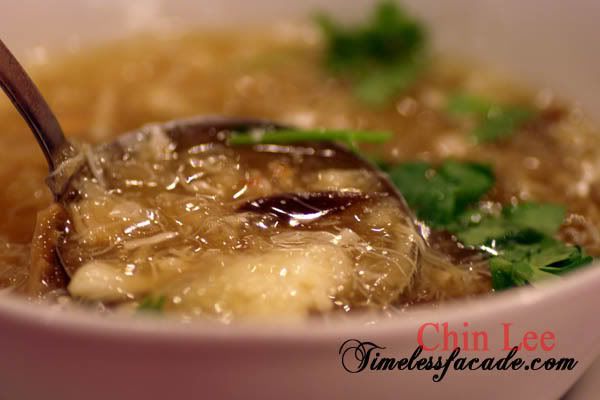 Fish Maw Soup
Tasting suspiciously like shark's fin soup ( I wish!), the fish maw soup didn't come across as too starchy and had quite a sizeable amount of crab meat in it. The fish maw wasn't too soggy and overall I found it quite a good dish.

Stir Fried Kailan
Found the vegetables very normal but I did think that the restaurant was a little too generous with the garlic, which made the vegetables a little bitter. Still, I can't complain for $6 though.


Homemade Beancurd
I thought that the beancurd was comfort homely food, with its silkiness and softness and of course the copious amount of minced meat atop. However it lacked the smokey savoury taste that I like. Still a good eat nevertheless.


Coffee Pork Ribs
Served up in an aluminum foil, the coffee pork ribs was a recommendation by the waitress. The aroma of coffee was strong but surprisingly, the taste was rather mild. Honestly I thought that the pork ribs were a little too dry and hard for my liking. Very edible, but certainly not a must order dish.


Orh Nee
Interestingly, Chin Lee's rendition of this ubiquitous Teochew dessert was a much darker shade of brown than what I usually eat, which I suppose is attributed to the addition of gula melaka or brown sugar. The texture was also compact and glue like, yet very smooth and not too sweet. Definitely one of the best Orh Nees I've tried so far.


Bill
A satisfying dinner for 3 set us back by almost $62, which is very reasonable for the quantity and quality of food. Service was efficient and I dare say that this is probably one of the better air conditioned cze char stalls around. Chin Lee is a gem indeed. Just remember to make your reservations.
Likes: Food is quite good, reasonable prices
Dislikes: Packed with people
Final Verdict:
Ambience:6.5/10
Service:6.5/10
Food:7.5/10
Value for money:7/10
Overall:6.75/10
Address: Blk 115 Bedok North Road #01-285
Contact: 6449 5454
Opening Hours:
Mon-Fri:
Lunch: 11.30am - 2.30pm
Dinner: 6.00pm - 10.30pm
Sat, Sun & PH:
Lunch: 11.30am - 2.30pm
Dinner: 5.30pm - 10.30pm