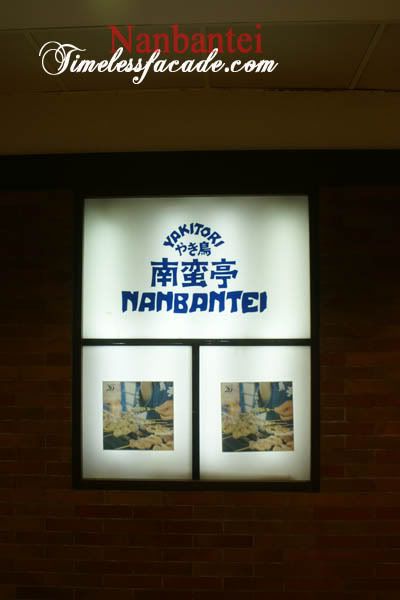 Had been meaning to try out Nanbantei and the chance presented itself one evening when I happened to be at Orchard with my gf. Located on the 5th floor of the hip Far East Plaza, Nanbantei, which specialises in Yakitori, has garnered many accolades and rave reviews including that of Tatler's Singapore's Best Restaurant.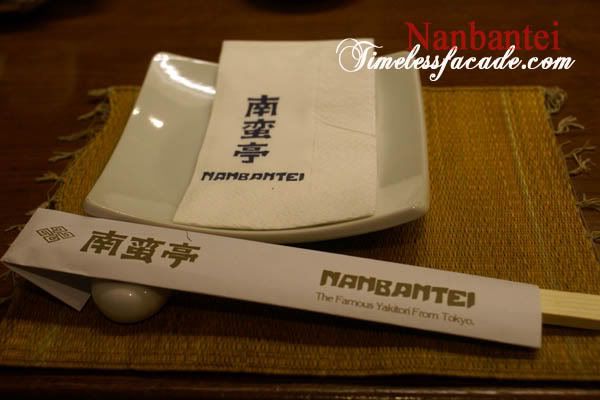 Table Arrangement
The interior of Nanbantei is rather tiny and cramp and the bulk of the seating comes in the form of counter seats (there are a few tables that can accomodate 4 though), which offer a live view of the chef grilling your orders. When I say cramp, it means almost shoulder to shoulder with the person beside you at the counter, which is really disconcerting to say the least.


Hotate Gai

The scallop was quite a size and came very well seasoned and grilled. A nice smokey taste lingered, complementing the fibrous texture of the scallop. I did find the salt a little too heavy though.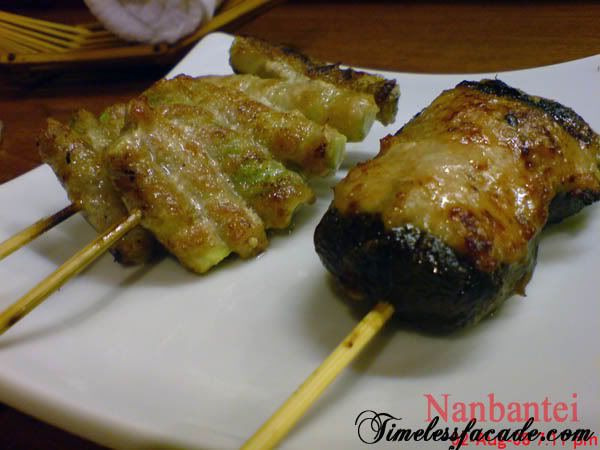 Asparagus Maki & Nikuzume Shiitake
If I may say, the asparagus maki was nothing short of excellent. It really surpassed all expectations. Soft asparagus covered with a layer of pork grilled till crisp and a sprinkling of salt for that extra flavour. If not for the price($5.70), I would have ordered more.
The Shiitake mushroom stuffed with chicken was average really. The chicken taste overwhelmed the mushroom and it was a tad too salty.


Ebi
At $7 per relatively large prawn, its honestly quite expensive especially when there was no marination or anything, save for the dash of salt sprinkled whilst grilling. To give it credit, the prawns were sweet with a nice grilled taste. But believe me, take away the shells and the meat is minimal.


Tokusei Tsukune
Nanbantei's Tokusei Tsukune or house special meatballs, was essentially 2 skewers of meat merged into one huge and rather unsightly chunk and came served with a single raw quail's egg sliced off at the top. The meat was nicely minced with bits of uneveness but I did find the dish to be very salty probably due to the sauce. A decent dish, but not fantastic.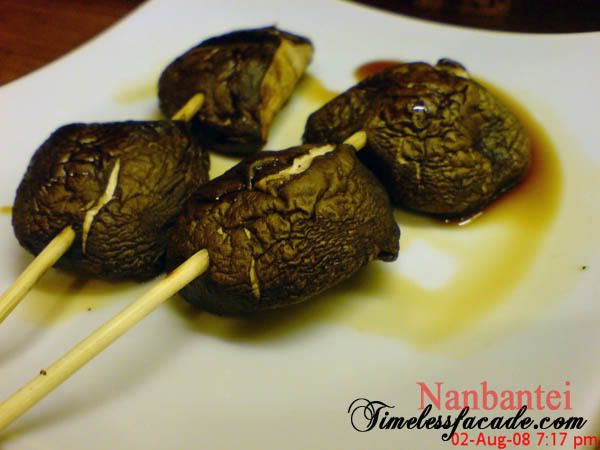 Shiitake
Yet another overly salty dish, the shiitake didn't come across as too dry though due to the sauce. Not something I would order again for just over $5.


Yaki Onigiri
A Japanese speciality according to the waitress, the Yaki Onigiri was rather interesting and looked very much like a corn cob. Grilled to charred and hard on the outside yet a little soft and sticky on the inside. The flavours were a mix and match of salty and spicy, which honestly was a terrible end to the meal. It definitely didn't help that bits of the charred rice were very prone to getting lodged in between my teeth.


Bill
$68 for a meal with such meagre portions is ridiculously expensive in my opinion, even though the food is fairly decent. To be fair, Nanbantei does offer set meals at $32++ for 8 sticks of yakitori which does seem a better deal, but going ala carte is definitely a big no no. Drinks are expensive as well and no complimentary iced water is served.



Likes: Food is decent
Dislikes: Expensive, no free iced water

Final Verdict:
Ambience:5.5/10
Service:7/10
Food:7/10
Value for money:5.5/10

Overall:6.25/10

Address: #05-132 Far East Plaza

Contact: 6733 5666

Opening Hours:

Lunch 12 pm - 2.30 pm

Dinner 6 pm - 10.30 pm