Had another bout of Thai food craving and didn't fancy braving the terrible parking(and exorbitant drink prices) at
First Thai
so decided to try out P&P Thai Food, which is just a 15 min drive from my house. Formerly located at a coffeeshop along Veerasamy Road in Little India, P&P's claim to fame is its authentic Thai food and the various newspaper writeups are a testament to that.
Interior & Menu
Located under a block of HDBs at Geylang Bahru, P&P occupies a rather small and inconspicuous unit which faces the main road. The place is done up simply with white washed wall and limited tables, probably at about 10 tops, including those placed along the pavement. Air conditioning here is at a premium, with barely cool air whispering out of 2 air conditioning units.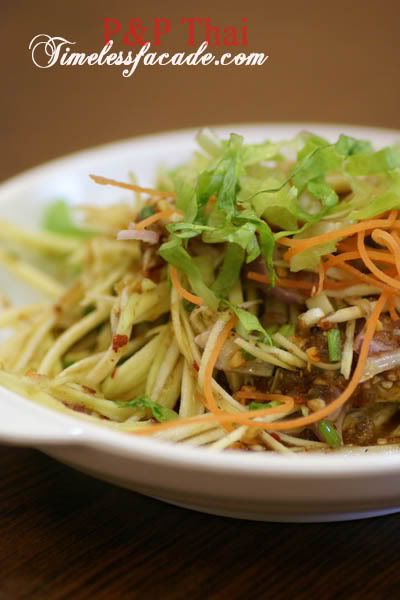 Mango Salad
A nice appetiser would have started the meal just right, but the mango salad, though spicy, didn't taste out of the ordinary. Everything was overwhelmed by the spiciness. Also, 6 bucks does seem a tad pricey for just some shredded vegetables and fruit.


Tom Yam Soup
Served up in a small claypot, the tom yam soup was actually quite good. Clear spicy broth with an overhanging heavy dosage of zest that didn't weigh down too much on the palate. One thing I found odd about the soup was the inclusion of slices of hotdog - a sign of cost cutting?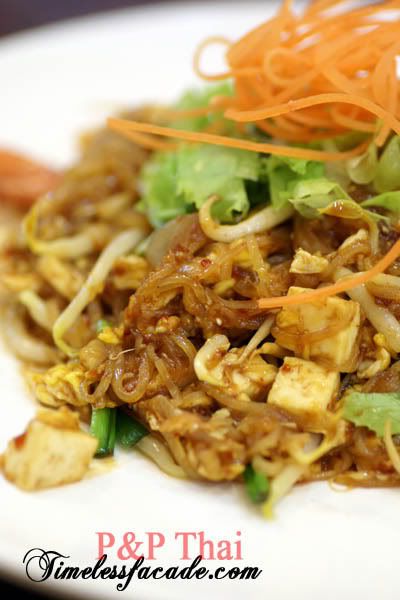 Phad Thai
I found P&P's Phad Thai comparable to the one I had at
First Thai
just a couple of weeks back except that the glass noodles used in the former were slightly finer than usual. Both were of the wet variant but the prawns in P&P's offering weren't exactly fresh and that marred the experience for me. I still stand by the Phad Thai from
Sweet Salty Spicy
.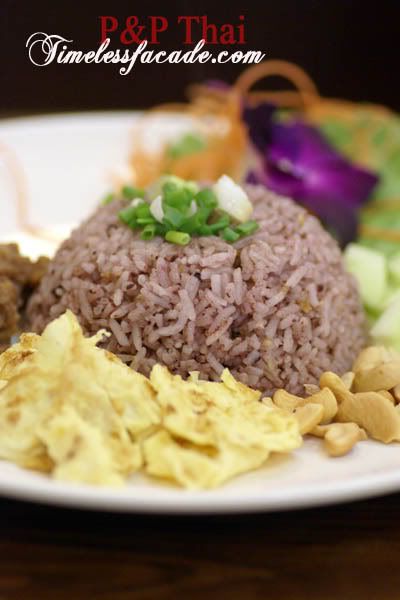 Olive Fried Rice
The undisputed star of our meal, the humble olive fried rice. Served with sides of egg, cashew nuts and a mixture of what seemed like dried shrimp and pork, the rice was fragrant and very well fried sans the oil with a lingering tinge of olive. I would have gone for seconds if not for the rather steep pricing ($7 for 1 scoop).


Fried Kang Kong
What looked like an ordinary dish turned out to be something rather top notch. The Kang Kong had a wok hei taste to it and was rather spicy although it didn't look the part. Only gripe I had was the excessive salt content, which can be a little overwhelming.


P&P Crispy Pork
I would have expected more from a dish bearing the name of the restaurant but sadly it came across as rather normal, if not on the salty side. The flour was crispy without being too oily but the meat did seem a little too fatty at certain parts, which made me a tad nervous about my health.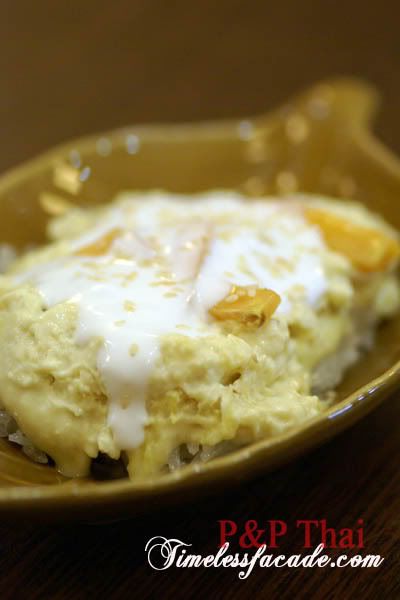 Durian Sticky Rice
I was looking forward to this delectable dessert and all hopes for a humongous portion were dashed when it came served in a small leaf shaped plate. The glutinous rice was a tad savoury with lots of bite while the durian flesh was sweet but rather runny. Drizzled with coconut milk, the entire dish made for a very nice ending. However $10 for such a small portion is a rip off in my humble opinion.

Bill
$57 for 3 pax isn't exactly expensive but I wouldn't deem it cheap either. Food quality is actually quite decent and personally I prefer it to
First Thai
. Price wise, both are comparable but service and ambience at P&P is definitely better. When we finished my dinner at about 7pm on a Sunday evening, there were still a few tables empty so I guess having no queues is a plus point too. One thing to note though, P&P doesn't serve free ice water. Its 50 cents for a refillable cup.
Likes: Above average Thai food
Dislikes: Premises a little warm
Final Verdict:
Ambience:6.5/10
Service:7/10
Food:7/10
Value for money:7/10
Overall:6.875/10
Address: Blk 57 Geylang Bahru, #01-3491
Contact: 8157 1245
Opening Hours: Daily: 11.30am - 3pm, 5.30pm - 10pm