Had the opportunity to attend yet another dessert tasting session at Rogues, but with a couple of other foodies this time round. My other review on the first dessert tasting session can be found
here
. I shall skip the niceties about the decor and place save for a comment that the place was packed that evening and a little too loud for amiable conversation.
Complimentary Appetiser
A very simple dish yet a nice gesture from the pastry chef. Sticks of fresh strawberries daintily presented in a clear glass on a platter with a small bowl of cointreau and cinnamon sugar. The idea behind this is simple. Dip the strawberry in cointreau and then into the cinnamon sugar. The result is a sugary sweet concoction that feels very much like eating candy, albeit of a juicier and softer kind. I liked it quite a bit and that's coming from someone who doesn't take to fresh strawberries.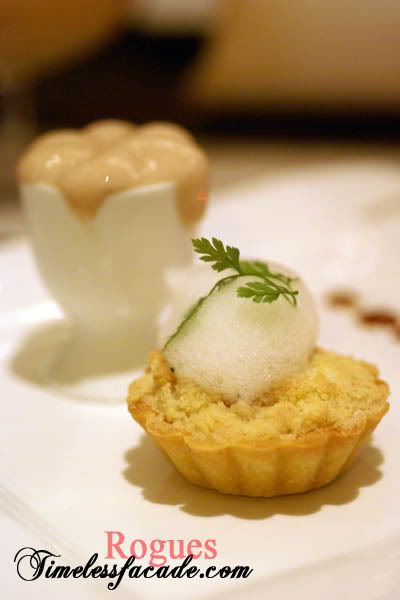 Warm Granny Smith Crumble, Soya Scented Air, Espresso Croquant, Iced Baileys Souffle, Chocolate Espuma
The apple crumble was as good as I remembered it to be, if not better! Crusty with buttery undertones that encased a small treasure trove of raisins, tiny apple cubes and hazelnuts. Served alongside the crumble was a small cup of Espresso Croquant, Iced Baileys Souffle and Chocolate Espuma. I couldn't quite make out the Chocolate Espuma (Spanish for foam) probably due to the rather strong baileys after taste. The taste of the Espresso Croquant was also lost on me but I did appreciate the slight crunchy texture it brought to the dessert. And trust me on this. You never never want to try soya scented air.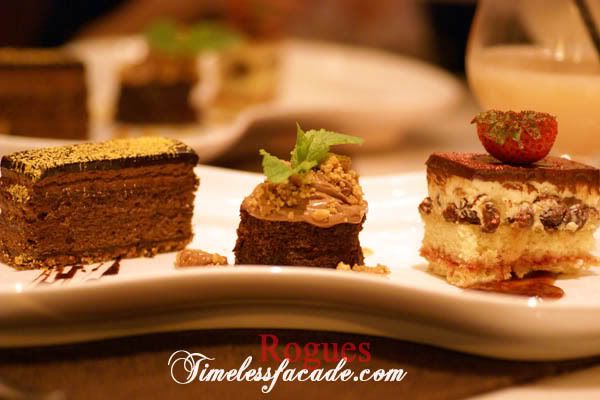 Philadelphia Rum & Raisin Cheese Bar, Aged Balsamic Strawberry Coulis, Hennessy Chocolate & Peanuts Crunch, Arabian Cream of Walnut, Gianduja Wafer Creme Slice
The Philadelphia Rum & Raisin Cheese Bar came across as bitter with a tinge of sweetness from the raisins. I must say that even for an self proclaimed alcoholic like myself, the rum and raisin taste did seem a tad too strong for a dessert, but thats really up to individual preferences.
I thought the Hennessy Chocolate & Peanut Crunch was quite a pleaser and marvelled at how smooth the Hennessy tasted in this dessert. One part mousse (chocolate), one part sponge (infused with the hennessy), it came topped with sparse amounts of peanuts crunch which added a nice crunchy texture. On a side note, the peanut crunch, when eaten on its own, emanates a nice buttery overtone, prefect for a sinful snack.
Gianduja is a sweet chocolate containing about 50% of nut paste (hazelnut, almond etc) and though the Gianduja Wafer Creme Slice (or something similar) can be found at alot of other places, I took to it quite a bit. Rich and sweet with a nutty undertone. Just my cup of tea. And to up the asthetics factor, it came with glittery gold dust scattered atop.

Kahlua Flavoured Mascarpone Cheese, Sticky Chocolate & Butterscotch Parfait Tube, Hot Manjari Chocolate

The Kahlua Flavoured Cheese Mousse tasted suspiciously like Tiramisu, but a rather weak one at that. I couldn't quite make out the kahlua and I thought the mascarpone cheese was a little too heavy for my liking.
The Sticky Chocolate & Butterscotch Parfait Tube was a mish mash of oreo cookie crumbs, chocolate and some other stuff that I couldn't quite make out. Tasted to me like ice cream with oreo, nothing too sophisticated.
Manjari Chocolate is purportedly made from the best beans from Madagascar and comes across as slightly bitter with hints of soft fruit. Honestly I couldn't quite make out any hints of fruits but thats probably because I am no chocolate expert. What is interesting is the molten chocolate tasted savoury instead of sweet as most chocolate fondants would be. Add a nice even crust thats not too gelatin like and you have a nice, albeit different chocolate fondant.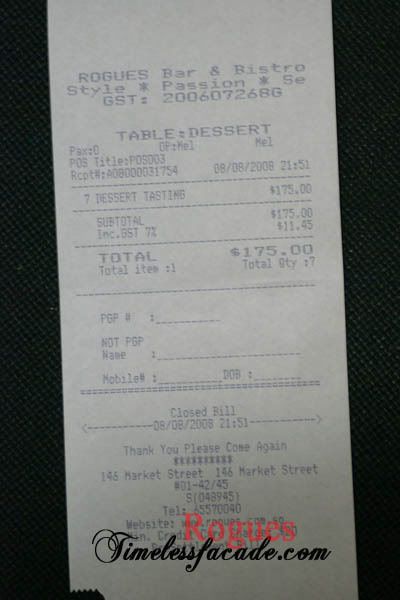 Bill
The general concensus was that $25 nett for the desserts were really worth it and I am inclined to agree. Although there was a chocolate overload and I got pretty nauseous after the whole thing, I must say that most of the desserts were quite good. I look forward to a return visit, but this time with a trusty pack of chicken rice from across the road to break the monotony of solely eating desserts.



Likes: Desserts are good.
Dislikes: Gets rather nauseous after a while.

Final Verdict:
Ambience:7.5/10 (If you go on Friday night or a weekend, its going to be very noisy)
Service:7.5/10
Food:7.5/10 (desserts only)
Value for money:7/10

Overall:7.375/10

Address: #01-42/45, 146 Market Street

Contact: 65570040

Opening Hours: 11am - 1am daily

Website: http://www.rogues.com.sg/