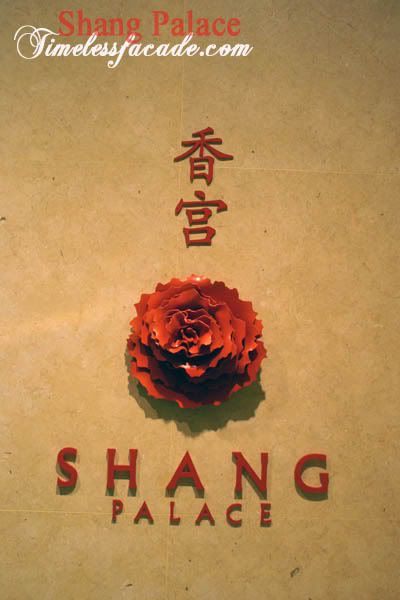 Its been a while since I last stepped into Shangri-La hotel (the last time being the IISS about a year back) and what better way to revisit than a leisurely dim sum meal at its flagship Chinese restaurant, Shang Palace. It definitely helped that Shang Palace was offering a 30% discount on all its dim sum items from now till 31st Dec 2008 for its first dim sum seating (10.30am - 12pm).
Exterior, Interior, Menu & Tea Selection

Located at lobby level of this highly regarded premium hotel, Shang Palace's recent facelift sees a more contemporary and posh interior with elements of tradition through the usage of red crystal chandeliers amidst flowery wall panels and black wooden door arches. Is it just me or are alot of the Chinese restaurants starting to look alike?
What I found rather ingenious was the tea menu. Instead of the usual book like menu, the names of the various teas were inscribed onto colour coded sticks and placed in a container. Merely a novelty, but at least it beats flipping through pages.
Custard Bun

Fast becoming one of the quintessential items on my dim sum list, the custard bun got the meal off to a great start with its piping hot and sinfully rich custard mixed with sediments of egg yolk, all contained within a soft and slightly chewy bun. I would have liked it better if the custard to bun ratio was lower, ie. decrease the amount of flour or increase the amount of custard. There's the issue of its minute size though.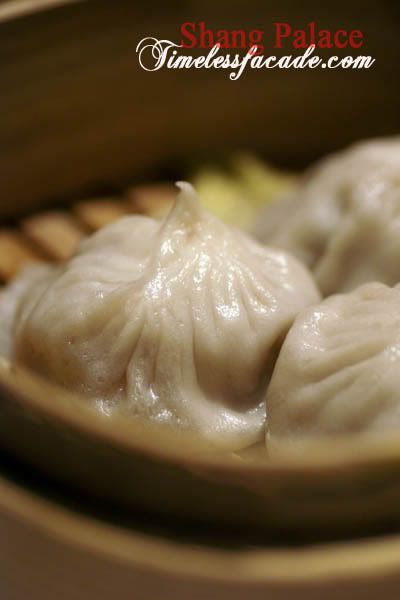 Shanghai Pork Dumpling
I was utterly disappointed with Shang Palace's rendition of this classic Shanghainese dish. The skin was a tad too thick while the gravy came across as thick and oily. After popping one XLB into my mouth, I couldn't bear to eat another one.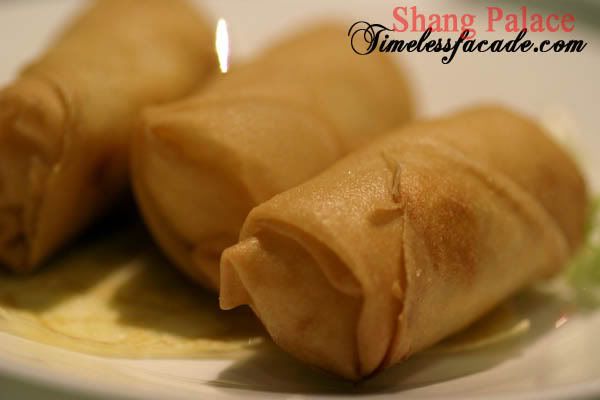 Fried Spring Roll
This spring roll was rather different from the commonplace ones that you get elsewhere. Instead of vegetables, you get egg white and crab meat as a filling. Not that it made much of a difference honestly. The oil taste from the crisp skin overwhelmed everything. Not that egg white or crab meat had much taste to begin with though.


Shark's Fin Dumpling Soup
At $8 a bowl, the fins were ample but of very low quality. I like the fact that there were bits of scallops in the dumpling and that the soup was very light on the palate.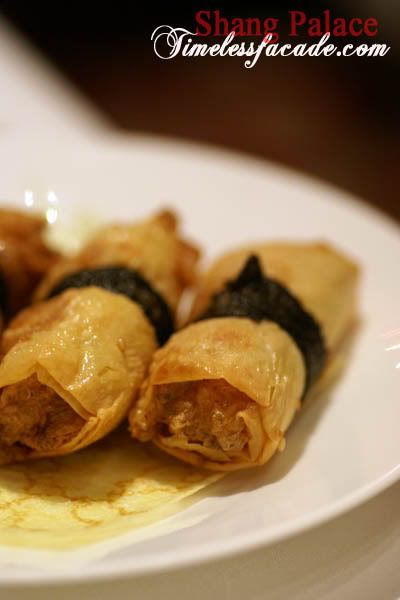 Deep Fried Beancurd Skin Roll with Prawns
The fried beancurd skin roll or 腐皮卷 came stuffed with prawns, spotting a nice crisp exterior that wasn't overly fried. However, it did come across as a tad too oily.

This dish was essentially pineapple bun stuffed with char siew (叉燒菠蘿包). I personally liked this quite a bit as the bun was soft and not too sweet while the char siew was plump and juicy. The sweetness from the char siew permeated through, which made for a nice but extremely high in calorie snack.
Very much like the siew mai I had at
Peach Garden
, Shang Palace's offering had small chunks of prawns in it as well. There was a noticeable absence of the overwhelming pork taste that plagues alot of siew mais but I did find the salt level a little high.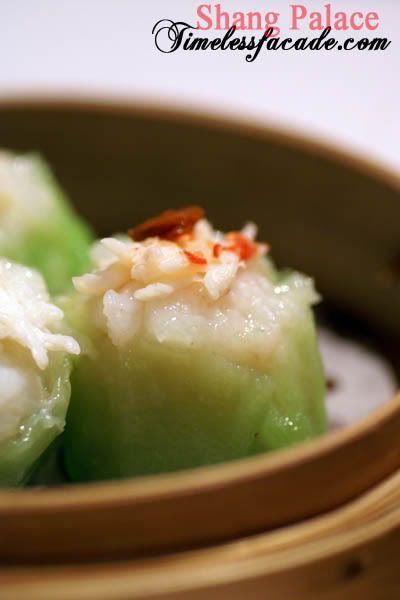 Scallop & Lobster Roll
I don't quite remember the name of this dish but it tasted to me like Har Gao, which wasn't really what I was expecting. The lobster shreds were minimal, not to mention tasteless and the whole thing was mainly prawn paste (I believe) and a small piece of scallop.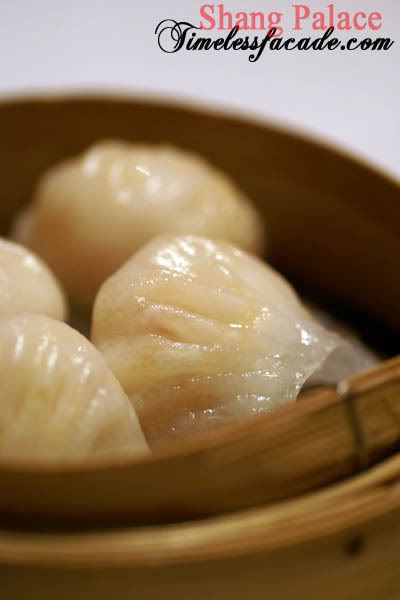 Har Gao
The Har Gao skin was excessively thick and became gross when cold. Not even the crunchy prawn filling could save it after we left a piece to cool for about 10 minutes. However, when eaten hot, its still rather decent overall.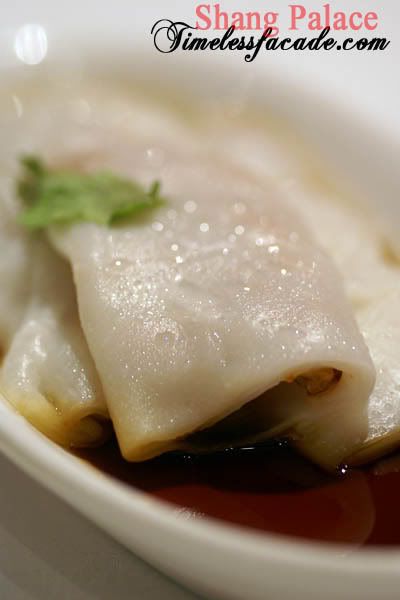 Four Treasure Flour Roll
Fancy names aside, the flour roll aka chee cheong fan, was smooth, silky and not too thick. I could only make out char siew and prawns in the filling so I'm not sure where did the 4 treasures come from. One of the better chee cheong fans I've had in a long long time.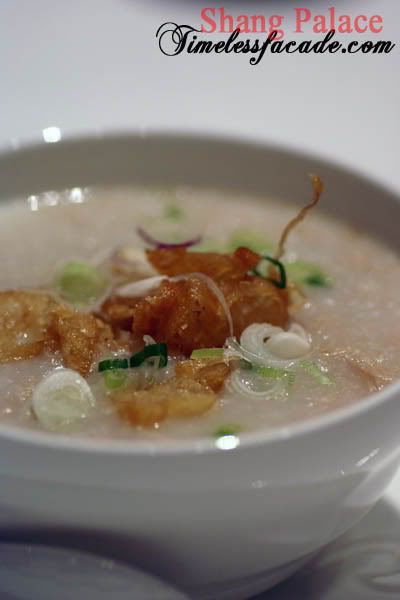 Century Egg Porridge
$10 got me a bowl of congee that's probably three quarters the size of those you get for $3 at food centres. Topped with thin slices of crispy dough fritters, the porridge had a generous amount of chicken shreds and century egg. But I did think that the chef was a little too liberal with the salt.


Mini Egg Tarts
A disappointment really. The mini egg tarts were, as the name suggests, mini and the pastry was a little too flaky. No buttery undertone that I personally like as well. The custard filling could also have done with more sugar. $4.90 for 3 is really a rip off.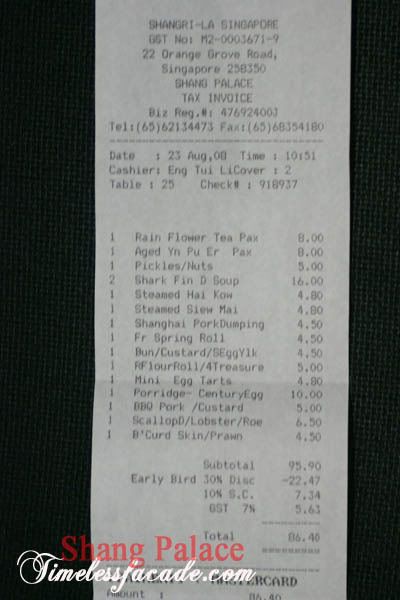 Bill
It was really an expensive dim sum experience, at $113 before discount and $87 after a 30% early bird discount for 2 pax. Overall I thought that the dim sum lacked finesse, and pales in comparison to places like
Royal China
or
Yan Ting
. Service was good but pacing of the dishes would be much appreciated - all my dishes came in the space of 10 minutes. I highly doubt that I'll be back, not even with the discount.
Likes: Nice place
Dislikes: Expensive even after the discount, dim sum lacks finesse, can be difficult to get there if you don't drive
Final Verdict:
Ambience:7.5/10
Service:7.5/10
Food:6.5/10 (7.5/10 for the custard bun)
Value for money:5.5/10
Overall:6.75/10
Address: Lobby Level, Shangri - La Hotel, 22 Orange Grove Road
Contact: 6213 4473
Opening Hours:
Lunch: 11.30 am - 2.30 pm (Weekends start at 10:30 am)
Dinner: 6.30 pm - 10.30 pm
Website: http://www.shangri-la.com/en/property/singapore/shangrila/dining/restaurant/shangpalace