Heard many good things about this tiny little stall serving up handmade beef burgers that were purportedly one of the best around. Apparently its burger is so well known that it featured in one of the recent articles in the Straits Times.
The place
Occupying one of the four F&B units at a small alfresco dining area along Bukit Timah Road, Smok'inn Frogz plays neighbour to an Indian food stall, a Thai food stall and a small bar counter. And that is where its charm lies. Seating on high wooden stools against the backdrop of million dollar homes, all in a fan induced cool environment has a certain laid back charm to it.


At $8 a basket, the calamari wasn't too expensive really and came rather well done. The batter wasn't too thick and didn't come across as too oily while the squid retained some of its elasticity and chewiness. Only thing that I thought could have been improved was the frying time. The batter was deep fried for a little too long, rendering it a darker shade of golden brown.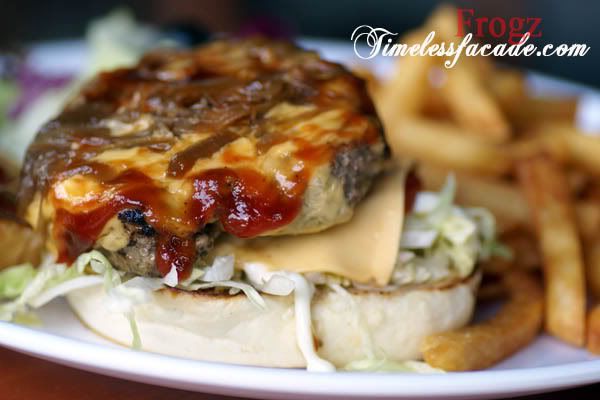 Homemade Beef Burger ($12)

Being a fan of beef burgers, I was most eager to try out their much raved about homemade beef burger. While the burger was very decent with the texture of the patty uneven and full of bite yet retaining its tenderness, I did find it lacking in the inherent beefy taste, which kinda took some points off the score. $12 gets you the burger and some fries with a small serving of salad as well.
For those who are skeptical that their burgers are handmade, I saw one of the staff mixing the beef with all the condiments and pre packing the beef patties later on.
Before & After

$20 for a meal is rather reasonable for the quantity and quality of food. Drinks can be bought from the neighbouring stall at $1.50 per can of soft drink and if you need a quick Thai or Indian fix, there's the other stalls as well.
Likes: Nice laid back atmosphere, decent food
Dislikes: Premises a little warm in the afternoon, parking is a headache
Final Verdict:
Ambience:7/10
Service:/10
Food:7/10
Value for money:7/10
Overall:7/10
Address: 879 Bukit Timah Road
Contact: NIL
Opening Hours:
Weekdays: 4pm - 11pm
Sat: 1pm - 11pm
Sun: 9am - 11pm