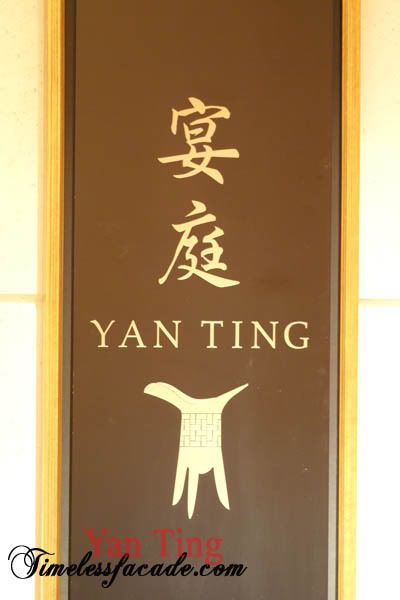 After a most wonderful dim sum experience at Yan Ting
barely 4 months ago
, I was back for a much anticipated revisit.
Interior
The interior needs no reintroduction, remaining as grand and comfortable as I remembered it to be.


Amuse Bouche
The amuse bouche this time round was a tiny little red octopus sprinkled with sesame seeds. I don't really fancy octopuses but this one wasn't that bad tasting. Crunchy and a little sweet. A nice start.


HK BBQ Platter
I had requested to change the soya chicken in the platter to roast pork, which did seem like a good idea. The pork was nice and salty with a very crisp skin. However I did find the proportion of fat a little too excessive for comfort. Aside from that, I thought the duck was quite good - crispy skin and a tad chewy without being too dry. The BBQ pork, or char siew, didn't wow me though, coming across as crunchy (how weird!) and a little too dry. At $16++ for a platter of mini size me pieces of meat, its really a no brainer to avoid this dish the next time round.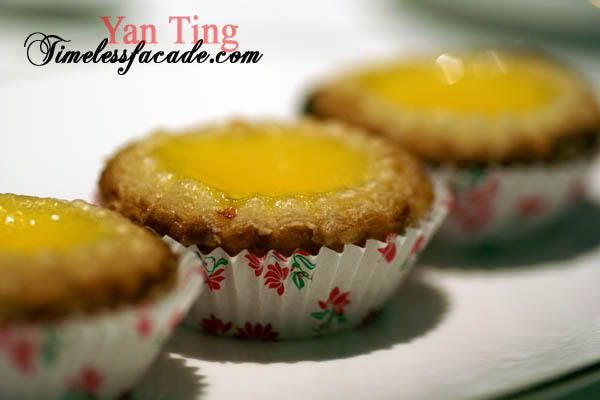 Egg Tarts
One of the highlights from my
previous visit
, the egg tarts were comparatively a little lacklustre this time round. That's not to say that it wasn't good though. The pastry was still excellent, flaky and buttery with a nice aroma. Would have preferred a heavier dosage of butter in it though. Coupled with the not too sweet custard, it made for a delectable snack.
Yam Croquette
The yam croquette had a filling of chicken and mushroom with a very crispy exterior. The yam taste wasn't overpowering which was a plus but I did find the whole thing to be rather oily. Definitely not something I would want to order again. Not for this run off the mill rendition.


Steamed Mushroom Roll

A rather interesting dish and a first for me. The steamed mushroom roll was essentially golden mushroom wrapped up with spinach and drizzled with egg atop to achieve a criss cross pattern. Personally I thought it came across as nice and light and very healthy of course.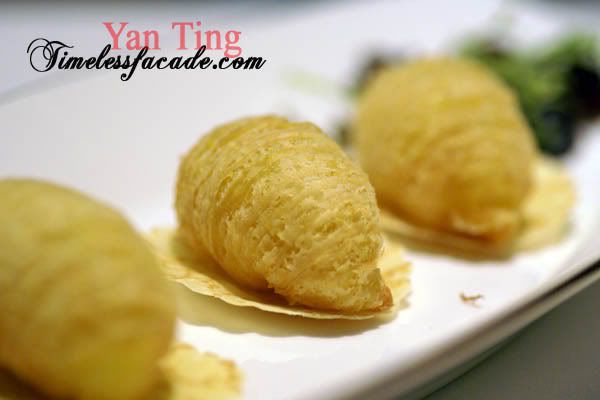 Fluffy Radish Pastry
Personally I thought this dish was quite good - fluffy and crisp on the outside with strands of soft and piping hot radish on the inside.


Char Siew Pastry
Undoubtedly the pièce de résistance of my
previous
and current visit, the char siew sou suffered the same fate as the egg tarts - inadequate butter in the pastry. But still good nonetheless, with the char siew bits plump and tasty without being overbearingly sweet.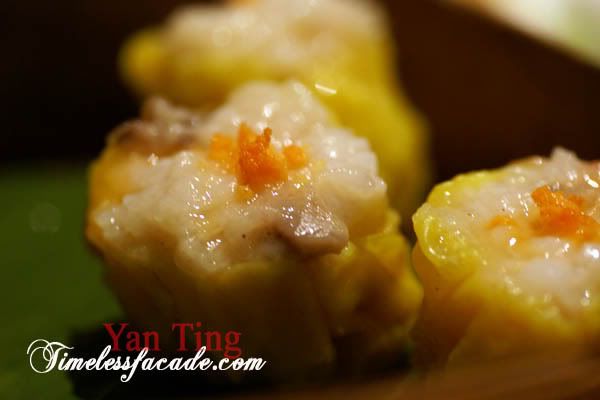 Siew Mai
A staple in any dim sum menu, I found the siew mai relatively good with a much higher proportion of lean meat that didn't overwhelm on the pork taste. On this occasion the siew mai did seem a tad too dry on the outside though, making me wonder if it had been left out in the cold for a period of time.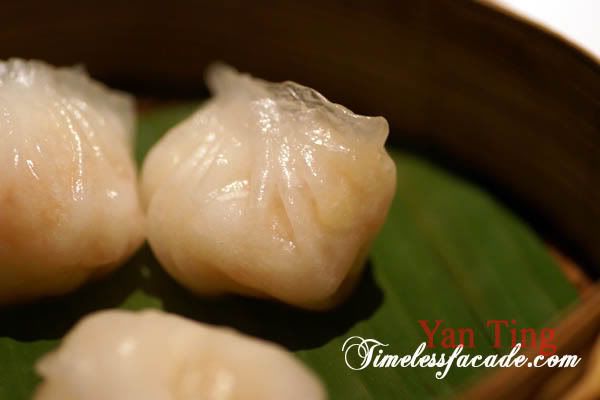 Ha Kao
The Ha Kao or prawn dumplings truly exemplify the phrase, simplicity at its finesse. Fresh, succulent and crunchy prawns shrouded by a thin translucent skin that promised to be light on the palate.


Xiao Long Bao
Even at $4 a pop, I couldn't help but order the XLB. Such was its draw. The skin wasn't too thick and amazingly managed to hold onto the copious amount of soup within. When a hole was made at the side, the flavourful juices literally gushed out. Only gripe I had was that the meat did seem a little too soft.


XO Cheong Fun
One of the few dishes that I didn't find outstanding at all, the XO Cheong Fun was like stir fried Hor Fun with all the bells and whistles. Someone please remind me never to order this dish again.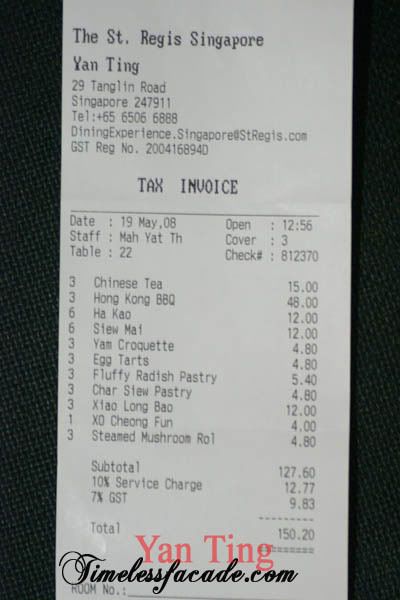 Bill
The 3 of us spent about $150 on dim sum ($50/pax), which is rather expensive honestly. But take away the order of the BBQ platter and the price drops to a more reasonable $32/pax. Service is impeccable and I'm very sure I'll be back again very soon.



Likes: Good food, good service, good ambience
Dislikes: Very pricey

Final Verdict:
Ambience:8/10
Service:8/10
Food:8/10
Value for money:6/10

Overall:7.5/10

Address: St. Regis Singapore, 29 Tanglin Road

Contact: 6506-6888

Opening Hours: 11.45am to 3.30pm, 6 to 11pm

Website: http://www.starwoodhotels.com/stregis/property/dining/attraction_detail.html?propertyID=1533&attractionId=1001144009