Basilico at The Regent Singapore is named after basil, a humble perennial herb that is featured prominently in Italian cuisine. This two month old Italian restaurant, which took over the now defunct Capers, is helmed by 3 Italians - Executive Chef Claudio Rossi, Restaurant Chef Angelo Ciccone and Pizza Chef Carmine Esposito, who hail from northern and southern Italy.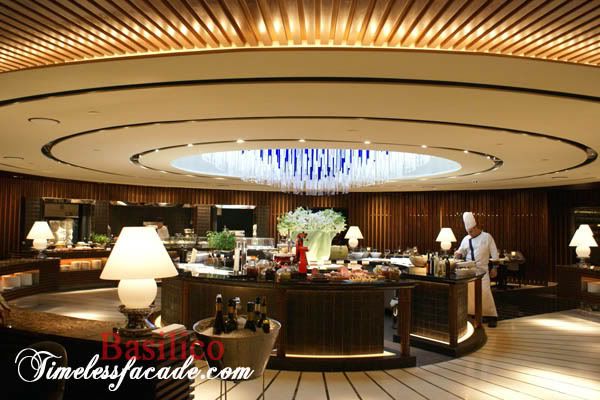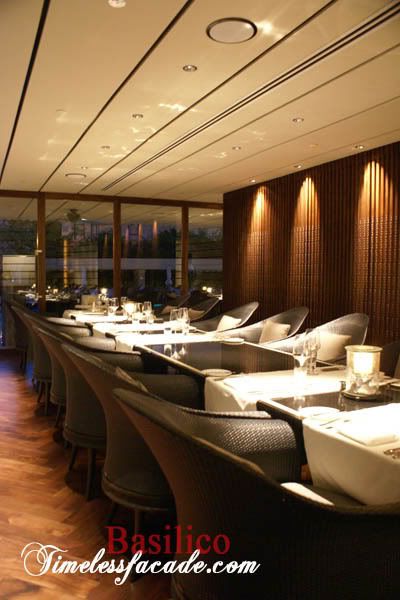 Interior & Menu
Located on the second level of this prestigious Four Seasons hotel, Basilico's interior is designed by renowned Japanese architect Yasuhiro Koichi and dazzles with its centrepiece crystal chandelier and circular open space dining concept which houses three open kitchens - antipasto, the hot kitchen and pasticceria (desserts). For those who wish to dine al fresco, there is the option of dining by the pool.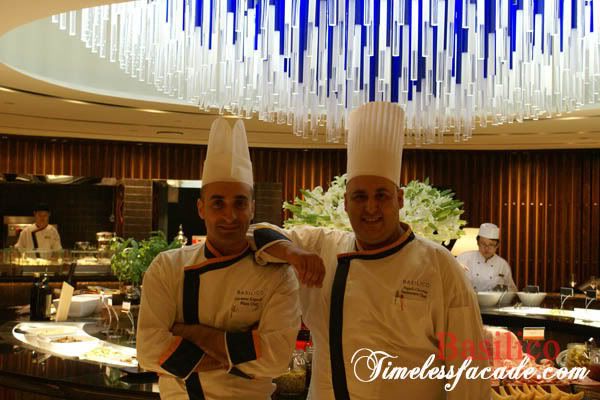 Pizza Chef Carmine Esposito & Restaurant Chef Angelo Ciccone


Complimentary Bread

I thought that the focaccia was quite decent, just a tad cold when served, which made it a little dry and hard on the outside. But I did like the slightly chewy texture it carried and of course the interesting repertoire of dips that came alongside, with the most notable one being mascarpone cheese, which can usually be found in tiramisu. The sheets of cheese crackers came across as rather average though.
Cacciucco di Pesce (Fresh Seafood in Lobster and Tomato Stew)

The lobster and tomato stew was rich in flavours yet did not overwhelm, making for a nice savoury soup with a tinge of spice. The servings of scallops, prawns and squid cubes were relatively generous as a whole, which was definitely a step in the right direction.
Focaccia Pita
I couldn't quite catch the name of this dish but it is, beyond a doubt, the shining star of the evening. Made with focaccia and stuffed with black truffle and mascarpone cheese, it looked anything but asthetically pleasing. However, the charmer came in the form of its considerably thin crust that had a nice chewy texture to it. Throw in a nice and light creamily cheesy undertone sans the nausea and you get an excellent pita dish.


Pizza Prosciutto
To be very honest, I thought the pizza was quite good but certainly not to the extent of outstanding. Granted, the crust was thin and baked to a crisp golden brown with the parma ham lightly smokey. But the pizza did seem a little bland overall. There was a harmonious cohesion amongst the ingredients but that failed to ignite any sparks (aka boring).


Risotto alla Pugliese
The risotto didn't quite do it for me as the arborio rice came across as a tad too hard for my liking. If its any consolation, the servings of diced lobster, prawn, scallop and asparagus were generous to say the least. I do wonder about the green foam atop though.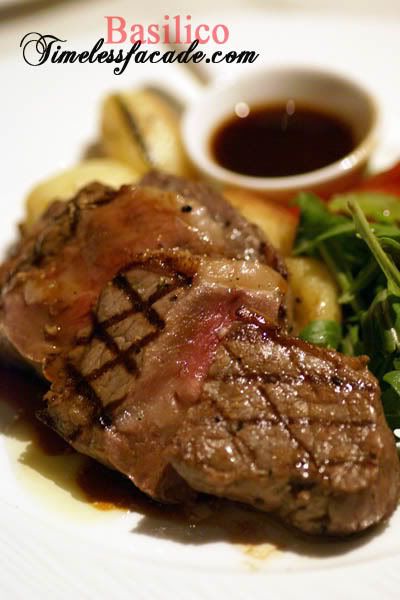 Wagyu Beef
Grilled to medium rare as per my request, the wagyu failed to impress. That's not to say it wasn't any good, just that I'm rather picky when it comes to steak. The beef carried an oily aftertaste that was quite prominent and invoked nausea. The steak sauce that came alongside wasn't really effective in masking the oily taste even though it carried a noticable amount of alcohol. On the upside, this was a quality piece of meat, which was naturally sweet and succulent with a proportionate amount of fats.


Semifreddo al Torroncino
I thought that the almond parfait was quite good with a consistently smooth and creamy texture which had bits of almond in it. The stewed sour cherries below provided a much needed jolt to tingle my jaded senses.


Apple Tart with Marsala Cream
Personally I felt that the apple tart was rather normal as the crust was a bit too dry but lightly buttery. The apple slices were bland and the marsala cream provided the alcoholic content.


Fig Tart
I dislike figs but surprisingly the crust was different from that of the apple tart, coming across as moist and leaning a little towards crumble. Personally I prefered this crust over that of the apple tart.


Raspberry Panna Cotta
One of the more unusual panna cottas I've come across so far, Basilico's rendition tasted more like mousse with an almond jelly aftertaste. Certainly not what I would expect from a good panna cotta.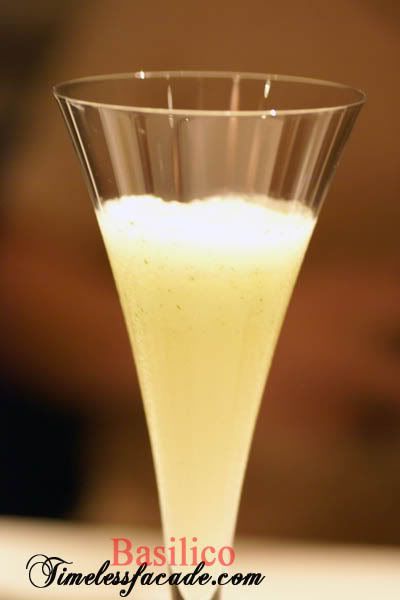 Groppino
The meal ended with a glass of groppino, which is essentially a lemon sorbet, champagne, mint and vodka concoction that is supposed to help you digest. I'm not sure it did the trick for me though.
All in all the meal was rather satisfying except for the desserts, which fell rather flat in my humble opinion. I'm not exactly sure how prices are like because the meal was complimentary, courtesy of HGW. I'm sure that in time, with some tweaks here and there, Basilico will be able to hold its own against the likes of other well know Italian restaurants like Senso, Garibaldi, Il Lido etc.
Likes: Nice place, mains were very decent
Dislikes: Desserts were forgettable
Final Verdict:
Ambience:8/10
Service:/10
Food:7/10 (8/10 for the focaccia pita)
Value for money:/10
Overall:7.5/10
Address: Level 2, The Regent Singapore
Contact: 6725 3232
Opening Hours:
Lunch: Noon - 2.30pm
Dinner: 6.30pm - 10.00pm
Brunch: Noon - 3.00pm (Sundays)