Hotshots is a famous burger joint originating from the Philippines which has just landed on Singapore's shores in recent months, setting up base at the iconic Lau Pa Sat with a push cart type store front.
Crispy Burger Melt ($5)
The crispy burger melt was surprisingly good with its hand made patty which boasted an uneven texture and bits of fats within for a nice chewing sensation. The patty was also juicy and char grilled till a little crisp along the edges with a nice smokey aftertaste. I thought the slice of button mushrooms and bacon bits were a nice addition to "spice" up the overall taste of the burger. One thing that caught me by surprise was the relatively small piece of patty, even though it was supposed to be a quarter pounder.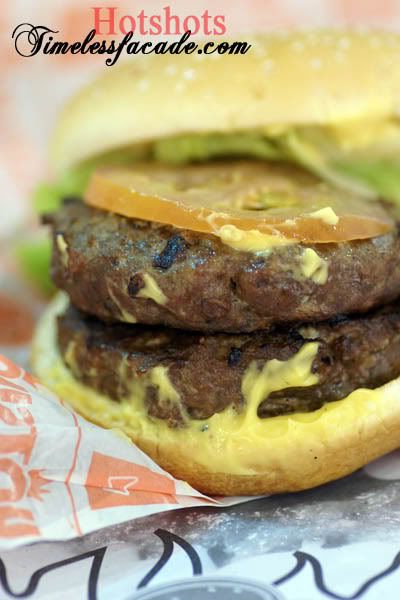 Ultimate Cheeseburger ($8)
The cheeseburger sprung the same surprise, with both patties looking a tad small even though both should have added up to half a pound. That aside, I found the patty a little too dry as compared to that of the crispy burger melt. The dual patties were also noticeably more charred as well, which could translate to a consistency issue.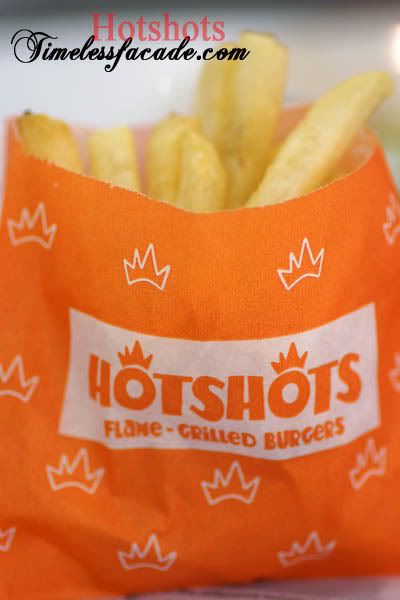 French Fries

Hotshots is currently having a promotion whereby you order 2 burgers and you get 2 sides free. The choice of sides is limited, namely french fries, twister fries or potato wedges. Trust me, nothing is nice, so skip the sides if you can.
Personally I think hotshots serves quite a mean burger without the exorbitant prices. Read
Relish
. However the burgers aren't really big so big eaters/hungry folks like me might have to go for something bigger or eat 2 servings (I ate both burgers).
Likes: Burgers are good, not very expensive
Dislikes: Burgers are quite small for the price
Final Verdict:
Ambience:NA
Service:NA
Food:7.5/10
Value for money:6.5/10
Overall:7/10
Address: Stall 76 Lau Pa Sat Festival Market, 18 Raffles Quay
Contact: 62261468

Opening Hours:
Mon-Sat: 11am - 11pm
Sun: 12pm - 9pm
(Closed on Mon & PH)
Website: http://www.hotshotsburger.com.sg/Site/Home.html