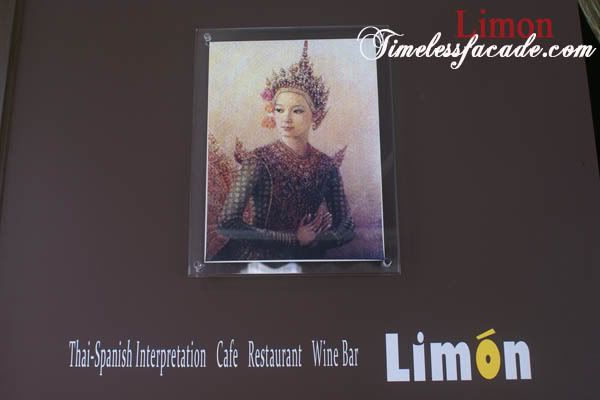 Parkway Thai Restaurant's latest introduction to the culinary scene is one that fuses Thai and Spanish cuisine together - Limon, which started operations about a month ago in early August. I believe Limon is a portmanteau of the words lime and lemon, which was also used to market Sprite (the soft drink) a couple of decades ago.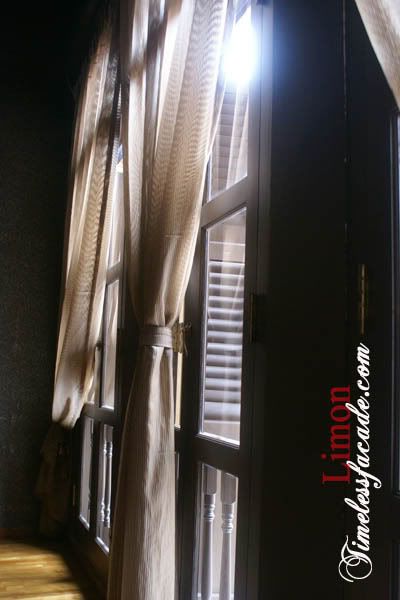 Interior
Occupying the former premises of the restaurant turned food centre stall Cilantro along Purvis Street, Limon plays neighbour to more illustrious eateries like Garibaldi, Yhingthai Palace and Gunther's. The first floor of Limon spans out into the wine bar while the restaurant and private dining room sits on the second and third floor respectively. The restaurant's interior is somewhat muted but boasts a cosy sitting arrangement (about 20pax or so) complete with wooden flooring and large olden style post war architecture windows. Personally I liked the private room, which comes with a glass partition that overlooks part of the second floor and also the windows.


Limon's Special Nut Mix & Complimentary Bread
Honestly I thought that the mixture of peanuts, cashew nuts, pecan nuts and walnuts was rather interesting with lemongrass and chilli thrown into the concoction. It provided a nice twist to the usual boring nuts you get.
On the other hand, I found the complimentary bread way too hard and dry for my liking. And the accompanying dips and margarine didn't help, save for the tangy tomato dip.


Cream of Pumpkin & Tom Kha Guy

The cream of pumpkin wasn't your usual excessively sweet and coagulated version, coming across as mildly sweet without forcing the pumpkin taste down your throat.
Personally I prefered the Tom Kha Guy or the coconut base chicken soup, which excited the palates more with its variety of flavours. Mildly sweet yet sourish and creamy with bits of cut chilli padi to give it a light spice. Very much like robust tom yam soup without the spiciness. I appreciated the adequate slices of chicken and mushrooms as well.
Paella with Seafood, Spanish Sausage & Broad Beans
Paella is a Spanish rice dish which involves cooking spanish rice in a specialised pan called paella or paellera, which is round and shallow with splayed sides. I thought that this dish was quite good as the spanish rice was plump and short, absorbing in the sublime garlicky flavours yet didn't come across as too creamy or sticky like risotto. The spattering of fresh seafood definitely helped in enhancing the dish, making it the undisputed star of the day.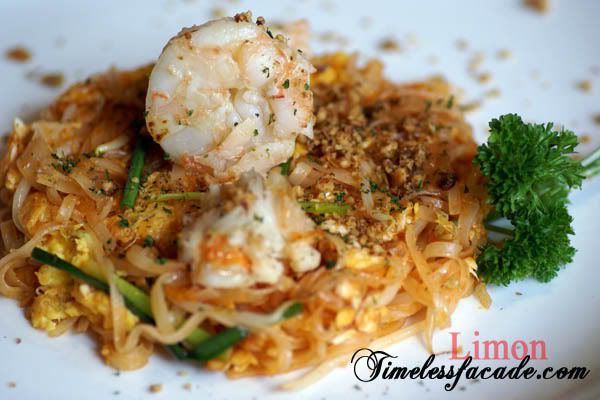 Lobster and King Prawns Phad Thai
I was envisioning a baby lobster flanked by 2 king prawns served on a bed of phad thai but woke up to the sad reality when this dish was served. I made out 2 small cubes of lobster playing second fiddle to a lone upright prawn, whose size didn't exactly befit that of a king. Small portions aside, the prawn and the lobster cubes were overly salty but the glass noodles were springy with a hint of tomato sauce and fell into the dry category, which I personally prefer. Could have done with more grounded nuts though.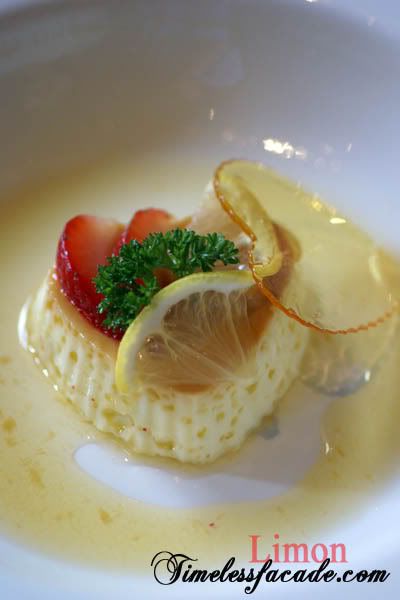 Caramel Flan
This heart shape dessert came served with a piece of hard sugar, also carved out into a heart. The pudding reminded me of a more robust and rougher version of creme brulee. The egg taste did come across as a little overwhelming and there was a tinge of lemongrass in the sidelines. Interestingly, the sugar heart tasted like 麦芽糖 or Maltose, which brought back childhood memories.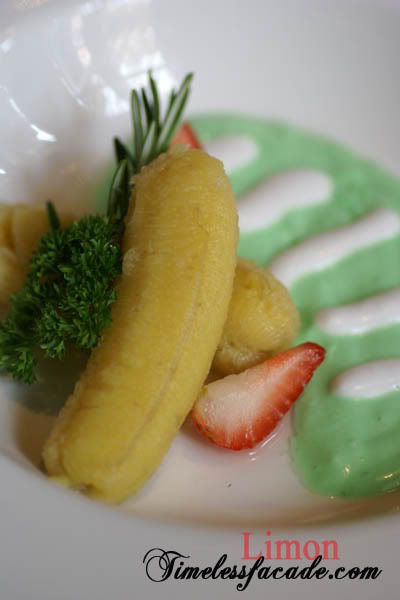 Tom Banana with Pandanus Leaf and Coconut Sauce
Honestly this was the only dish that I didn't quite take to, mainly because of its soft and rather fibrous texture. The banana was boiled till it became limp but not too mashed up and it reminded me of boiled sweet potato. Sorry but this dessert just didn't do it for me.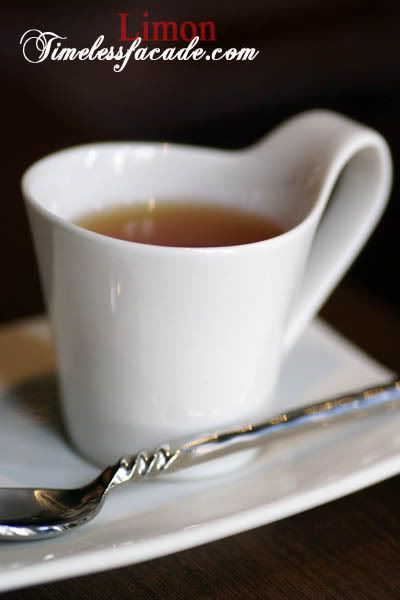 Tea


Bill
All thanks to a 1 for 1 set lunch promotion that Limon is currently offering, the 2 of us chalked up only about $41 for a satisfying and rather enjoyable lunch. Service was decent and personally I thought that the iced water they served was rather interesting with the addition of rosemary. To conclude, I honestly don't see much of a fusion in Limon's dishes and those small pockets of fusion would probably be classified under conservative. However, having said that, I do think that Limon's dishes are of a certain quality and for $20/head (after 1 for 1 discount), its definitely a steal. Please note that the set lunch promotion is ongoing for an undefinite period of time and runs from Monday to Saturday.



Likes: Nice place, Above average quality of food
Dislikes: I forsee that the place will be quite noisy when full as it is rather small and enclosed.

Final Verdict:

Ambience:7.5/10
Service:7/10
Food:7/10
Value for money:7.5/10 (Only with the 1 for 1 promotion)

Overall:7.25/10

Address: 7 Purvis Street

Contact: 63339004

Opening Hours: 1130am - Midnight. Lunch from 1130am - 3pm.

Website: www.limon.com.sg