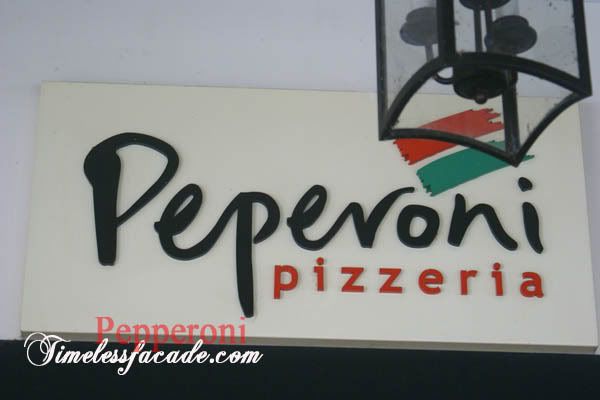 Was in the mood for some thin crust pizza so the glutton in me opted for Peperoni Pizzeria, which is owned and operated by fine dining chain Les Amis and boasts a never seen elsewhere in Singapore XXXL family size pizza, measuring 21 inches in diameter. Compare that with the 12-14 inches that is offered by other pizza joints and Peperoni easily takes the cake in terms of size.
Interior

Located in the upmarket and reclusive residential enclave of Greenwood Ave, Peperoni Pizzeria sits along a row of tiny shophouses that play host to various renowned F&B establishments such as Punggol Seafood, Lana, Greenwood Fish Market, just to name a few. The air conditioned area exudes a nice warmth through the use of pastel colours and various artworks by professional artists and school children alike. You can even follow the process of your pizza being made and then baked in the oven. There is also a small al fresco area behind which is reminiscent of a mini courtyard, complete with vines. If you need a pass time while waiting for your food or an aspiring artist, just ask for crayons and you can doodle on the paper tablecloths.
Note how much the ice water costs

The menu is just in jest and ice/warm water is served free of charge. So do not be afraid to ask for it or coerced into buying other drinks.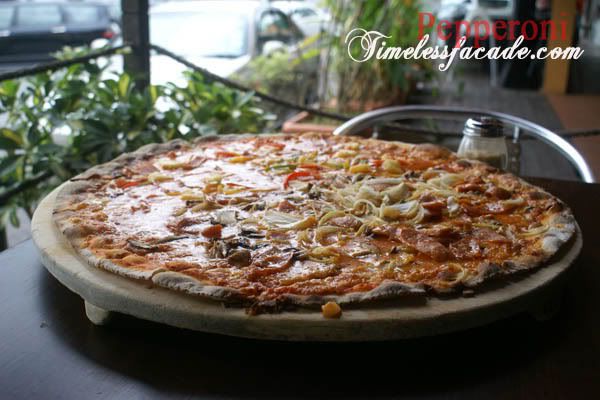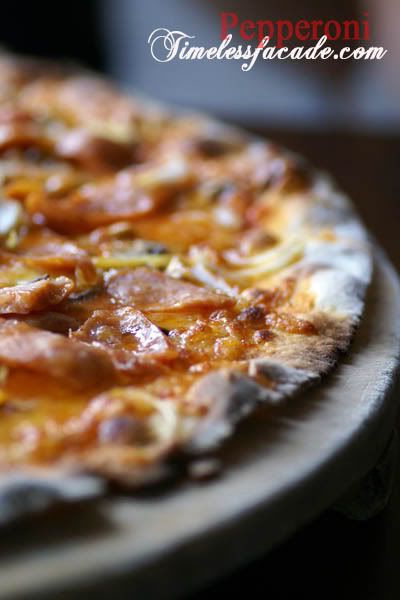 XXXL Pizza
If you order the large pizza (12 inches) and above, you can request to split your pizza into 2 totally different flavours, which allows for more variety. We had the Hawaii (tomato sauce, mozzarella, pineapple, cooked ham, bell peppers) and the Suprema (tomato sauce, mozzarella, shitake mushroom, chicken, sausage, onions and red chilli). The pizza crust was relatively thin but a tad too burnt along the edges. The base did seem a little too soggy from all the sauces as well. Ingredients didn't come across as plentiful but adequate nevertheless. Personally I thought that the Hawaii portion tasted better as it came across as more flavourful then that of the Suprema.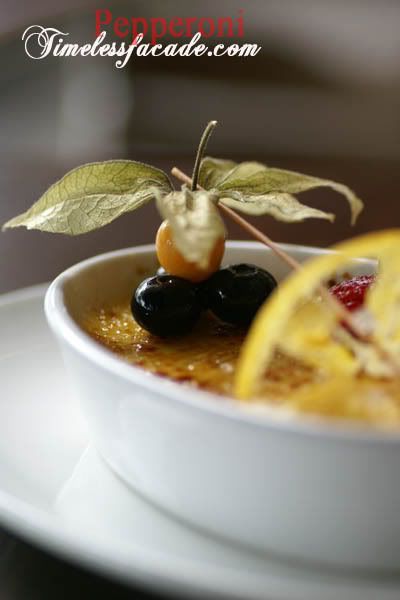 Creme Brulee
Ending our high carbohydrate meal on a sweet note was the creme brulee, which was quite good but certainly not the best I've had. Made from real vanilla beans, the pudding wasn't too sweet but the overly soft texture didn't exactly sit well with me. The sugar layer was thin and broke easily under pressure. Peperoni's rendition is comparable to the one at
FRE(N)SH
, just 1.5 times the size and double the price.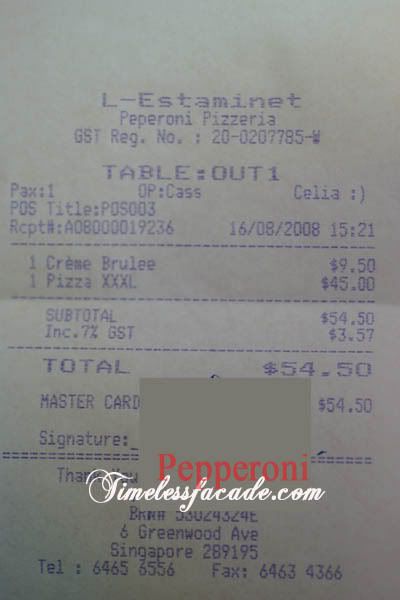 Bill
A lunch of gigantic proportions set the 2 of us back by about $55, which is still reasonable considering that the amount of food could have fed at least 3 people. In case you are wondering, no, we didn't finish the food. I surrendered at the halfway mark while my gf ate a quarter of it. The remaining quarter was doggy bagged. Service was slow and spotty and it was quite difficult to catch the wait staff's attention at times. They weren't rude or anything, probably just unattentive or not around.



Likes: Nice place to have a relaxing meal, pizzas are huge, food quality decent
Dislikes: Service needs to improve

Final Verdict:

Ambience:7/10
Service:6/10
Food:7/10
Value for money:7/10

Overall:6.75/10

Address: 6 Greenwood Ave, Hillcrest Park

Contact: 64656556

Opening Hours: 12pm - 12am (Last seating at 1030pm) daily. Closed on certain holidays. Call to enquire.

Website: http://www.lesamis.com.sg/webtop/index1.html